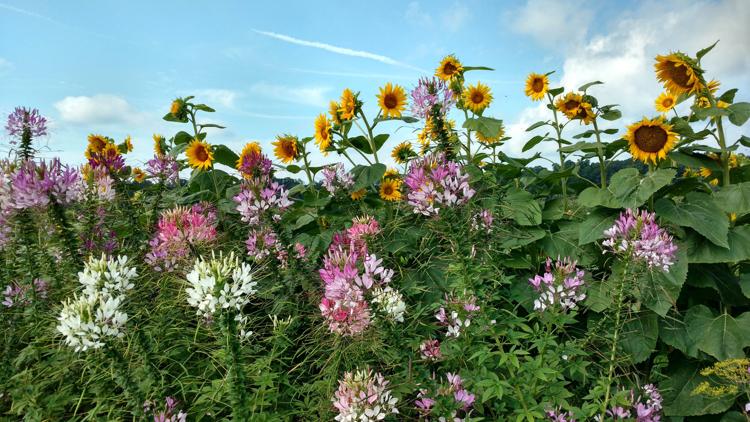 An easily grown annual native to South America, cleome (Cleome hassleriana, synonym C. pungens, C. spinosa) is a favorite in Southern gardens.
The delicate pink, rose, purple, white or bicolor spider-like flowers, along with the spidery seedpods, give it the common name, spider flower. It grows best in average, well-drained soils and in full sun to light shade. Somewhat drought tolerant, cleome will benefit from watering during periods of little rainfall. Many new dwarf hybrid cultivars (Cleome hybrida) have been bred for more compact growth habits and prolific blooms.
Height/Spread
Depending on the cultivar or series, cleome will range in height 1-1/2 to 5 feet tall with a 1- to 2-foot-spread. The newer dwarf cultivars are 1-1/2 to 4 feet tall by 1 to 2 feet wide, making them a good choice for smaller areas and containers.
Ornamental Features
Cleome will bloom from June until frost. The 4- to 8-inch spider-like blooms start at the bottom of the stalk and move upwards. Deadheading or removing the spent flowers is not necessary. The flowers are followed by thin green seedpods that ripen to brown and split open to disperse the small seed. The older cultivars, such as the Queen series, are aggressive self-seeders and will spread to other areas. Newer hybrids are sterile and do not produce viable seed.
The sticky, palmate green leaves have 5 to 7 leaflets that have a strong, sometimes unpleasant fragrance, and sharp spines at the base of each leaf. Most of the newer cultivars are odor- and thorn-free, making them a more desirable addition to the garden.
How to grow
Seeds may be sown directly in the landscape after the danger of the last frost has passed. The soil temperatures should be 70-75 degrees. Thinly sow the seeds 4 to 6 inches apart and cover with 1/4 inch of soil. Keep the bed moist, but not wet, until germination. Seedlings will appear in 7 to 14 days. Depending on the cultivar, thin the seedlings to a spacing of 10 to 15 inches apart. Seeds also may be started indoors 6-8 weeks before transplanting outside. Cleome will bloom 70 to 80 days after germination.
As the Queen series cleome is open-pollinated, it is recommended that the seed be chilled for 4-5 days prior to planting for a better germination rate. Evenly spread the seed on a moist, not wet, paper towel, fold, place inside a zip-lock bag, and keep in the refrigerator. For self-sowing, the Queen series are the best cleomes to plant. The hybrid Sparkler series seeds are bred for easier germination and do not need to be chilled prior to germination. The Spirit series has the ability to self-sow but may be established by buying plants from a nursery. As the "Linde Armstrong" and Senorita series flowers are sterile and do not produce seeds, plants must be purchased and transplanted into the garden.
Adding a thin layer of mulch will help retain moisture along with discouraging weed seeds from germinating. Due to the strong taproot, staking is usually not necessary.
Landscape use
Cleome is deer and rabbit resistant. The flower nectar attracts hummingbirds, butterflies, bees and other pollinating insects. Another unusual visitor attracted to cleome is the hummingbird moth that visits the flowers at dusk. Landscape use includes background plantings, masses, cutting gardens and containers.
It contrasts well when combined with many other summer annuals, such as sunflowers, zinnias, cosmos, salvia or celosia. Plant in masses for better impact. It is beneficial to plant other smaller annuals in front of the taller cleome cultivars as they tend to have bare lower stalks.
The smaller cultivars, such as the Sparkler and Senorita series, along with the 'Linde Armstrong,' have a more compact growth habit and are excellent additions to annual container combinations.
Problems
Overall, cleome is a tough annual. There are no serious insect or disease problems. Aphids, spider mites and whiteflies may be a slight problem. It is susceptible to powdery mildew and rust in hot, humid climates; therefore, it is important to space the plants properly to allow better air circulation to help prevent infection.
In order to avoid disease issues the next year, remove dead plants after they are killed by frost.
Cultivars
'Helen Campbell' has dramatic, pure white flowers and will reach a height of 4-feet and a width of 1- to 2-feet. The Royal Horticulture Society awarded this selection the prestigious Award of Garden Merit in 1993.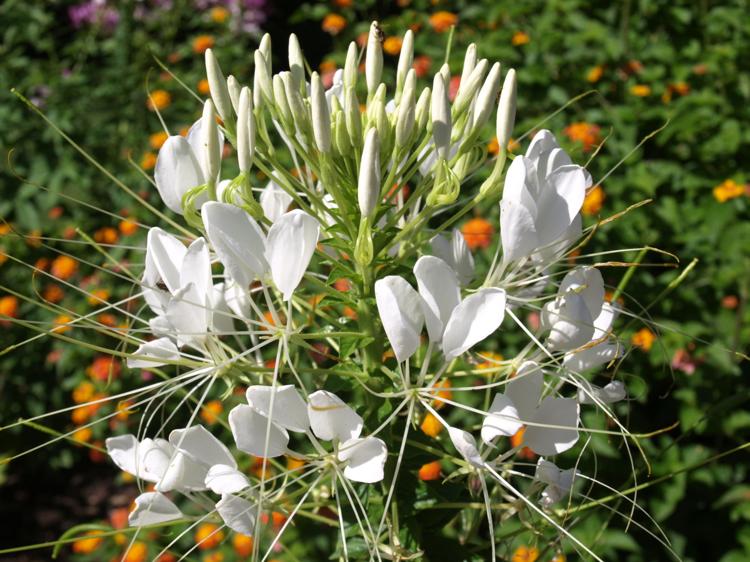 'Linde Armstrong' is a dwarf, compact, odorless and thornless grower with pink flowers that will reach 12- to 18-inches high and 12-inches wide. An Athens Select hybrid with sterile seed, transplants must be planted in the garden.
The Queen series is the oldest of the series bred cleome. As this series is open-pollinated, the flowers will self-pollinate. The resulting seeds will be similar to the parent plants but not necessarily the same color. It is the tallest at 3 to 5 feet tall by 1 to 2 feet wide and will self-seed aggressively. The foliage has a strong odor along with sticky leaves with spines at the base. Mixed-color seed blends are available along with individual color cultivars. The series includes:
'Cherry Queen': bright, cherry rose flowers
'Rose Queen': pastel, rose-pink flowers
'Violet Queen': purple flowers and the leaf edges are tinted purple
'White Queen': pure, white flowers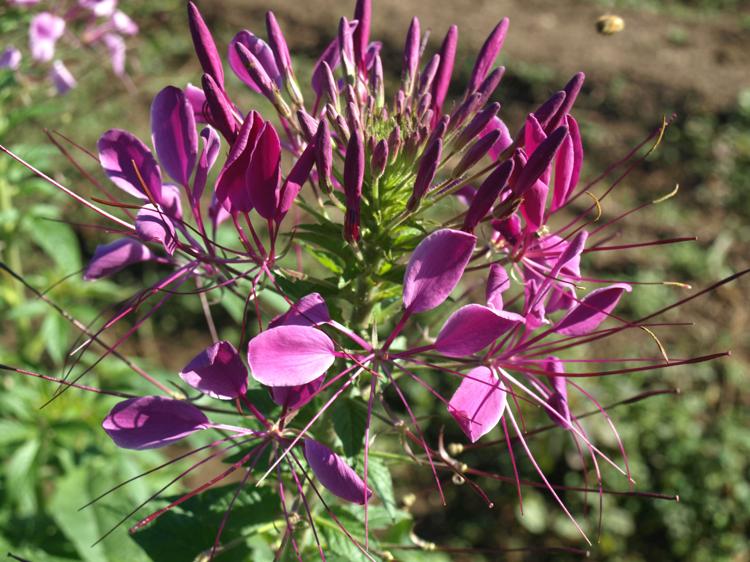 The Senorita series is a sterile, thornless hybrid that will not self-seed. The plants are 2 to 4 feet tall with an 18- to 24-inch spread, and have odorless leaves that are not sticky. The darker green foliage is smaller, and the plants do not become leggy. As these hybrids will not produce seed, establishment will be by transplants. This series includes:
Senorita 'Rosalita': rose pink flowers
Senorita 'Blanca': pure white flowers
Senorita 'Mi Amor': pink flowers
The Sparkler series is the first hybrid cleome developed. It is more vigorous and heavier blooming than the open-pollinated cultivars, such as the Queen series. The seed are bred to germinate easily, so no pre-chilling is necessary. This selection is an upright grower that reaches a height of 2 to 3 feet tall and 1-1/2 to 2 feet wide. As they are shorter and bushier, the Sparkler series is an excellent choice for containers. It includes:
Sparkler 'Blush': blush pink and white flowers
Sparkler 'Lavender': pastel lavender flowers
The Spirit series is more compact with a height of 2 to 4 feet tall by 15 to 18 inches wide. It has a better branching growth habit, but does have thorns and sticky foliage. It also has the ability to self-seed. This series includes: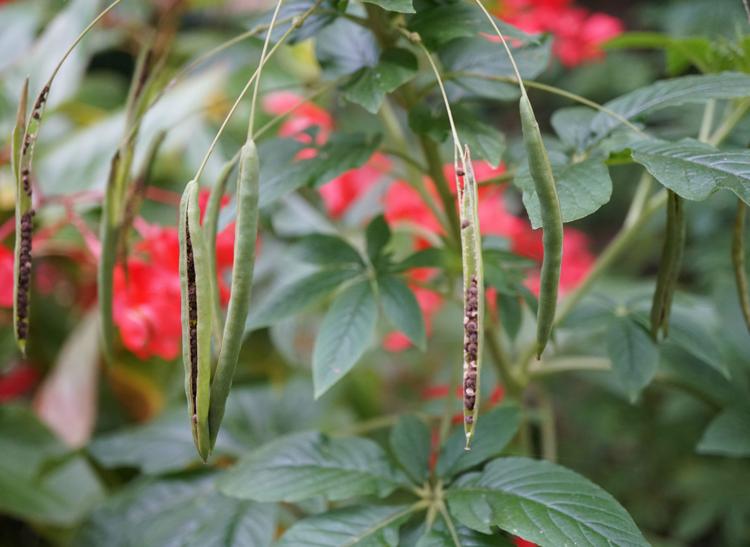 Spirit 'Appleblossom': pale pink fading to white flowers
Spirit 'Frost': white flowers
Spirit 'Violeta': pink-purple flowers