Two tiny art shows at local museums each represent Charleston's changing landscape and half-forgotten ways.
One, a sampling of 18 small photographs by Morton "Nicky" Brailsford Paine Jr., reveals scenes in the Charleston area captured between 1900 and 1940. The pictures are part of a large inventory of Paine's work archived at the Charleston Museum and will be displayed May 14-Nov. 4. They are striking gems that open a rear window onto the past.
The other show, called "Vanishing Charleston," features nine fascinating paintings of city scenes steeped in nostalgia. They will be on display at the Gibbes Museum from May 25 to Oct. 21. The images, some made by artists active during the Charleston "Renaissance" interwar period of the past century and others more recently by living artists, are certain to get viewers thinking about the changing landscape.
The two exhibits were not intended to correspond, but correspond they do, and it's a good idea to see them both in quick succession. They relate thematically, but also visually: Both shows include an image of an illuminated urban corner, both include works that reference early forms of transportation, both include street scenes, both allude to the economic activity of the time.
And each show, in its own way, looks into the future. The paintings ask viewers to consider the implications of progress and development. The photographs reveal an artist interested in technology — in mechanics, invention, science and technology — and the ways such things might be harnessed.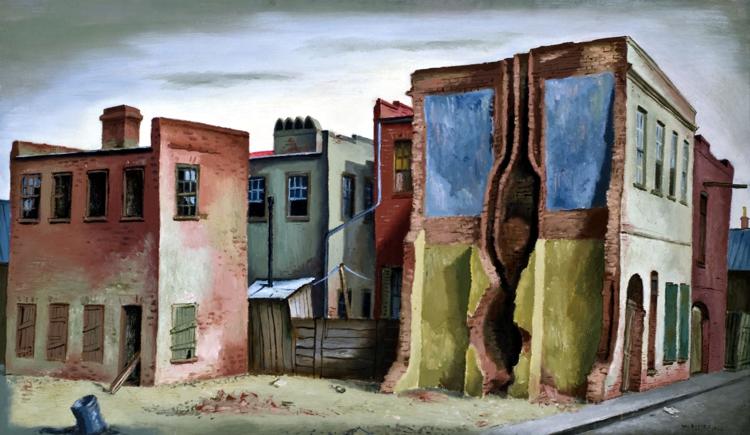 Photography
Paine was an innovator and adventurer, ahead of his time. He loved speed and flight. He was a pilot who shot pictures of the city from his small plane. He was among the first regular people to use a motion-picture camera. He was part of a cross-country automobile club and enjoyed long road trips in cars loaded with containers of water to cool the overburdened engines and an ax with which he would cut tree limbs that fell onto the country roads. He was fascinated by speedboats.
"Anything mechanical he loved," said Jennifer McCormick, Charleston Museum's archivist and collections manager.
Born in 1883, he lived with his sister at 47 Meeting St. and devoted much of his time to documenting life in the city. On the backs of most of his small prints he scribbled details about the scene and the data related to capturing it: exposure, camera settings and so on. These notes served as reference for additional photographs.
For years he used a big box camera and tripod, lugging it into awkward situations, but later was able to use a more mobile camera, such as a folding single-lens reflex Zeiss. He made multiple prints of the same image, probably to sell them to tourists, McCormick said.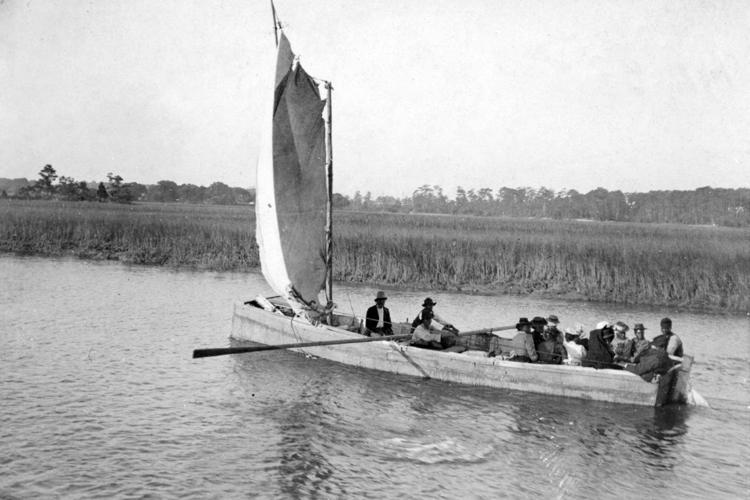 All the photos have historical importance, to be sure, but a few of them are particularly striking, such as the speedboats at the Isle of Palms; the view of  the intersection of Meeting and Broad streets; the portrait of Erna Wieters, the first woman to own and drive an automobile in Charleston; and a wonderful image of an old water taxi, "the inter-island liner from Darkyville" — probably James Island.
The boat, carved from a tree trunk and featuring a short mast and canvas sail, likely carried African Americans to the market in downtown Charleston and then back home. The vessel is akin to the boats of Charleston's historic Mosquito Fleet.
McCormick said she's been organizing the large Paine collection of about 4,000 prints and negatives, which fall into broad categories: city views, water and beach scenes, racing and flying and driving, etc. "The automobiles alone had me hooked on him," she said, adding that Paine had a certain photographic panache and style.
A documentarian first and foremost, Paine nevertheless "had a romantic view of the city," McCormick said. "He was just out walking around a lot," she said. "But he did it as an artistic photographer."
In November, she plans to replace these 18 images with 18 more that reference speed.
Paine died in 1940, at home in bed, just three days after a Category 2 hurricane swept through the city, flooding the ground floor of his Meeting Street home and likely destroying many of his negatives. His sister, May Paine, rescued as much as she could from her brother's work room as the storm hit, but much was lost.
Painting
"Vanishing Charleston" at the Gibbes Museum also documents the cityscape, albeit in a painterly way. The works will be hung in one of the rotunda's small side galleries, according to curator Pam Wall. All but two are pulled from the Gibbes' permanent collection. Local artist West Fraser has lent a brand-new picture called "Charlie's at Night" and a 1997 image titled "Demolition Charleston."  
Aesthetically speaking, light is a common denominator. It infuses each scene, sometimes in bright and direct ways, sometimes through the trees, sometimes as though it were refracted by the Lowcountry humidity.
Julyan Davis' 2007 painting called "Behind King Street," which features a single house set against a commercial building, is a stark reminder of the old city.
Linda Fantuzzo's 2004 acrylic painting shows an elevated highway traversing a disused city lot, suggesting the imposition of modern infrastructure on the landscape.
A 1942 oil painting by William Halsey shows a city block from which part of a building has been removed. Destruction leads to renewal, Halsey seems to be saying.
An intricate woodblock print by Grace Albee, made in 1950, shows a house on a small rise among a few scrawny trees, the open sky above. Its title is "Suburban Charleston," and it is striking to realize that this "suburbia" almost certainly refers to an area not far from the city center now fully developed. 
Similarly, "Line Street Railroad Crossing," a 1991 painting by William McCullough, offers the jolt of a time warp, showing how, just a few decades ago, this part of the city was neither here nor there, mostly just a transit area with a few homes whose occupants had to endure the rumblings of passing trains.
Wall noted that these artists simply painted what they saw, just as artists do today, just as artists will do tomorrow.
"Just to think about where we will be in 20 years — it's hard to imagine," she said.
More exhibits
It's worth noting that you have a few more days to see two other revealing photo shows at each of the museums. Hurry to the Gibbes to view "Magic in the Mundane," an exhibit featuring a handful of stunning images by famous photographers taken in the first part of the 20th century, just as the medium was developing into a proper art form.
Alfred Stieglitz, Berenice Abbott, Laszlo Moholy-Nagy, Martin Munkacsi and George Platt Lynes were making statements, expressing a vision. They were concerned with composition and form and effect, with capturing a moment in time.
The images are drawn from the Robert Marks collection at the Gibbes.
Meanwhile, at the Charleston Museum you can view "The Early Days," images of the old Charleston Museum that was on the corner of Calhoun Street and Rutledge Avenue until it burned to the ground in 1981. Its portico still stands, an architectural ghost of the past.
The huge structure was built in just 90 days in 1899 and later that year hosted the Confederate Veteran's Reunion, which drew 8,000 people to its Thomson Auditorium.
In 1907, the city bequeathed the building to the Charleston Museum, in part so the museum would have a place to exhibit the big whale skeleton (temporarily displayed on the third floor of Randolph Hall) it procured the year before.
The images offer a glimpse of the building, both inside and out. Among the natural history displays are buckets strategically positioned to catch the water leaking into the cavernous space from the roof.
By the way, it's said the light generated by the big fire of 1981 could be seen 50 miles away.