What happens to a church when its church is gone, at least for some time?
It's more than a hypothetical question, as the congregation of St. Andrew's Church in the Old Village is learning this summer.
On April 22, an early morning blaze inside consumed significant portions of its worship space and offices. Since then, as it plans for repairs, St. Andrews has moved two of its Sunday services to Mount Pleasant Academy, a public school about a mile away.
And it's just the latest Lowcountry congregation in recent years that suddenly found itself displaced because of either fire, termites or urgent and significant structural issues.
"The Lord promises to bring beauty out of ashes," Rector Steve Wood of St. Andrew's said shortly after the fire, "and we're taking him at his word."
Wood said more recently the church has been doing very well. Not only was its smaller, historic sanctuary untouched by the blaze, he said, "but surprisingly, we've seen a significant jump in visitors with many returning.
"I did not anticipate that."
'We miss seeing each other'
The main challenge has been tending to the many details involved in relocating the worship services as well as its day school and office work, plus all details involved in demolishing and rebuilding the damaged building. Wood said staff and parishioners have stepped up to be a big help with that.
Wood said they are still assessing what part of the building can be saved and what must be razed and rebuilt.
A larger sense of loss was felt by staff who lost pictures and other possessions left in their offices. "On a personal level, losing most of my library was felt," Wood said.
"The most difficult challenge we've had to navigate is that we're spread across the Charleston metro area, and we don't have the daily interactions, making collaboration a challenge," he said. "Personally, we miss each seeing other on a daily basis."
Wood said other churches have lent amazing support, including congregations who began their April 22 services by praying for them. "I cannot tell you how that news encouraged us," he said. "Over the past six weeks any number of churches have opened their space to us, hosting our staff meetings and offering temporary office space to various staff members. And then incredibly, various churches and associations have sent checks — a very humbling and overwhelming experience."
In 2011, Grace Episcopal Church also was humbled after an earthquake weakened its brick walls to the point where they weren't safe. Consultants urged the sanctuary to be closed to services until repairs were made.
Grace found help from other churches who let their sanctuaries be borrowed for services. Mt. Zion AME Church, St. Mary's Catholic Church, The Citadel's Summerall Chapel and St. Matthew's Lutheran Church all hosted a Grace service at some point, and Grace's congregation even celebrated the following Easter in the Kahal Kadosh Beth Elohim synogogue.
The Rev. Canon J. Michael A. Wright, rector, said the suffering and strain can be redemptive: "What it's taught us is that the church is really not a building," he said at the time. "It's a resilient community of believers."
Singing a new song
A decade ago, Bethel United Methodist Church on Pitt Street was closed after significant termite damage was found in the attic. The repairs took almost two years, and the church converted its fellowship hall into a semblance of a sanctuary.
Greg Jones, Bethel's music director, said in hindsight, it might have been a mistake to try to replicate the historic worship space that they had lost temporarily.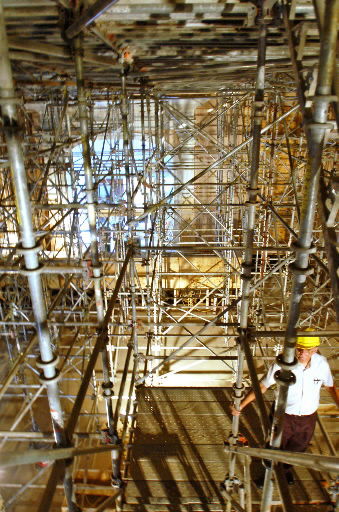 "We lost some people who could not deal with the shabby fellowship hall and folded chairs worship set-up," he said. "We had a terrible time establishing any kind of sense of prayer or Sabbath. In other words, the crowd was rowdy. It just sounded like a stadium in there."
Jones said only singing and music could quiet the murmur, "so in those years we were in there, we sang the poor choirs half to death." Compounding the challenge was losing the fellowship hall as fellowship space.
"Methodists are kings and queens of casserole dinners and nine-layer iced cakes. Methodists eat like there's no tomorrow," he joked. "We lost the rhythm because didn't have a place to put out the huge Methodist feeding trough."
But despite those difficulties, Jones said he would embrace the experience again, partly because of the "explosive" joy of eventually returning to the historic church, which had its old carpet removed and its heart pine floors restored. The changed acoustics were almost shockingly better.
"We had no idea the room had become so stifled by the carpet. It was stifled sound-wise and visually," he said. "Now your voice folds into the cake batter with no lump. You're there but you're not there. ... It's one of those magical things that's hard to explain."
Some good from the bad
As Wood watched St. Andrews' building burn, he thought of a promise recorded in Bible's Book of Isaiah: that God would exchange beauty for ashes.
"It spoke to me and that promise has become an anchor for us, and many have noted our hashtag #BeautyFromAshes," he said.
"St. Andrew's folks have always been deeply involved in our community. But as we stood and watched the water pouring out of our front doors early Sunday April 22, flooding into the street and through the parking lot, we thought of Ezekiel's vision of the water of life pouring out of the temple bringing life to dry places. Similarly, we've also had a sense that the Lord is using this to pour us out into our community in renewed ways."
Between 2013 and 2015, St. Matthew's Lutheran Church's sanctuary was vacated as workers completed a $9 million repair and renovation project necessitated by the discovery of moisture intrusion following poor post-Hurricane Hugo roof repairs.
But the congregation's inconvenience eventually was put in a dramatic context, as its service celebrating the finished work was held only 11 days after the massacre at Emanuel AME Church just a few blocks away. During that rededication service, packed with more than 600 people, the bishop of the South Carolina Synod of the Evangelical Lutheran Church in America, the Rev. Dr. Herman Yoos, spoke of the tragedy.
"We've learned a lesson of forgiveness from the nine families," Yoos said at the time. "It's a lesson that we need to take to heart. It's a lesson of forgiveness and reconciliation made possible by God's grace that moves us forward as a community, as a state and as a nation."
Wood said there are always blessings to be found even in the most difficult of life's circumstances.
In St. Andrews' case, he said, "there is a tangible sense of gratitude as well as a deepened sense of love for one another. And out of this we have a renewed passion to connect our community to the presence and power of Jesus Christ."