Artists will tell you they draw inspiration from a variety of sources. Often, those sources include their kids.
For Father's Day, three local dads — two visual artists, one musician — shared with The Post and Courier the various ways their children have influenced their approach to life and to the creative process.
John Duckworth
Baze Duckworth is 13, athletic and already nearly 5-foot 8-inches tall. Apparently, he's got his father's height gene. Visual artist John Duckworth is 6-foot-4. Lately, Baze also has inherited his dad's interest in photography.
Not long ago, they were taking pictures at dawn at Breach Inlet, attentive to the play of early light on the surface of the water, when Baze turned to his father and said, "Hey dad, I think this may be my thing." So John Duckworth upgraded his son's camera equipment.
Duckworth's father Jim, a former professional baseball pitcher and highway patrolman, also has taken a liking to photography, shooting birds from his kayak afloat in the Lowcountry creeks.
When John Duckworth became a father, his new status caused a reshuffling of priorities and lit a fire in the belly.
"I don't want a conservative, dependent thing just because I'm in this new territory," he told himself. No, this was the moment to go for it. "It sounds scary on the one hand, but when there is no Plan B, all your energy moves in one direction." Soon, his career started to bubble.
He was seeing things with a fresh eye, with unfiltered curiosity and awe, as if he were the newborn. As Baze got a little older he joined his father in the studio and started to paint. Standing side by side, Duckworth would ask for the boy's opinion about his artistic choices. "What do you think about this?" Baze occasionally would "fix" his father's work by applying this or that touch, or suggest a certain approach. His father was happy for the feedback. "He knows I'm not judging him on his reactions."
In the fall of 2014, when the City Gallery mounted Duckworth's immersive, multimedia show "Awake," Baze noticed that his dad, committed to meditating silently in the space, was unable to experience the exhibition from the perspective of a regular patron. So the boy, then 9 years old, offered to meditate in his father's place for 10 minutes.
For Duckworth, it was a show of unsolicited empathy and compassion, he said.
These interactions with his son have opened his eyes wider to the world.
"I am fully fascinated by life as art," Duckworth said. "I am growing as an individual, and ... I do (this) knowing he is watching and learning. It's an amazing creative process that crosses generations."
J.T. Rollerson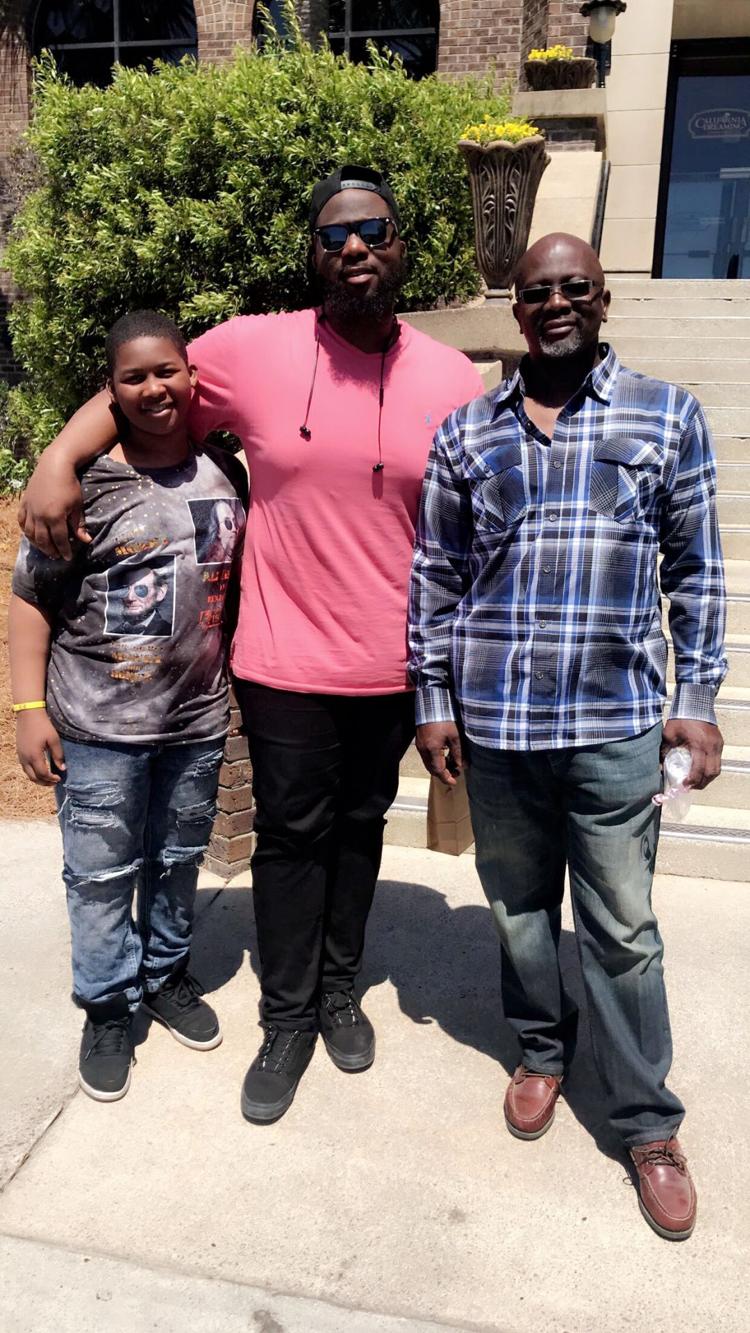 Soon after his son Javari was born 12 years ago, drummer J.T. Rollerson's career started to take off. Before that he was a musician who was hedging his bets, playing it a little safe. Rollerson had regular work in radio and TV production. He might have turned that into a stable career.
He was young when Javari was born, just 18, a talented musician and regular churchgoer, nurtured by a supportive family and aware of his new responsibility. But this notion of playing it safe didn't sit well with him.
"My son was definitely one of the key people motivating me to follow my dream," he said. "That was the turning point for me, because I would never want to live my life and not follow my dreams."
The prospect of a career in music needled him. Music was his passion.
"I remember sitting down with my mom and I said, 'I think I'm going to pursue music,' " Rollerson recounted. He was nervous about how his mother would take his statement. "She actually supported me. She was skeptical but supportive."
She was proud of her son's talent and sympathetic with his interests.
"So long as you are present in his life," she warned him, referring to a father's responsibility.
"Her confirmation sealed the deal for me," Rollerson said. "And that's why I pushed so hard, because I wanted to make (Javari) proud, and make her proud of me as well."
It worked. Today, he's a paid staff musician at Life Center Church in North Charleston, tours with several prominent artists and plays regularly with Quiana Parler and Charlton Singleton in Charleston.
Javari has inspired his father in other ways, too. Rollerson has been writing songs over the past several years, including some with his band Blak Noyz. "The Gutter" includes references to the adversity Rollerson faced during childhood and what it's like to be a young father chasing his dreams.
His musical pursuits also are influenced by his own father, James Sr., a firefighter for 20 years who became a carpenter after retirement, Rollerson said.
"Dad persevered regardless of what life threw at him."
These days, Javari is showing interest in pursuing music. He will attend his first band camp this summer, playing tuba, though he also wants to learn percussion. The 12-year-old is acutely aware of his father's successes, his access to musical celebrities, and his intense work ethic, which appears to be rubbing off on the boy, Rollerson said.
"It's pretty rewarding to know that your son is proud of you," he said.
Tim Hussey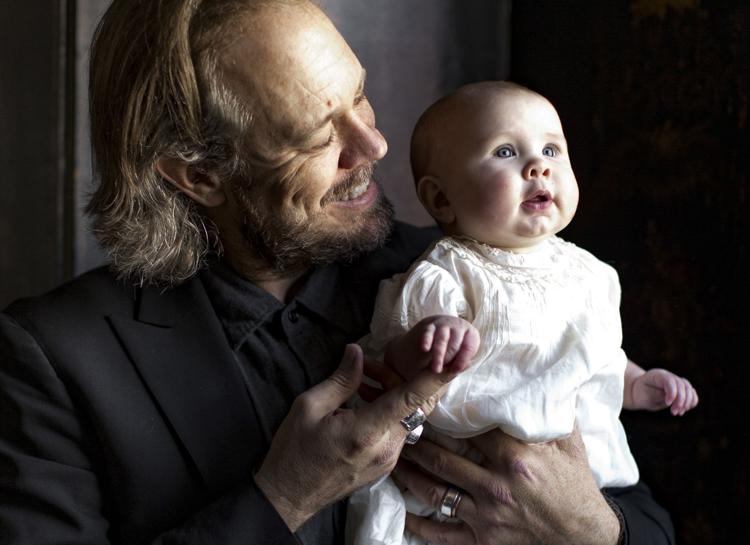 Tim and Elise Hussey's daughter, Merrick, is 10 months old. Her birth motivated Tim Hussey, a local painter and graphic designer, to rethink his art and his life, he said.
"Now I have a new-found thing that makes me want to do my very best," Hussey said.
And that means remaining true to his artistic vision, resisting the pull of commercial success and speaking loudly with a unique voice.
His work is a form of abstract expressionism, so there are no portraits of Merrick. But his recent paintings do convey a certain joy, a youthful spirit, a fresh outlook, he said.
"Now I have more things to laugh at," Hussey said.
Since Merrick was born, Hussey hasn't been painting much.
"Artwise, I really just took a year off," he said. And that has afforded him the chance to be with his baby and his wife for all sorts of excursions and appointments. He's moving into a studio at the Redux Contemporary Art Center in August.
For a while, he maintained a private studio just north of Redux. As he was preparing to abandon it last spring, Hussey decided to make one last painting in honor of his daughter, even though most of his supplies were packed up.
"I did a diptych," he said. "There were words in it, faces, children's drawings. I framed it and put it over her crib."
A few months later, he was looking at it after putting Merrick to sleep, discerning the embedded phrase "Because you go girl" and enjoying the light-hearted spontaneity of the piece.
"It was fun to look at," he said. And it got him thinking: "There's got to be someone else out there who'd want this. It's better than looking at cut-out, prepackaged giraffe things."
He was inclined to give his newborn credit for an ability to process the images he created, and assumed that all newborns were similarly capable. Why limit their early visual experiences to animal murals or geographic shapes? Why not real art?
An entrepreneurial idea was born: "Abstract Baby."
Now, Tim and Elise Hussey take custom orders online for art that's priced at rates regular people might afford, he said. The artist maintains autonomy and can paint what he wants, but clients can request the inclusion of certain symbols or ideas or objects or words.
"I want the (website) eventually to be hub for a bunch of different artists," he said. It will be like the Museum of Modern Art gift store: "Everything will be mindful and interesting, but it will be for babies."
Merrick is the reason.
"I want to show her goodness in the world," Hussey said, referring to all the bad news of late that bombards us on social media and television and the internet. "I want to be an analog dude."