Bright Star theater offers 'African Folktales'
The City of North Charleston's Cultural Arts Department presents a children's theater performance by Bright Star Touring Theatre in recognition of Black History Month, 10-11 a.m. Wednesday, Feb. 5, at the North Charleston Performing Arts Center, 5001 Coliseum Drive.
The North Carolina-based performing arts group will offer its original production "African Folktales," featuring a collection of stories and music. The program is appropriate for all ages, but best suited for grades K-5. Schools, daycares, community groups, families and individuals are welcome to attend. Tickets are $2 per child with accompanying adults admitted at no charge. Parking is free.
Bright Star Touring Theatre, a regular in the Lowcountry, travels across the nation, offering hundreds of shows a year in a variety of venues. For more information, go to www.brightstartheatre.com.
"African Folktales is the second of three productions for the North Charleston Cultural Arts Department's 2019/20 Children's Theatre Series. The final production in the series is "R.A.P.: Realize Anything's Possible," presented by Cutright and Ike Hill on April 1. For reservation forms, visit the Arts & Culture section of the city's website, www.northcharleston.org.
Artist Leo Twiggs honored in St. Stephen
St. Stephen and its surrounding communities will hold "Dr. Leo Twiggs Day," starting at 1 p.m. Feb. 15, in honor of its native son. Twiggs is an award-winning batik artist and resident of Orangeburg. He studied at Claflin University and taught at S.C. State University, where he developed the fine arts department.
The celebratory day will include dedications of highway signs, the announcement of a new scholarship and more. It will be held at Timberland High School, 1418 Gravel Hill Road, St. Stephen.
Twiggs has received the state's Verner Award twice for his contributions to the arts in South Carolina, as well as the Order of the Palmetto, the state's highest civilian award. In 2018, he won the Gibbes Museum's 1858 Prize for Contemporary Southern Art. His work has been shown in many solo and group shows.
The Feb. 15 event is open to all. Contributions to help defray costs are encouraged: Donations can be submitted to the nonprofit Twiggs Committee, P.O. Box 164, St. Stephen, SC 29479. Contributions are tax deductible. Checks written in support of the Endowed Scholarship are to be made out to "Friends of Dr. Leo Twiggs."
C of C cellist and pianist set to tour U.S.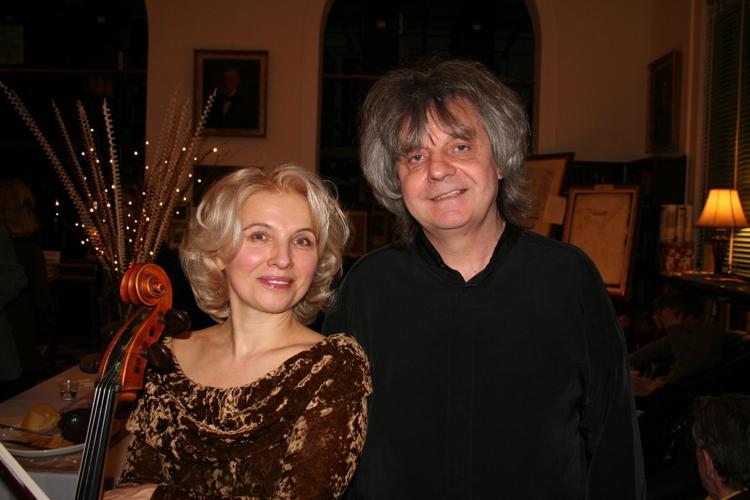 College of Charleston music faculty members Natalia Khoma and Volodymyr Vynnytsky are preparing for an extensive U.S. tour with the National Symphony Orchestra of Ukraine, organized by Columbia Artists.
Volodymyr will perform piano concertos by Tchaikovsky and Saint-Saens. Khoma will play the Shostakovich Cello Concerto No. 1 and Variations on a Rococo Theme by Tchaikovsky.
"It is our honor and a privilege to be invited to perform as a soloists in this tour in USA," the musicians said in a statement. "It is definitely one of the highlights of our musical careers. This is a wonderful opportunity to strengthen (the College of Charleston's) music program through recruitment, high-profile concerts and development of relationships with the premiere music schools and universities in the USA."
The first concert, which is also the closest one to Charleston, is 7:30 p.m. Friday, Feb. 7, at the Carpenter Theatre in Richmond, Va. Four more concerts are scheduled in Virginia; other performances are set for venues in Pennsylvania, New York, New Jersey, Massachusetts, Ohio, Indiana and Missouri.
For details on the tour, go to https://bit.ly/2vsy4OD.
—Adam Parker