Requiring the use of a wheelchair places someone in the largest minority group in the world, according to the United Nations.  
"And we do have a voice, we do have dreams and desires," said Angela Young, who is currently serving as Ms. Wheelchair South Carolina. 
It's been years since anyone from South Carolina has held that title. The position is given in recognition of the accomplishments of women who use a wheelchair for mobility.  
Young is the first titleholder the state has had since 2012. She said it was the opportunity to engage in advocacy work instead of wearing a crown that really pulled her in. 
"I'm not really a pageant girl," said the 36-year-old Williamston resident. 
Not a pageant 
Luckily for Young, Ms. Wheelchair America doesn't want to be looked at as a pageant. There is no swimsuit competition and there isn't a lot of emphasis on clothing. 
"As pageants go, they're typically based on looks," said Barb Zablotney, the director of recruitment for Ms. Wheelchair America and former Ms. Wheelchair Pennsylvania. "We're based on advocacy and achievement."
Ms. Wheelchair America started in 1972 in Columbus, Ohio, as a way for women who used a wheelchair to voice their needs. Since then, the organization has crowned more than 40 Ms. Wheelchair Americas. 
Once a woman is awarded a state title like Young, they then spend a week during the summer at the national competition. While there, competitors go through advocacy training and eventually compete for the title of Ms. Wheelchair America.
Some of the training includes educating the women on things like "people first language." For example, they're taught to use the phrase "a person living with a disability," instead of "a disabled person." 
Since the competition's creation, the late Nicki Ard is listed as the only South Carolina woman who has ever won the national title. Ard was crowned Ms. Wheelchair America in 2001 and passed away before her reign was completed. 
When the women leave the national competition, they go back to their home states to be state coordinators for the organization. Zablotney explained the competition is still relevant today because of the sisterhood and awareness it builds.
And more awareness is needed considering issues with accessibility and understanding of people with a disability, she said. 
"We are a forgotten population that is continuously overlooked," she said.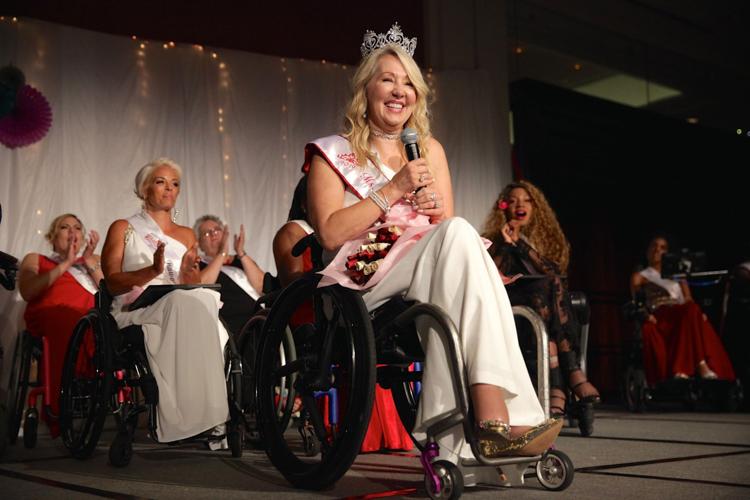 The Centers for Disease Control and Prevention reports that a little more than 22 percent of adults have some kind of a disability. In South Carolina, it's just over 25 percent. 
Young said she is honored to represent that South Carolina community.
"I'm actually more excited than I am nervous," she said about competing in the national competition.
Becoming Ms. Wheelchair SC
Young said her whole life's passion has been working with people with disabilities. She was born with a condition called spina bifada, which causes an infant's spine to not properly develop.
She said she got connected with Ms. Wheelchair America after she told a friend she wanted to do more advocacy work. 
From there, she applied as an independent delegate because South Carolina didn't have a Ms. Wheelchair program in place.
When a state doesn't have a competition, women can still apply. They submit an essay on what their platform will be for their state, if chosen. The national board then reviews the essays and chooses the state representative. 
Young currently works for the S.C. Department of Mental Health as a mental health counselor for adults. Most of the people she sees have varying mental illnesses like depression and anxiety. And some of them are living with a disability. 
A key part of Young's platform is focused on building integration and employment opportunities for people with disabilities. Having spent her whole life with one, she says that South Carolina has made some improvements. 
When she was a child, she said she was in school during a time when the Americans With Disabilities Act was just getting started. Since then, South Carolina has only gotten better. 
"For the most part, South Carolina is very accessible," she said. 
But her main concern is with employment opportunities. In her experience with the mental health department, she has been lucky. She said they have been very accommodating. 
She feels that there are a lot of South Carolina employers who may be willing to hire someone with a disability. The problem, she said, is that most aren't educated on how to properly do so. 
She said that when they see people with a wheelchair, employers aren't certain of what those applicants are capable of doing. There is also an assumption that someone in a wheelchair has a learning disability, she said. 
She wants employers to ask about accommodations and capabilities. She emphasizes that people with a disability are "differently-abled" and often can do the work.  
"We just have to have a different way to do it," she said.
In a 2017 disability status report by Cornell University, it was reported that in South Carolina nearly 80 percent of working age adults without a disability were employed. For people with a disability, the employment rate is a little over 30 percent. 
South Carolina is also one of the 10 states with the lowest employment rate for people with a disability. 
"Most of us want to work, most of us can work," Young said.
Kurtis Whitehead, the assistant director of AccessAbility, said businesses haven't caught up with the culture. 
"The word 'inclusion' is something that we use a lot," he said.  "It means everyone is at the table, everyone has opportunity."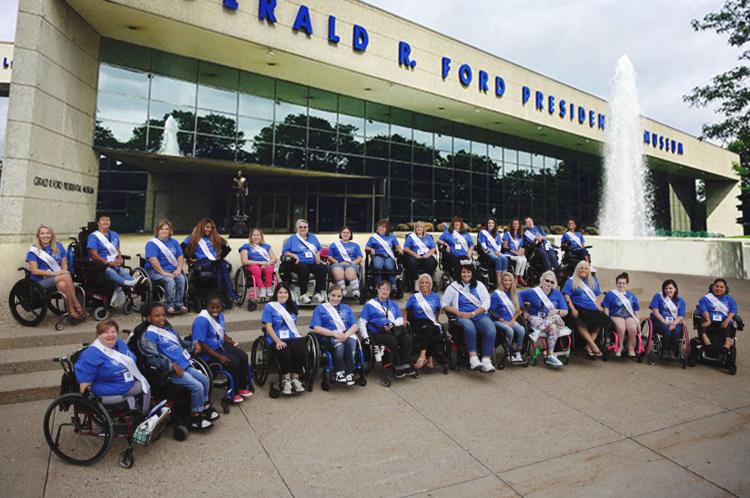 Upcoming competition
In the first week of July, Young will travel to Little Rock, Ark., to compete in the national competition. If she wins, she will then travel the country spreading her platform message and promoting awareness. 
Young said she is a little nervous about the competition because she has never done something like this. But for now, she just hopes to be able to do more advocacy work, regardless of the title.
With her platform, she said she wants to see more people educated and willing to ask people with disabilities what they need. 
"If society would just take time to stop and say 'what do you need?' things would be a lot better," she said.