When Timothy Mousseau, a researcher with the University of South Carolina, started visiting Ukraine nearly 20 years ago, he studied birds, insects and plants, "basically anything we could catch." It was an excuse to go somewhere unusual and study something unconventional: How creatures large and small deal with exposure to nuclear radiation.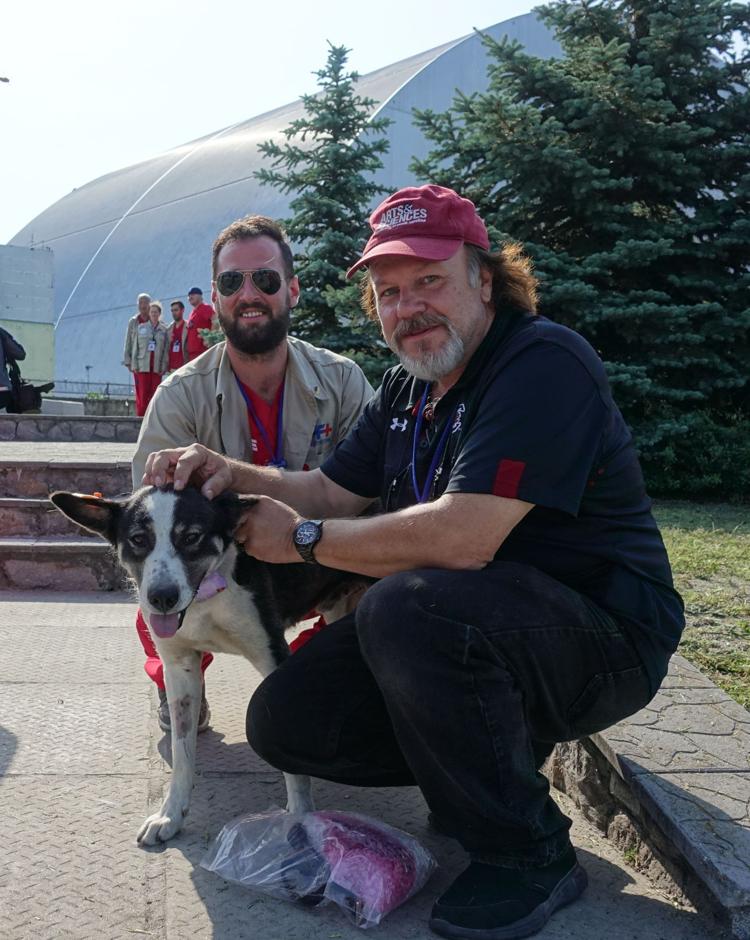 But as humans' interaction with radiation grows more common, Mousseau has found the need for this kind of research has grown. This summer, the USC evolutionary biologist is shifting his focus to canines. And he will be bringing a group of pre-veterinary students with him.
They will be traveling to the site of the Chernobyl nuclear disaster, where a reactor exploded more than 32 years ago. It was "the largest peacetime nuclear disaster in history," according to a report by The Guardian.
Now, Mousseau wants to study the stray dogs who were left behind. Some of the descendants of dogs who bred after the disaster also will be up for adoption in the United States, according to Smithsonian.
There are about 250 strays roaming the former plant, according to the Clean Futures Fund, a nonprofit aid group. The fund is bringing veterinarians to the site to vaccinate the dogs for rabies, as well as to spay and neuter them.
The USC team is also partnering with the Clean Futures Fund in their research.
The research team will be examining the animals for signs of tumors.
The animals will be sedated, Mousseau said. They also will look for signs of eye cataracts, another sign of radiation poisoning, he said.
The students will be tasked with looking for changes in the animals' genetics and microbiome. The dogs will also be outfitted with meters.
"What we're really hoping to get at is a better idea of how much radiation it takes to cause significant genetic damage," Mousseau said.
Mousseau is no stranger to media attention. His work has been featured in The New York Times, NBC and most recently, National Geographic. He breezes through an interview with ease. He said especially following the Fukushima disaster in Japan, there has been heightened interest in the effects of radiation on creatures. 
Not to mention that radiation is creeping into Americans' daily life, he said. He said the average dose Americans receive each year has more than doubled in the last 20 years. And more exposure could be on the horizon: A handful of companies are working to make commercial space travel happen.
In the medical field, diagnostic tools such as CT scans and portable devices used in a dentist's office emit radiation. Then there is the radiation used to treat cancer, and it also has uses in medical research, according to the United States Nuclear Regulatory Commission. 
CT scans can produce a little less than the same amount of radiation as the lowest doses seen in Japanese atomic bomb survivors, according to the Food & Drug Administration. Still, the FDA states a typical CT scan's risk for causing cancer is "very small." 
All "nuclear materials" in medicine are regulated. But Mousseau said more research needs to be done to understand the body's response to even tiny amounts of radiation. He thinks the dogs, with their naturally shorter life spans, will make for good test subjects.
"You can see the effects in a shorter period of time," Mousseau said. "We can look at consequences much more quickly." 
The canines, with their lifetime exposure to radiation, make for desirable research subjects. But the researchers plan to help take care of the dogs, too, by monitoring their health.
Courtney Rulison, 21, said she found out about the opportunity when fliers were passed around to USC biology students. 
Rulison, who aspires to become a veterinarian, explained she will help prepare the animals for spaying and neutering. She said she was picked because of her interest and expertise in the animals.
"I don't know how long it's going to take for this volunteer organization not to be needed anymore," she said. "Or if these dogs can ever be adopted or leave Chernobyl. For right now, they have to stay there because they're contaminated."