Sears closed its last big-box store in Charleston this year, but the retail giant's legacy lives on in a handful of catalog-ordered "kit homes" scattered across the Uptown.
The Sears, Roebuck and Co. catalog was the Amazon of its time, both in terms of its omnipresence in American culture and the broad range of goods it offered. From 1908 to 1940, a separate publication called the Sears Modern Homes catalog offered all of the materials and blueprints needed for a variety of houses, shipped to your town in just a few days.
Sears homes were more commonly built in the Midwest and near the industrial centers of the Northeast, where shipping costs were reasonable. Kit homes were relatively rare in the Deep South, where lumber was abundant and homeowners could often afford to buy materials locally.
Local law professor and Sears home aficionado Kevin Eberle believes Charleston's status as a major rail hub may have something to do with the unusually large number of the houses here. The peak of Sears homebuying also coincided with a boom of new housing in Charleston's Uptown, where largely middle- to upper-middle-class homebuyers found the kit houses could fit their budgets.
"That was the first time Charleston went away from the traditional 'Charleston' style and built national pop-culture styles," Eberle said.
At the low end of the price spectrum, a six-room cottage dubbed Modern Home No. 115 could be had for as little as $452 plus shipping and assembly in 1908. A seven-room Colonial model, the Torrington, sold for $3,330 in 1934, about $64,000 in today's money.
Particularly in the Hampton Park Terrace neighborhood north of the Crosstown, Eberle has identified a handful of bona fide Sears kit homes with floor plans and facades that match historic catalog listings down to the inch.
Today, well-preserved Sears homes can provide a window into the mass culture of the early 20th century. Real estate agents sometimes mention "Sears" as a keyword in their listings, whether a house is a verified kit home or not, to convey a certain vintage cachet.
But even for amateur historians like Eberle, who can spend hours poring over the scanned-in PDFs of old Modern Homes catalogs online, it can be difficult to confirm a true Sears home with 100 percent certainty. The houses were built in the vernacular style of their time and, in turn, influenced the home-building industry at large, so near-matches abound.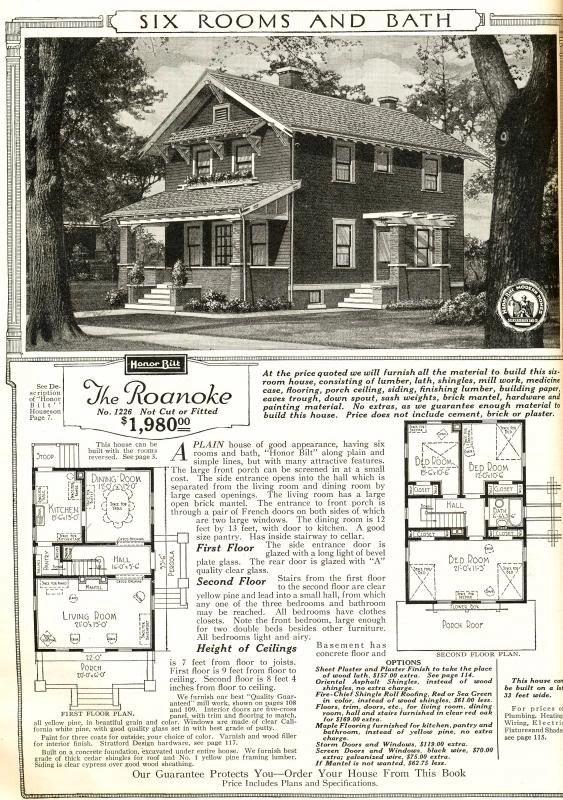 Eberle believes he has identified two surviving examples of The Roanoke, which a 1920 catalog described as "a plain house of good appearance, having seven rooms and bath, 'Honor Bilt' along plain and simple lines, but with many attractive features."
One is at 832 Rutledge Ave. and has been modified a few times over the years to enclose the front porch and remove some window boxes.
The other, at 270 Congress St., looks like it was taken straight out of the catalog picture, but as a mirror image. Local contractors sometimes modified the blueprints by reversing them or rotating them to fit on a lot, and Eberle believes that's what happened in this case.
Rosemary Thornton of Norfolk, Va., has been meticulously documenting kit homes across the United States and believes Eberle's research is sound. Thornton runs the website searshomes.org, one of the largest repositories of kit-home knowledge online, and also penned the 2002 book "The Houses that Sears Built."
After watching countless Sears homes being demolished in the Midwest, she said she hopes Charlestonians will take an interest in preserving the quintessential homes of the early 20th century, which were built with a quality of old-growth lumber that will likely never be used again. She said Sears homes were often purchased and built by immigrants, African-Americans, single women and other people who could not secure financing in their own communities but were able to get a reasonable mortgage directly through Sears Roebuck.
"This was ordinary life. We've done a fine job of preserving the mansions, the grandiose Victorians, the big velvet drapes hanging off a brass rod in the parlor. ... These really are Everyman's house, and it's the American story," Thornton said.
Eberle said he sees some parallels between the mass-manufactured kit homes and today's pre-fabricated speculative homes. Today, entire neighborhoods can be built in the suburbs with only a half-dozen floor plans, sometimes flipped or equipped with different-colored siding for variety.
"The whole point was outsourcing the cutting of lumber, getting a package deal," Eberle said. "That's exactly what people are interested in spec housing for."
Time will tell if those homes become classics in the next century.