The direct-action phase of the civil rights movement — from the Montgomery Bus Boycott in 1955 and '56 to the assassination of Martin Luther King Jr. in April 1968 — left no part of the South untouched.
In the Charleston area, Esau Jenkins and Septima Clark ran citizenship schools during the 1950s where black residents were taught to read and registered to vote. Blacks in Clarendon County mounted a legal challenge to school segregation, resulting in the 1952 Briggs v. Elliott case. Burke High School students, including Harvey Gantt (who would go on to integrate Clemson University and, later, become the first black mayor of Charlotte), organized lunch counter sit-ins at the Kress store on Lower King Street in 1960. Students, including Millicent Brown, integrated Charleston County's public schools in 1963. That same year, young demonstrators confronted The News and Courier over the newspaper's stance on integration.
Then, as the civil rights movement increasingly focused on economic justice issues, nurses at the Medical College Hospital, now the Medical University of South Carolina, and Charleston County Hospital, now defunct, went on strike.
It was March 1969, and the events of the 113-day hospital strike would prompt labor leader Walter Reuther and civil rights leaders Ralph Abernathy, Andrew Young and Coretta Scott King to join the protest. It would result in several high-profile arrests and culminate in the last big protest march of the era.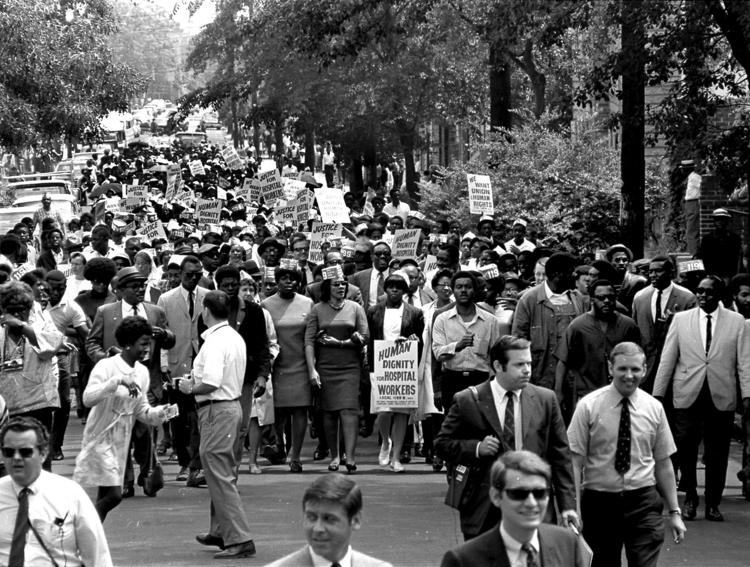 It would also shake the local economy so forcefully that merchants and business people quietly pushed civic leaders to reach a compromise.
Among the strikers were Mary Grimes, Vera Smalls, Priscilla Gladding, Rosalie Fields and Louise Brown. These women are expected to attend a 6 p.m. reception Monday featuring Orangeburg-based photographer Cecil Williams, whose work is on display at the Charleston County Public Library.
The exhibition, called "Unforgettable: Celebrating a Time of Life, Hope and Bravery," is on view in the lobby area of the main branch, 68 Calhoun St., through Sept. 30. It coincides with the publication of Williams' latest book, "Unforgettable."
The collection of 40 images portrays events, people and significant moments of social change from the 1950s through the 1970s and includes six images of the hospital strike.
Brown was among 12 workers fired on March 20, 1969, after collectively attempting to lodge complaints against their employer about low pay and racial discrimination. That moment signaled the start of the strike, though nurses, including Mary Moultrie, and local civic leaders had begun organizing workers for several months by then.
"We were having meetings," Louise Brown, 83, recalled in a telephone interview. "This particular day, Mary Moultrie had a meeting with Dr. McCord."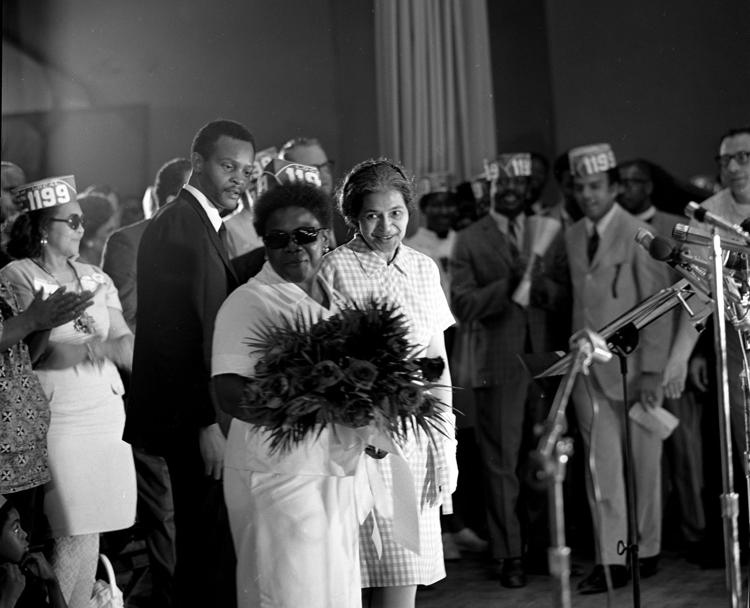 William McCord was president of the Medical College Hospital and fiercely opposed unions. A group of black workers gathered during their lunch hour to meet McCord, but he failed to show up before the nurses had to return to their posts, Brown said.
Soon, the director of nursing told 12 of the workers she wanted to see them, one by one, after their shifts.
"Oh no, you'll have to speak to us together," they replied, according to Brown. All 12 were fired. That decision effectively transformed a labor confrontation into a larger civil rights protest, one that quickly escalated into a full-fledged strike involving more than 400 employees.
Paying tribute
Williams, an accomplished photographer of the freedom movement, said the hospital strikers deserve recognition as the 50th anniversary of the event approaches.
"I wanted to pay tribute to their brave leadership, thank them for their great courage," he said.
Williams was working for Jet magazine at the time. The black press was acutely interested in the strike, eager to portray the unfolding events from the perspective of the exploited workers and curious about the role of Martin Luther King's Southern Christian Leadership Conference, he said.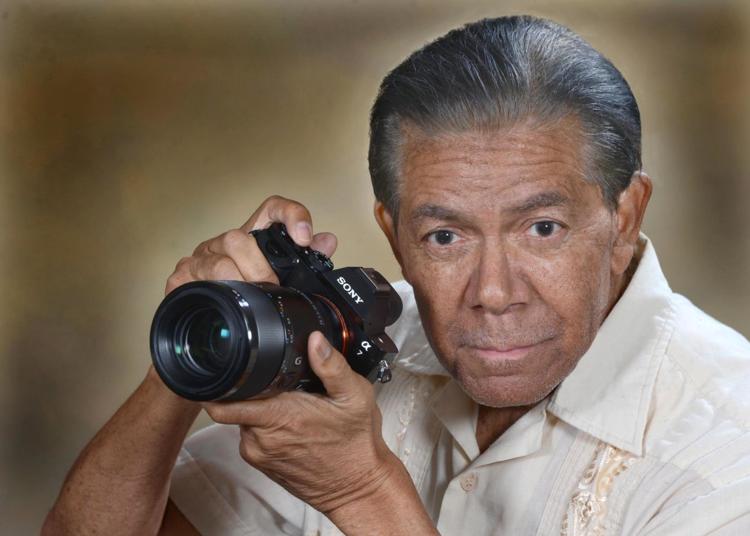 "They were interested in whether or not Coretta Scott King would assume the role of her slain husband, whether she would continue his work in a prominent way," said Williams, whose wife, Barbara Johnson-Williams, now sits on the MUSC Board of Trustees.
He took pictures of the big marches, the gatherings and meetings, the speeches. His photographs featured the leaders of the movement: Abernathy, Young, Coretta Scott King, Mary Moultrie and others.
"In my 10 years of working with Jet, I only made one cover," Williams said. It featured an image of Coretta Scott King at the podium, wearing her union 1199 hat, and the caption: "Mrs. King Fights For Black Workers in Charleston."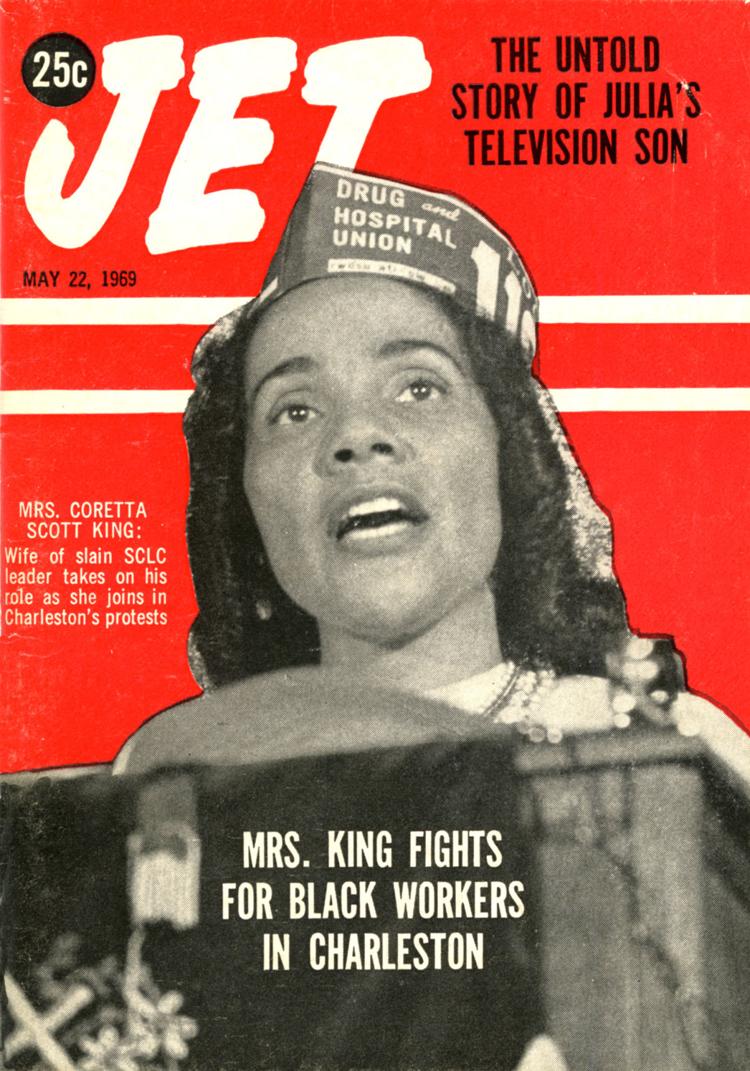 Steve Hoffius, who wrote a book about the strike published in 1980, said the conflict began modestly enough.
"One of the interesting things about the strike is the women started out just wanting support," Hoffius said. They didn't intend to unionize, and they didn't think about striking initially. They went to Isaiah Bennett, who was in charge of retail and wholesale workers.
Bennett figured there had to be an organization that represented nurses, prompting the women to seek out the Hospital and Nursing Home Employees union, AFL-CIO (1199).
"They didn't go to 1199 first, they just went to anybody who would help them," Hoffius said. "Eventually they went to Bill Saunders, who was suspicious of the union."
Saunders was viewed at the time as a black militant, but proved to be an effective negotiator, though one who was suspicious of organized power, including union power.
McCord, meanwhile, remained resistant to the demands of his workers, who wanted better pay and an end to discriminatory practices.
"One thing about McCord that doesn't get mentioned enough is that he was born and raised in South Africa," whose white minority maintained a brutal Apartheid system that oppressed blacks, Hoffius said. "I think it shaped his views on race and class a fair amount."
'We're all hurting'
The strike ultimately led to a settlement that restored jobs, provided workers a modest raise and resulted in a new grievance procedure. No formal contract was negotiated and signed, and the hospital refused to recognize the union or permit collective bargaining. Such was the compromise. Before long, the local union 1199B fell apart.
Nevertheless, most people on both sides of the dispute considered the settlement a victory that helped workers and improved race relations generally.
Brown said she's not so sure.
"I have not seen many changes for the underprivileged and poor people," she said. "I have seen in my years after the strike that nothing has really changed."
The cost of living has climbed even as wages have remained stagnant, she said. And affordable housing in Charleston is lacking.
"In the 1960s, I could rent a house for maybe $150 a month," she said, referring to the home she inhabited on the corner of Rutledge Avenue and Fishburne Street. "Now I look (at the) horrible way people are living today. It's become so expensive, no one can live in the city of Charleston. We're going back to slavery, but they're doing it in a different way."
Brown now is active in the Poor People's Campaign and has traveled to Columbia to join protests calling for economic justice. Recently she was among those arrested near the Statehouse. She said she is distressed by the current political climate.
"Stop talking about color, stop talking about black and white," she said, offering a prescription for social woes. "We're all people, we're all hurting. Until we realize we're all individuals, we're not going to make it. People need to be united as one."