Volunteers will span out across the South Carolina coast in boats and on foot Sept. 17 to clean up litter left by beachgoers, items dumped in marshes and all sorts of toss-away or floating trash that becomes waterway eyesores.
The Beach Sweep/River Sweep has been an annual effort for the past three decades, and organizers have noticed improvement among certain types of rubbish thanks to crackdowns on specific items, including cigarette butts.
Last year, 2,255 volunteers cleared over 20,000 pounds of debris statewide.
Data from 2018 and 2019 showed about a 50 percent decrease in plastic restaurant takeout containers and plastic grocery bags left on the beach, said Susan Ferris Hill, coastal coordinator for the upcoming beach and river sweep.
Plastic straws decreased by about two-thirds, she said. 
"I think there is this increased awareness that people know the right thing to do is to just recycle that stuff," Hill said.
That could be because some area beaches in recent years have prohibited single-use plastics like straws, grocery bags and foam plastic.
Some municipalities in Charleston County have also banned businesses from distributing single-use plastic bags and certain food containers.  
Folly Beach passed a smoking ban last year to help eliminate cigarette butt litter. The rule prohibits smoking, holding and carrying a lighted or activated smoking product on the sand and at beach-access points only.
But litter is still a problem across the coast. Volunteers who clean the beach and river areas have noticed a slight increase in litter from restaurant takeout containers, especially in green spaces near highways. 
Hill said some of these items may fly out of vehicles without the owners realizing it. 
"When (tropical storms) happen, and especially if we get a lot of flooding inland, I think a lot of that stuff (trash) travels through the waterways from some inland areas and makes it down the coast," Hill said. 
That is one reason why the beach and river sweep is a statewide effort.
The S.C. Sea Grant Consortium is organizing cleanup events on the coast, and the state Department of Natural Resources is leading the inland sweeps. The event is held in conjunction with the Ocean Conservancy's International Coastal Cleanup.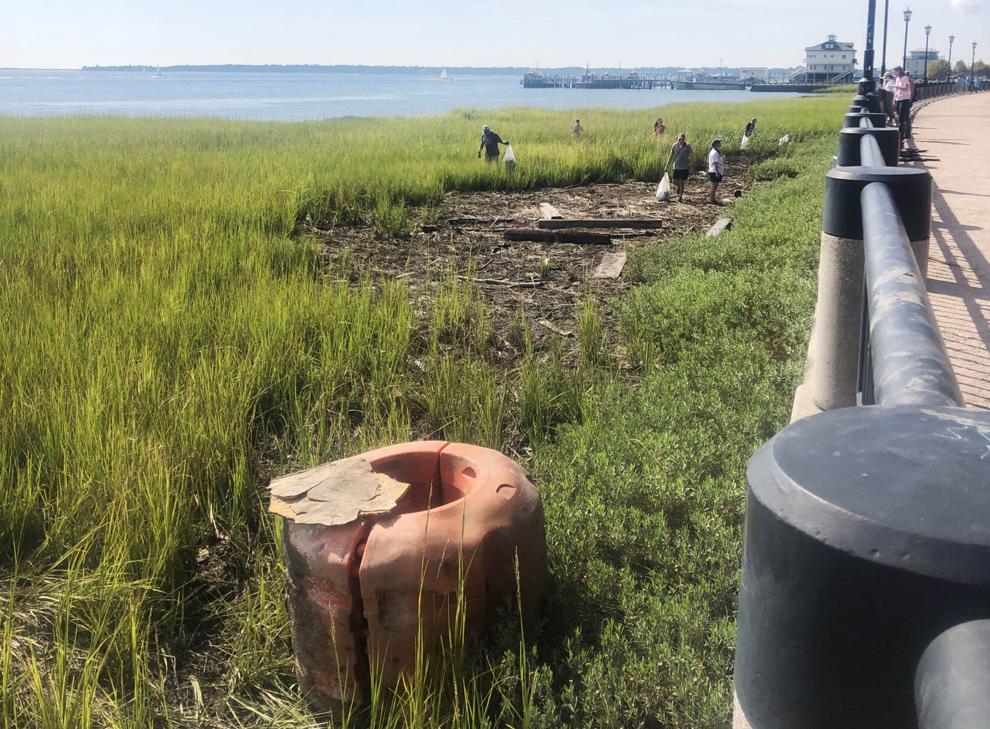 Volunteers will clean about 20 sites in the greater Charleston area, including downtown and on all of the barrier islands.
Edward Evans is leading the cleanup at the marsh in front of downtown Charleston's Waterfront Park. He's volunteered for the last 22 years and said people would be amazed at the amount of trashed pulled out annually.
"It's a really good feeling to come there in the morning, (with) a bunch of people out there picking up trash ... and at the end of the term to have this substantial pile of trash," Evans said. 
But it is not an easy feat. Volunteers have to push through marsh grass, sometimes while sinking in pluff mud. Evans often tells his crew to wear clothes and shoes they don't mind getting dirty because "nobody's clean after this thing." 
He often gets the same group of people year after year. 
"There's something about it," Evans said. "And I think for them (the volunteers), it's the same things as it is for me, that it's just a rewarding thing to do."
People who clean the area near Waterfront Park collect a lot of fishing-related items and plastics.
On Shem Creek in Mount Pleasant, crews have tended to collect more bottles, cans, and even COVID-related safety masks in recent years.
Elizabeth Anderegg is the site captain there. Youth scouts and local schools have signed up to clean that area this year. 
The children will take kayaks and paddle into the marsh area near Shem Creek, out toward Bayview Creek and along the marsh headed toward Crab Bank.
People who sign up will be provided with the needed supplies to make the collections. Hill recommends people reach out to the individual site captains to participate Sept. 17. That information can be found on the S.C. Sea Grant Consortium or DNR websites.
The effort runs from 9 a.m. to noon.