STONO INLET — New technology to be installed near an artificial reef off Charleston this weekend will provide scientists and mariners with real-time data on waves, wind direction and water temperature. 
The Smart Reef installation is the culmination of the monthlong SC7 Expedition meant to get people outdoors statewide from the mountains to the sea.
On July 30, a S.C. Department of Natural Resources vessel will carry 85-pound blocks into the ocean. Then a dive team led by retired Special Forces operators, will place the blocks about 5 miles off Stono Inlet, the waterway between Kiawah Island and Folly Beach where the Stono River reaches the ocean.
The reef blocks will sit near one of the Charleston area's most popular artificial reefs.
Once the structure is assembled, a buoy with satellite communication capabilities will be installed to record wave, water temperature and wind data. 
The idea to install the new technology offshore stems from goals of the S.C. Floodwater Commission.
There are more than 40 artificial reefs along the state's coast including old vehicles, boats and bridges, among other things. Marine animals flock to the structures for shelter, food and spawning.
"If we build artificial reefs out there, they're going to modify waves and currents and things like that," said Paul Gayes, a marine science and geology professor at Coastal Carolina University. 
So while the structures form these biological functions "why wouldn't it be helpful to institute all these sensors in it to better feed the model system," Gayes said. 
This weekend's installation is important because, although the Atlantic Ocean has major influence on South Carolina, there is limited scientific data about the coastal ocean area, such as water quality and temperature. 
Gayes said this is partially because it's so tough to work the area. 
He is the scientific leader for the SC7 Smart Reef installation. The university has also spearheaded dives to place modular reef sections off Hilton Head Island and North Myrtle Beach. 
"We're not only building the reefs, which is where all marine life starts, but we're putting on technology that will allow us to have better capabilities for coastal erosion and other issues associated with sea level rise," said Tom Mullikin, leader of the SC7 Expedition.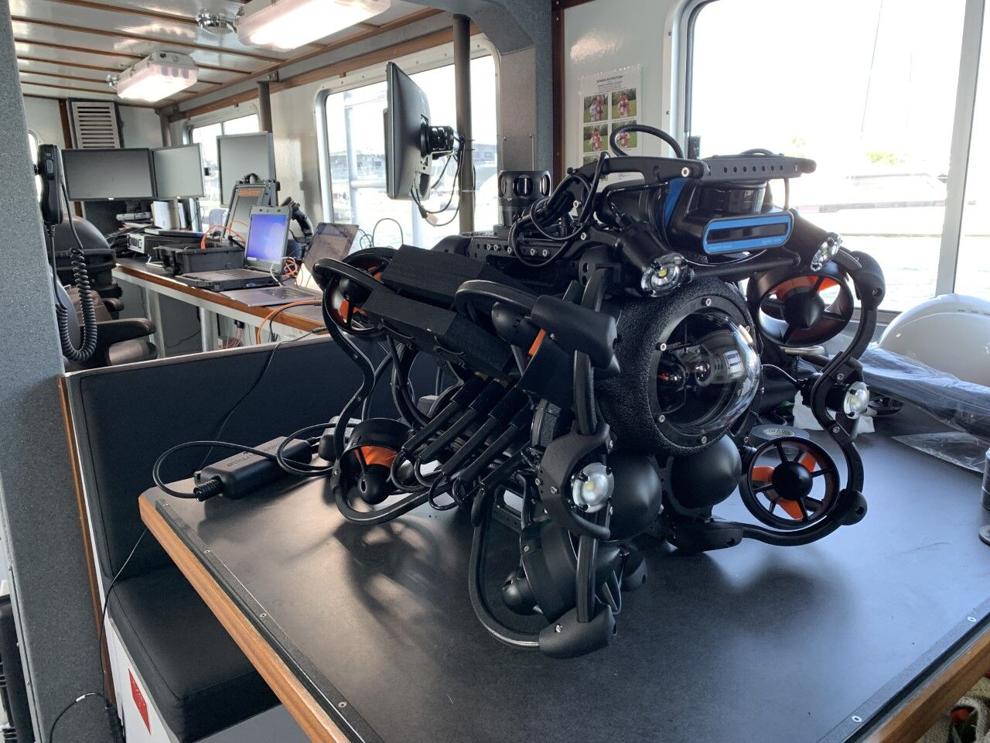 The smart reefs in South Carolina will tie into a broader network along the East Coast. 
Gayes said the National Oceanic and Atmospheric Administration has a system of about 100 buoys throughout the country, but they are widely spaced.
NOAA's buoys closest to Charleston are about 40 miles south of Edisto Island.  The next closest ones are near Cape Fear in North Carolina or Jacksonville, Fla., Gayes said. 
These added Smart Reefs — designed to emulate the existing live bottoms — will help better inform for weather modeling and forecasting. Local mariners and others who are interested will be able to access the recorded data in real time online to get a better sense of what the water conditions are like before going out.
"As the state works to increase resilience to extreme weather events, quality data is essential in the development of predictive modeling and planning," said Ben Duncan, chief resilience officer at the S.C. Office of Resilience.
He said understanding how artificial reefs can be used to reduce storm surge, among other things, will be crucial as coastal communities prepare for rising sea levels and potential increased tropical activity.