Two dozen volunteers pulled up their boots and slathered on sunscreen before wading through the marsh behind John Carr's home.
It was a sight, indeed. Pop music blared through a portable Bluetooth speaker. A few people danced in the marsh, covered in mud. And others sang along. 
But Carr wasn't throwing a party. Instead, he'd opened up his backyard — one that has been in his family for decades — to volunteers working to restore seven acres of degraded salt marsh. A $1.5 million grant awarded through the National Coastal Resilience Fund is supporting the project.
The marsh is located in Ashleyville, a West Ashley community close to the Ashley River and formerly known as the town of Maryville. The once self-sustaining Black community was chartered and settled in 1886 and offered formerly enslaved people safe places to buy land, raise families and work in the Jim Crow era. 
Carr's grandfather served as one of the town's mayors before the General Assembly revoked its charter in 1936. 
"We used to walk down the street at low tide and carry five gallon buckets and just catch crabs, and catch crabs and catch crabs — just like that," Carr said. 
He often caught oysters in the marsh, too, and spent so much time swimming there that he said no one can trick him to "go back in that mud" again.
But over time, Carr noticed a change in the place that was so special to him and others in the community.
"I noticed it die out, just died out for no reason, in my mind," Carr said. "And I started inquiring over and over, seeing if I could get somebody to pay attention to it."
Right now, the space, within sight of the back end of Charleston Towne Landing State Historic Site, is a big tidal mudflat with only some natural marsh grass still living. A lot of it died during a drought period between 2012 and 2016.
The dry spell, coupled with other environmental stressors, caused the marsh not to grow back naturally, said Michael Hodges, a biologist with the S.C. Department of Natural Resources and leader of the marsh restoration project.
Carr credits Albert George, a former conservation director at the S.C. Aquarium, with spearheading the work to restore the marsh area. Carr met with George who surveyed the site and had researchers from universities in South Carolina and Georgia come in for testing within a matter of days.
Now, several groups have joined forces to ensure the works get done.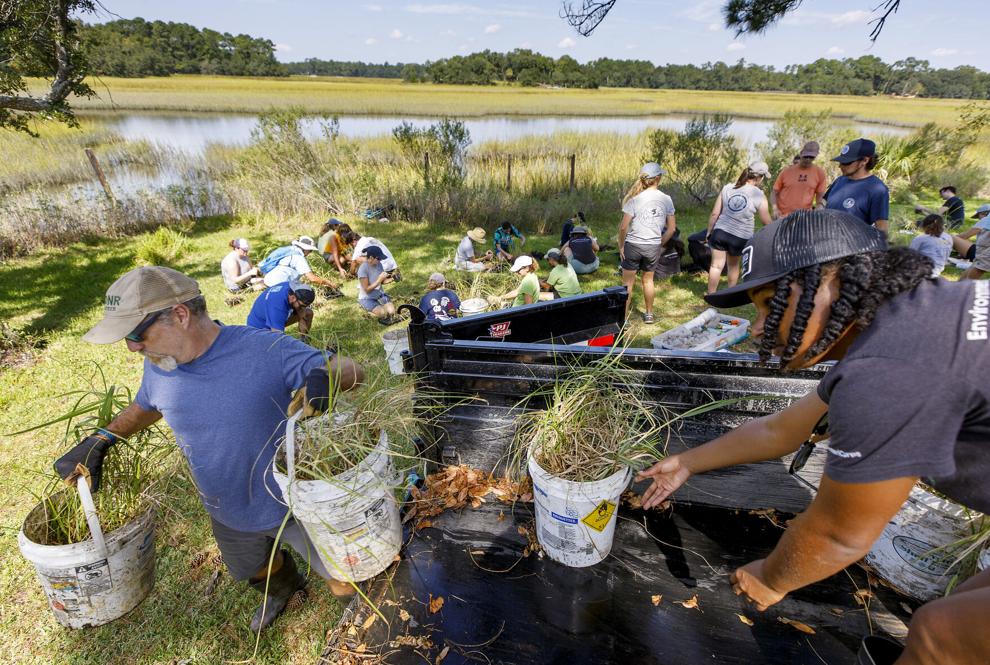 Over the next three years volunteers will venture in and hand excavate small tidal channels. Hodges said an engineering firm came up with the idea of getting more water into the tidal flat so that if another drought occurs there will be a bit more moisture in the sediment for the marsh to withstand any dry periods.
The plan is for volunteers to construct oyster reef living shorelines as well through DNR's S.C. Oyster Recycling and Enhancement Program.
Getting volunteers involved in every aspect of the restoration is important for a number of reasons, Hodges said. "One is to provide that 'hands-on' opportunity to teach them about the estuary and about our coastal marshes and the benefits oysters reefs provide to us," he said. "And then give them something to participate in. Something that's tangible."
The project will take three years of in-the-muck work, plus one additional year of monitoring afterward.
This project is one of eight coastal recovery projects approved for funding from the National Coastal Resilience Fund this summer. The fund is a partnership between several groups including the National Fish and Wildlife Foundation and National Oceanic and Atmospheric Administration.
The Fish and Wildlife Foundation's coastal resilience program director, Jessica Grannis, said the Maryville project was chosen because of its innovative technique of working with volunteers to restore tidal connectivity to an impaired marsh in an urbanized area. 
"This will be a demonstration to show how they can take this approach and scale it to other marsh habitat throughout this watershed," Grannis said.
The National Coastal Resilience Fund was created specifically to support nature-based solutions for reducing flood risks and other coastal hazards, while enhancing the habitats that are important to a community's life and wellbeing, Grannis said.
DNR will work with Georgia Tech to monitor the marsh restoration in Ashleyville and develop a guidebook for scaling the approach to other areas.