Teachers at seven Charleston County schools could be getting tens of thousands of dollars in bonuses this year — but only if their students show academic progress.
The Excellence in Teaching Awards, a program new to CCSD that's funded by Meeting Street Schools, will potentially award bonuses to teachers at seven of CCSD's lowest-performing elementary schools. Excellence in Teaching Awards is modeled after a bonus incentive program that's been at place at Meeting Street schools for two years where a teacher's yearly bonus can total up to $50,000.
While education experts across the board want to raise teacher pay, many groups are critical of performance-based bonuses.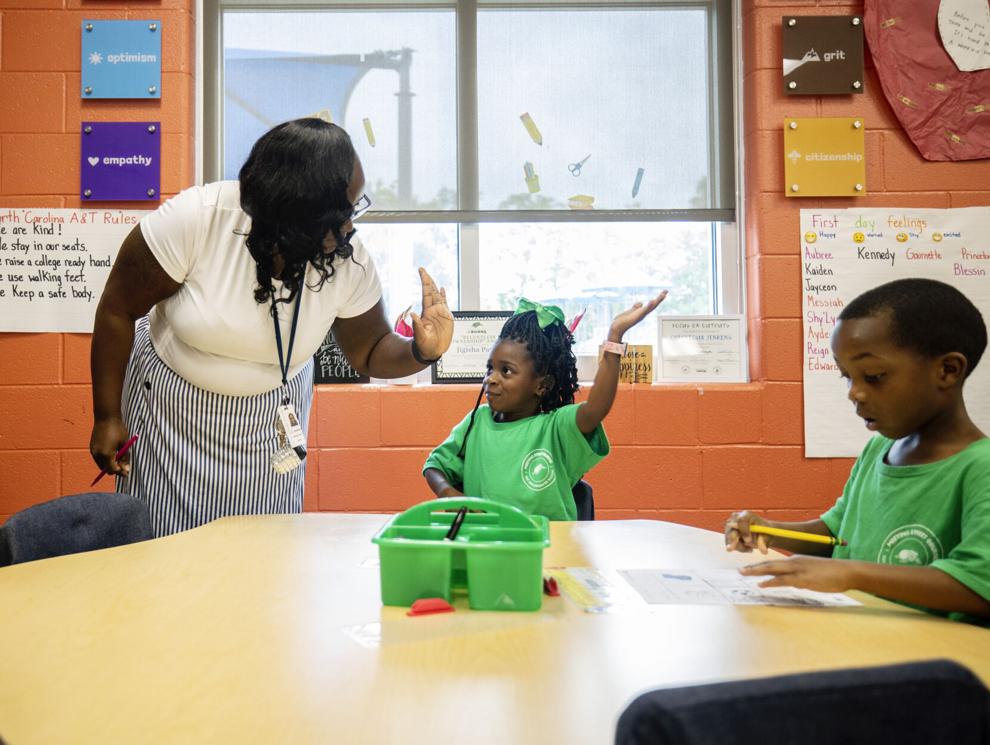 Studies analyzing this type of salary overhaul reported mixed results, and critics say the strategy is too reliant on test scores which don't always paint the full picture of student progress and doesn't judge all teachers by the same standards.
The seven schools are part of CCSD's 15 "acceleration schools," which were identified by the state in 2019 as the district's lowest-performing schools.
Excellence in Teaching Awards bases its standards on reading and math NWEA Measures of Academic Progress tests. If students show more than 1.8 years of growth in either subject, that teacher will be awarded $10,000 dollars, or $20,000 if they hit the mark in both subjects.
Teachers whose students show between 1.6 and 1.79 years of progress get awarded $7,500 per subject, between 1.4 and 1.59 years get $5,000 per subject and between 1.2 and 1.39 years get $2,500 per subject.
A note on the award website says that Meeting Street Schools have sole discretion to set the rules for the award initiative.
Meeting Street said that as far as it can tell, the incentive program at its schools is working. CCSD believes testing it out at the seven schools is worth a shot, especially because the district announced its ambitious goal to get all students reading on grade level within five years. 
The question now is: will it work?
History of teacher pay
Public school teachers have long been paid on a single-salary schedule which bases pay on years of experience and degree levels. It was originally introduced to prevent inequities in pay structure, according to Matthew Springer, a University of North Carolina professor who researches teacher pay.
"Men were being paid more than women," he said. "Teachers of color were being paid less than White teachers. There were different forms of nepotism within the pay structures as well."
But in the past couple of decades, merit pay has been gaining traction.
The federal government in 2006 launched the Teacher Incentive Fund and began offering large, competitive grants for school systems to put performance-based pay systems in place. Over time, the concept has expanded and evolved into different strategies that measure teacher effectiveness or focus on student test results.
While some education reformists have pushed the idea of merit pay for teachers, South Carolina advocacy groups have vehemently opposed it for years and any attempts by legislators to move in that direction have been squashed.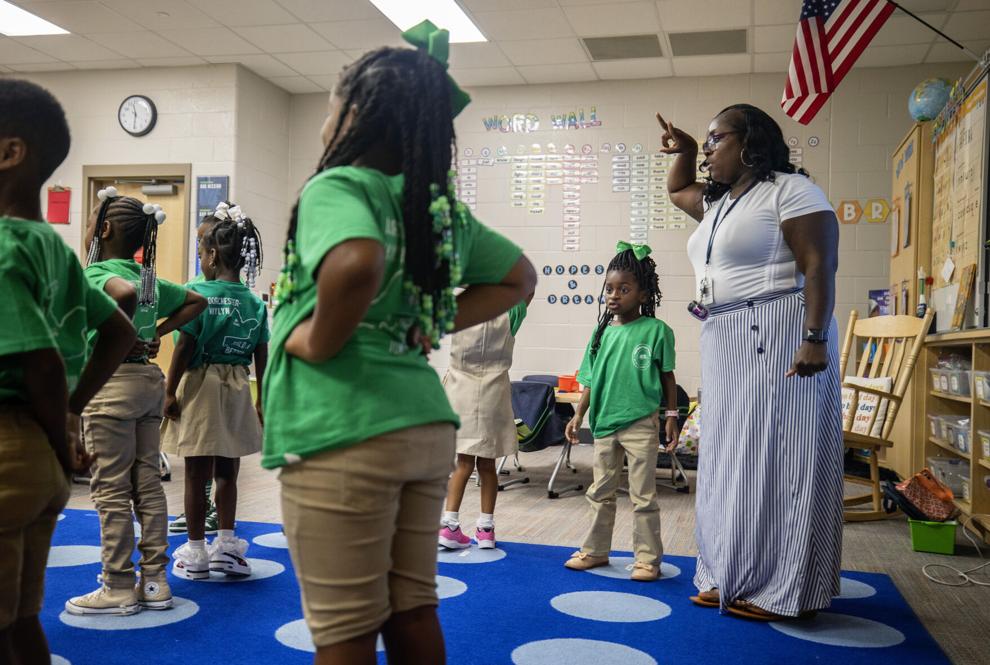 Then-House Speaker Jay Lucas proposed a massive overhaul of the state's education system in 2019, which included a section that asked the state Department of Education to recommend how to replace the state's teacher salary schedule with up to nine promotion levels with salary ranges for each.
But teachers so opposed the idea that it was scrapped from the proposal and the entire bill eventually died.
According to Springer, if the compensation reform is strategic, research shows it can have a positive effect on student performance and teacher retention.
"Well designed and carefully implemented strategic compensation plans hold great promise," he said.
At Meeting Street, it's already working.
Meeting Street
Charniqua Jenkins sits cross-legged in the center of her classroom and asks in a ringing voice, "Where are my crayons going to go?"
One of her kindergarteners at Meeting Street-Burns glances between the lunch box sitting in front of Jenkins and the backpack.
"In the book bag," he answers. "Way to go!" the rest of the class echoes back.
Minutes later her students are silent as she and her teaching assistant flit around the room checking on student assignments. With her confidence and control of the classroom it's hard to imagine that Jenkins has only been teaching for six years.
She admits she's incorporated a lot of new teaching tactics in the past two years since Meeting Street established its merit pay program.
In its first year, Jenkins got over $10,000 in awards because her students showed more than a year of growth in reading and math.
This year after creating small math groups and reading groups, communicating with parents about at-home work and using data to push for student growth, Jenkins got her students to show more than two years of progress in math and reading.
"I pushed and pushed," she said. "I worked my butt off."
Donate to our Investigative Fund to support journalism like this
Our public service and investigative reporting is among the most important work we do. It's also the most expensive reporting we do. We can't do it without your support.
It paid off big time — $25,000 worth. She took her family for a cruise and she went to Las Vegas. All in all, it brought her family closer, Jenkins said.
About half of the teachers at Meeting Street got some amount in awards this past year, principal Chad Weiden said.
While Jenkins understands why some might be skeptical, she's behind the idea of performance-based bonuses because it gives teachers an extra push and potentially puts more money in their pockets at the end of the day.
Meeting Street CEO Christopher Ruszkowski said some of their most outstanding teachers have gotten their students to progress quickly in reading and math within a single year, and that the school has managed to retain those teachers year after year.
All four Meeting Street schools started the school year this month fully staffed. That's not a coincidence, he said.
"I know that six months ago we were apprehensive that we were going to be able to pull that off," Ruszkowski said. "I think that the combination of our culture and our mission and our people combined with our total compensation has allowed us to start the school year fully staffed."
But the program will look different at CCSD.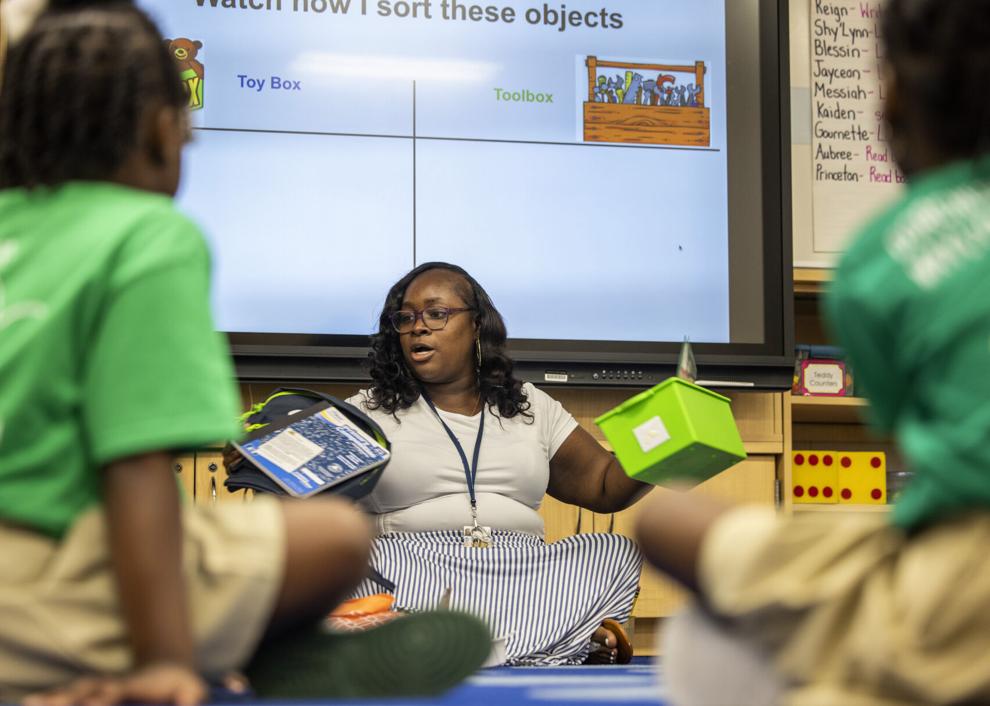 Looking ahead
Jacqueline Haynes, the district's associate superintendent over acceleration schools, has been leading a team that's been meeting with Meeting Street administration for more than a year to bring the program to CCSD.
Since then, principals and teachers at Meeting Street and CCSD have met to discuss strategies and ways to collaborate.
"The partnership between the acceleration schools and Meeting Street Schools continues to grow and evolve," Ruszkowski said. "We've talked about getting on the same page from a curriculum perspective, from an assessment perspective, from an extended day [perspective]. The possibilities here, the synergies here are really powerful."
Springer, the researcher, said the key to success is being thoughtful about implementation and teamwork between the stakeholders.
"It's much more likely that that reform is going to have the potential to achieve what it's intended to achieve," he said. "It should be celebrated that we're finding ways to reward and recognize our highest performers."
Haynes said CCSD is being intentional about bringing services, such as the Excellence in Teaching Awards, to the neediest schools — hopefully, attracting the best teachers.
While Haynes understands why teachers might push back against marking their progress by testing, she said it's how growth is measured by the state in the acceleration schools.
"Testing is part of what we are required to do, if we are meeting the standards and really closing that achievement gap," she said.
And the awards are part of a multitiered strategy, including changing leadership and improving curriculum, to turn the schools around, Haynes said.
"In order to have great teachers and leaders in our schools, we have to attract them and retain them," she said. "Teachers want to feel valued. They have to really work hard to close that achievement gap in low-performing schools."
While Haynes said she wishes teacher salaries were higher, the merit-based awards are one way to help pay teachers more in Charleston, where the cost of living is ever-increasing.
"Excellent teachers deserve excellent pay," said Josh Bell, Meeting Street Scholarship Fund's executive director. "And the fact that we haven't been able to figure out how to do that over the past century doesn't mean that we should stop trying to figure out how to do that."
Meeting Street plans to fund the program at CCSD for at least five years, and there's no cap on the money they're willing to spend.