Sometimes the "trash talking" — insults, innuendo, humorous putdowns often associated with a major college football rivalry game — goes a smidge too far.
There was nothing funny about the riot following a 1902 South Carolina-Clemson game in Columbia. A group of Clemson cadets, apparently mocked during a military parade just after their classmates suffered a 12-6 loss to the Gamecocks, marched on the South Carolina campus. Complete with bayonets and swords.
They were turned back at the Sumter Street entrance by South Carolina students bearing handguns and rifles.
No one was injured, but the series was discontinued until 1909.
Between an armed clash and the Gamecocks-Tigers game set for Saturday night at Clemson (7 p.m. on ESPN) most of the trash talking in the longest continually played football rivalry in the South has been a series of humorous putdowns.
A top 10 list:
Not so Big Thursday
The Clemson-South Carolina football clash was held on "Big Thursday" in Columbia, in conjunction with the State Fair, from 1896 to 1959. That partly explains longtime Clemson head coach Frank Howard's poor record against the Gamecocks (13-15-2 from 1940-69).
But Howard offered one of the rivalry's best one-liners.
"The only good thing ever to come out of Columbia," he said, "is I-26."
Clowney around
Jadeveon Clowney arrived at South Carolina from Rock Hill as a megastar defensive end, the top-rated recruit in the country. He left as the first overall pick in the 2014 NFL draft.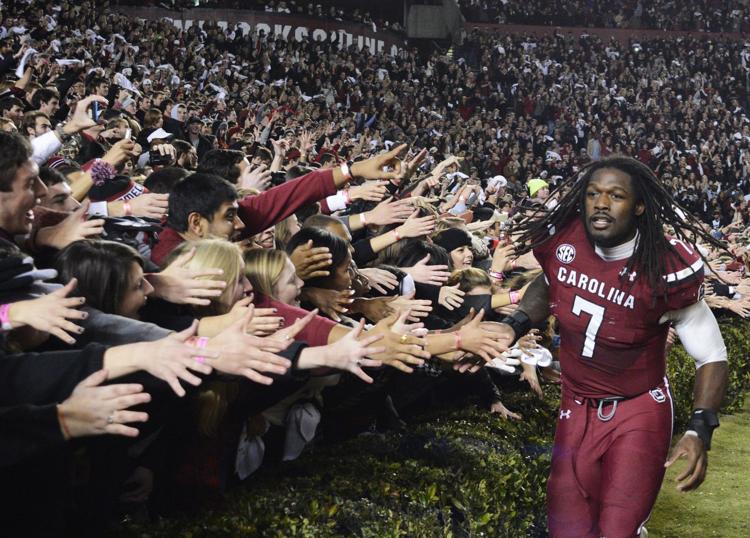 Clowney, who vowed never to lose to the Tigers, went 3-0.
He also took a shot at Clemson quarterback Tajh Boyd at SEC Media Days the summer before the 2013 game.
"You can see in his eyes that he's scared of our D-line," Clowney said. "He is scared every time we play them. I know he's listening to this right now, but I'm telling the truth."
The Dabo rant
It started with a misunderstanding. Already agitated that Clemson had just lost to South Carolina for the third straight season, Tigers head coach Dabo Swinney thought he was responding to a jab from Gamecocks head coach Steve Spurrier.
But it was Todd Ellis, radio voice of South Carolina football, who reportedly said, "As Coach Spurrier says, 'We might not be LSU or Alabama but we ain't Clemson, folks.'"
That prompted Swinney's response before a group of reporters covering a pre-ACC Championship Game practice.
"He's exactly right — they ain't Alabama and they ain't LSU and they certainly are not Clemson," Swinney said. "That's why (North) Carolina is in Chapel Hill, USC is in California and the university in this state — always has been, always will be — Clemson. It's right here in Clemson, South Carolina. Print that. Tweet that."
A Spurrier retort
Spurrier, a famed quipster, got a kick out of Swinney's onslaught. An example came when he steered a non-related question into rivalry territory.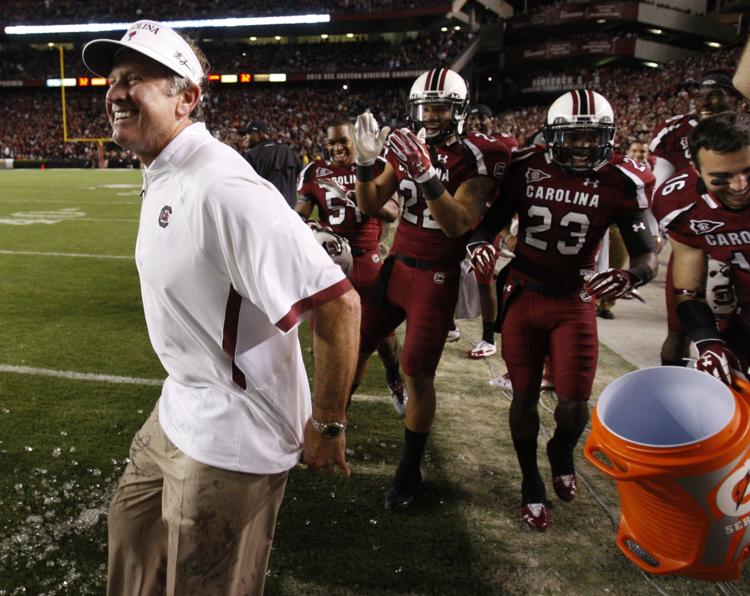 "At this time last year Dabo's favorite USC — Southern Cal — was the preseason No. 1 in the country," Spurrier said. "I call them 'Dabo's favorite USC.' But anyway, we are playing Dabo's favorite Carolina, too. He loves North Carolina and Southern Cal for some reason. I don't know."
The Watson factor
Quarterback Deshaun Watson led Clemson to the 2016 national championship, was a two-time Heisman Trophy finalist and an NFL first-round draft pick. He also endeared himself to Tiger fans by going 3-0 against South Carolina to curb the Gamecocks' five-game win streak.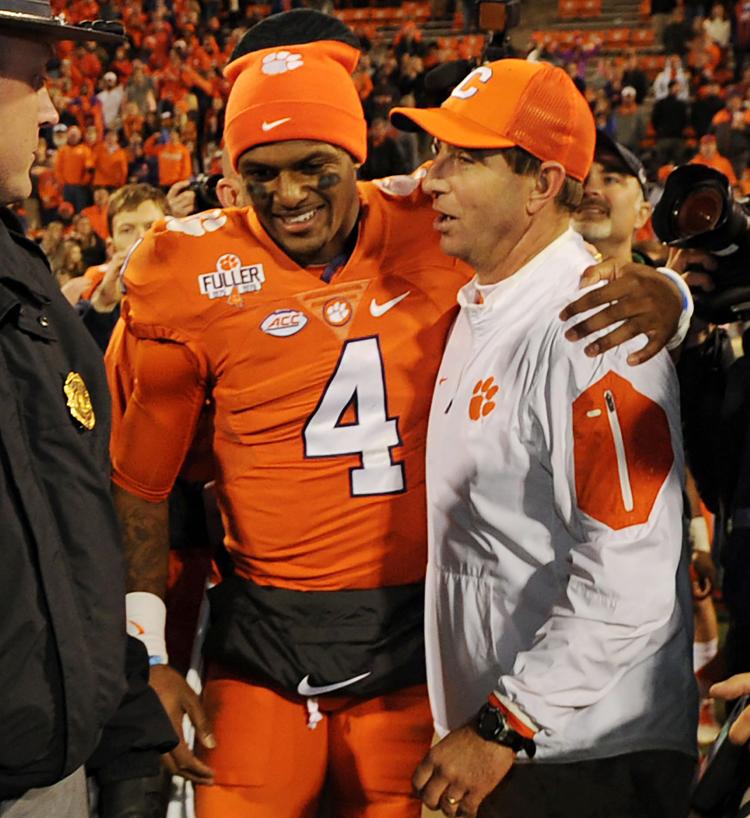 "I just said all week, on our end it's like daddy beating the son," Watson said after a 56-7 win in 2016. "Giving the son a whupping. We run the state. We're 3-0 and the longtime record since Game 1 speaks for itself."
Woody and The Chief
A few colorful South Carolina linemen took center stage before the 1987 game.
Center Woody Myers went after No. 8-ranked Clemson's Michael Dean Perry, a first-team All-American.
"Michael Dean has been talking a lot of trash up there in Clemson," Myers said. "I just hope he's ready to back it up."
Myers also unloaded on Clemson's ACC schedule (South Carolina was not in a conference back then).
"I know they're riding pretty high after last Saturday," Myers said, "but they better be a little more realistic. They played well against Maryland, but we're not Maryland."
South Carolina defensive lineman Kevin "The Chief" Hendrix was asked about Danny Ford's Tigers the same day.
"I hate orange," he said. "Anything orange."
Myers, Hendrix and Co. backed it up with a 20-7 victory for late head coach Joe Morrison's best South Carolina team.
Oh, brother
Ben Boulware was known to pop off a bit during his stint as a hard-tackling Clemson linebacker from 2013-2016. Miffed at South Carolina safety Chris Moody's notion earlier in the week that the Tigers were the "little brother" in the rivalry, Boulware eagerly responded after Clemson's 56-7 rout in 2016.
"They had their little five-peat (from 2009-2013)," Boulware said. "It's kind of like when you have a little brother and your mom comes in the room and you have your PlayStation and your mom says, 'Let your little brother play a little bit. Let him see what it feels like to win.' So we kind of gave them the controllers for a little bit and let them see what it felt like to win. ...
"We got tired of that, and snapped those controllers back."
Band camp
South Carolina's "Mighty Band of the Southeast" got into the act as the Gamecocks were extending their series win streak to five games with a 31-17 victory at Williams-Brice Stadium in 2013.
The halftime musical tribute to the school up the road with agricultural roots: "Old MacDonald Had a Farm."
Keeping with a rivalry theme, South Carolina athletic department staffers played a skit starring goofy farmers on the video board during the third quarter.
Brad Scott's revenge
Brad Scott is one of the most interesting figures in this or any college football rivalry. He went a relatively respectable 2-3 against Clemson as South Carolina's head coach from 1994-1998 and as a Clemson assistant coach was carried off the field by Tiger players after their 1999 win in Columbia.
Scott remains on Clemson's staff as Swinney's director of player development.
He posed for a scoreboard-in-the-background photo on the field in Columbia in the final minute of Clemson's 63-17 win in 2003.
And he couldn't help but respond to an aggressive Gamecock fan who was chirping away as Scott walked to the locker room following Clemson's 13-9 victory at Williams-Brice Stadium in 2005.
"Good job," Scott said, glaring back at the yelling man and putting the palms of his hands within a few inches of each other. "You're getting closer."
The Taneyhill Show
Steve Taneyhill did his 1992 trash talking with iconic antics.
The long-haired South Carolina freshman quarterback while leading the way to a 24-13 victory at Clemson imitated home run swings after throwing touchdown passes.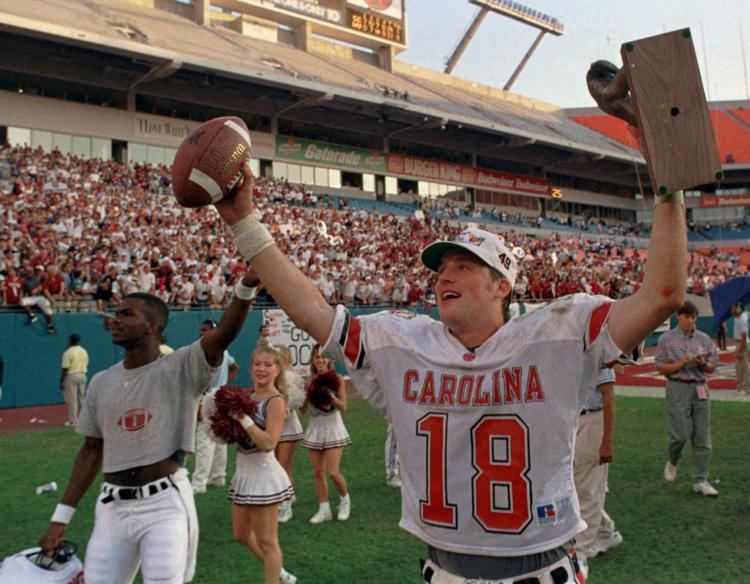 Just after the game, Taneyhill stopped at the Tiger paw logo at midfield and signed his name in the fading orange paint.
"Just having fun," said Taneyhill, who won again at Clemson as a junior in 1994.
It was icing on a Gamecock win that snapped a four-game series losing streak.
Follow Gene Sapakoff on Twitter @sapakoff