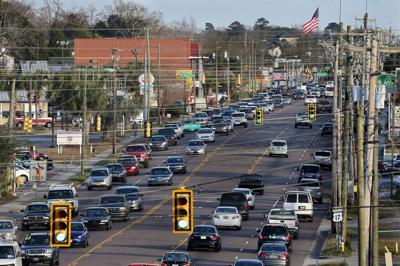 The state implemented a long-overdue gas-tax increase on Tuesday.
Now the state can drive that additional revenue into desperately needed road repairs and construction.
No, not the state of South Carolina.
The state of New Jersey.
From the Newark Star-Ledger:
"As of Tuesday, New Jersey no longer has claim to the second-lowest gasoline tax in the country. In an otherwise high-tax state with notorious property and estate taxes, the gas tax was the odd one because it was so low. Monday, only Alaska had lower state gasoline taxes than New Jersey. But after midnight, that all changed when a 23-cent-per-gallon increase hit pumps across the state, boosting the 14.5 cents the state charges per gallon to 37.5 cents and to seventh-highest in the U.S."
So before Clemson became No. 2 in this season's first College Football Playoff standings released Tuesday night, South Carolina became No. 2 earlier that day in the lowest-gas-tax standings behind Alaska.
And five days from now, Charleston County voters face a choose-your-poison dilemma in not just the presidential race to the bottom but on a bewildering referendum question that is unofficially condensed and translated here, as a public service, into basic English:
1) Vote "Yes" to raise your sales taxes — again — by a half cent to fund urgent road (along with some mass transit and green space) improvements or ...
2) Vote "No" and continue to postpone those road projects, which the state should fund but won't, while congestion continues to intensify.
In other words, we can either pay the roads tab that the state is ducking or pay the price in even worse traffic.
Asleep at the wheel
No, we can't count on the governor and the G.A. (General Assembly) generating more road money by finally boosting the gas tax for the first time in more than a quarter century.
And 30 percent of that tax is paid by out-of-state drivers as a practical user's fee.
As reported in today's paper, assorted local leaders made late appeals Wednesday for the approval of that $2.1 billion half-cent referendum, which would boost the "local option" sales tax in the county to a total of 3 percent. Add that to the 6 percent state sales tax, and our overall sales tax in the county would be 9 percent.
Ouch.
Back to the referendum:
While pitching for "Yes" votes on Wednesday, Charleston County Council member Herb Sass pointed out that the half-cent deal doesn't include money for extending — or is that completing? — I-526.
Yet extended furor over that controversial project has transformed the political dynamic on council.
Chairman Elliott Summey, who also advocated "Yes" Wednesday, recently just said "No" to remaining head of council as of January.
Summey was caught on tape making disparaging remarks about fellow council members — and double-dealing about his resolve, or lack thereof, for the 526 project. Early last month, Nix526 (the title conveys its raison d'etre) released those incriminating tapes from prior meetings it had with Summey. His misguided comments hit him hard on the front page of this newspaper.
So see, not just national politicians have to be careful about how and with whom they communicate.
And not just national politicians reasonably suspect that opposing forces are conspiring to bring them down.
From the national (and international?) conspiracy-theory front:
Longtime Clinton propagandist James Carville expressed alarm and outrage Monday on CNN over "an assault on American democracy."
The target of the Cajun crybaby's asinine ire:
FBI Director James Comey, for announcing Friday that the agency has reopened its investigation of Hillary Clinton's reckless (and illegal?) use of a private server for official emails while secretary of state.
Carville blamed not just the FBI boss but "House Republicans" and "the KGB" for this alleged menace to our self-governing system.
At least he left out the CIA, NCAA, SEC, WWE, P and C, G.A., and S.C. DOT.
If you build it ...
Much closer to home:
Charleston County taxpayers endure a conspiracy of elected-official dunces in Columbia in their persisting, perturbing refusal to raise the money needed to fix and build roads by raising the state gas tax.
Meanwhile, despite our road woes, before casting your half-cent ballot, ponder this proven formula reprised in this space seven weeks ago:
"More people = more vehicles = more demands for more lanes = more lanes = more development = more people = more motor vehicles ..."
Frank Wooten is assistant editor of The Post and Courier. His email is wooten@postandcourier.com.