Clemson is the nation's No. 2-ranked team. Death Valley roars are probably heard clear to Sassafras Mountain as the Tigers come running down The Hill.
University of South Carolina fans again will take to the school's signature "Sandstorm" zaniness cue like freshmen to free pizza.
But the Citadel's student body is relatively more committed to the start of football season than anywhere else in a football-mad state. The Military College of South Carolina on Saturday will transport 550 of its 2,300 cadets to the Bulldogs' game at Wofford.
Other cadets likely will find their own way to Spartanburg for the Southern Conference rivalry game without help from the Commandant's fund.
"It's huge having our classmates in the stands for a road game," Citadel quarterback Jordan Black said, "because they just get so crazy. They go berserk."
Twelve Palmetto State college football teams take part in nine season openers Saturday. Highlights include Coastal Carolina at South Carolina (noon), Furman at Clemson (12:20 p.m.) and The Citadel at Wofford (6 p.m.).
Charleston Southern opens at Florida (6 p.m.) and S.C. State plays at Georgia Southern (6 p.m.).
Changes — some subtle, some shining from freshly buffed helmets — will be on display in Columbia and Clemson.
South Carolina announced plans this week to wear a script "Carolina" on its garnet helmets Saturday, only the school's second helmet logo alteration since 1974. Ah, those merchandise sales: radio ads and social media posts have run all week encouraging fans to wear new Gamecock gear with the script logo.
Clemson doesn't mess with its iconic tiger paw helmet logo, but the Tigers reportedly will unveil new cleats Saturday (white with purple and orange chrome bottoms).
Also at Death Valley, Clemson plans fireworks at all home games.
At Williams-Brice Stadium, a new Gamecock Football Wall of Captains makes its debut outside the stadium at Springs Brooks Plaza.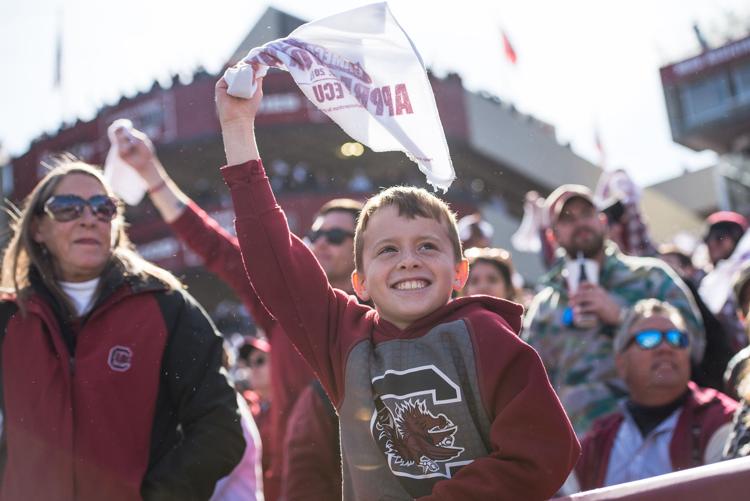 "South Carolina's football captains had been on display inside the stadium for years with the Hall of Captains, but it's not easily accessible to the general public," said Steve Eigenbrot, Senior Associate Athletics Director for Development and the Gamecock Club. "This new Wall of Captains gives all fans the opportunity to learn more about Gamecock football history, see the year-by-year captains for the program, and enjoy some detailed stories about certain individual captains that will be rotated out on the Leadership Wall, in addition to some other features."
Inside the stadium there are 30 new points of purchase for concessions.
Both Clemson and South Carolina promise improved cell phone reception with the addition of more Distributed Access System (DAS) placements.
All of which will make it easier for fans to talk and text about the lopsided victories expected for the Tigers and Gamecocks on Saturday.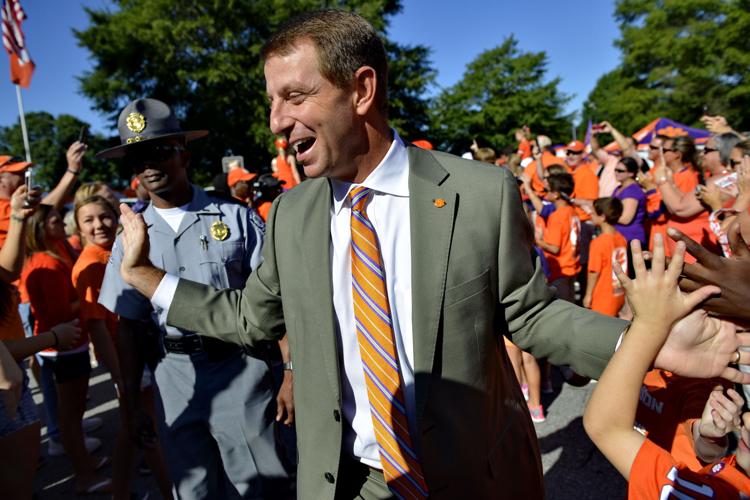 Though the Clemson head coach did offer a history lesson this week.
"People say this is a game we should win," Dabo Swinney said. "But Furman has beaten Clemson 10 times — 10."
Swinney failed to point out that the last of those Furman victories came in 1936, before the release of "Gone with the Wind" or the start of World War II.
The challenges get tougher for Clemson and South Carolina next week: the Tigers play at Texas A&M; the Gamecocks play host to No. 3 Georgia.
But the Citadel has a home game, against Chattanooga, a convenient walk for all 2,300 cadets.