ORLANDO, Fla. — Stephen Orr Spurrier has been working overtime to prepare his Orlando Apollos of the new Alliance of American Football for a Saturday night home opener against the Atlanta Legends (CBS, 8 p.m). It's the first game for Spurrier, 73, since he quit midway through South Carolina's 2015 season.
But the Head Ball Coach took time out this week to talk about his time as the Gamecocks' most successful head coach, insisting that he "underachieved" with a talent-loaded program.
Yes, even while winning the school's lone SEC East title in 2010 and notching three straight 11-2 seasons from 2011-2013.
Remember that five-game win streak against Clemson?
Spurrier also talked about other coaches, including Clemson's Dabo Swinney, Alabama's Nick Saban and the New England Patriots' Bill Belichick.
On the current state of the South Carolina program and head coach Will Muschamp:
"He's working his butt off, trying as hard as he can. I don't know if it's a little tougher now but we really had some good players between 2010 and 2013.
The other day we were watching some plays on film from, I think, 2012. I looked at that offensive line: Corey Robinson was the left tackle; played for the Lions. Ronald Patrick, who's with us and has had a lot of looks in the NFL, was the left guard. A.J. Cann, who's with the Jaguars, was the right guard. T.J. Johnson, who played a long time for the Bengals, was the center.
And Brandon Shell, who's with the Jets, was the right tackle. Think of that: All five of them dudes. And we had Marcus (Lattimore), we had Alshon (Jeffery), we had all those guys on defense …
"I look back and say we underachieved. We might have been in the top 10 but we could have been really special with one more game here and there."
On Dabo Swinney:
"He's building a dynasty at Clemson and he builds it the right way. I consider Dabo a good friend, I really do. We talk from time to time. He told me he's going to be watching the (Apollos-Atlanta) ballgame Saturday. I started thinking and probably most college coaches will be watching. They're tired of watching basketball."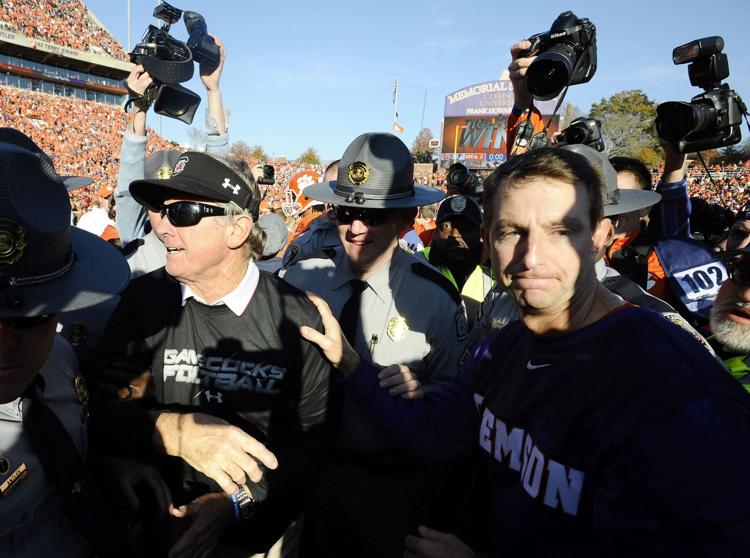 On Nick Saban:
"Alabama isn't slipping; they had one lousy game against Clemson. They'll be back."
On the improving SEC East:
"Georgia now is recruiting like Alabama. You know it's interesting how South Carolina was ahead last year in that Florida game, 31-14, and then a jump ball play doesn't go their way.
From then on Florida finished beautifully; they won every game. And South Carolina kind of went the other way. It's amazing how one play changes a whole season."
On Bill Belichick, 0-1 against Spurrier in the NFL but a six-time Super Bowl winner:
"Statistically, he will go down as the best coach ever. And I think all of us coaches really, really admire the way they do it. They don't beat themselves. And they have different players every year except (Tom) Brady. The ability to win all those close games is good coaching."
Follow Gene Sapakoff on Twitter @sapakoff