COLUMBIA — Zion Williamson is basketball art. He's a slam-dunking, soft-shooting, permanently viral 6-7, 285-pound face of the college game.
He's the biggest part of the loaded, top-seeded Duke team that's on the marquee this week at Columbia's Colonial Life Arena.
How cool that a kid who grew up in Florence, Marion and Spartanburg is the biggest part of the first NCAA Tournament games held in the state capital of his adopted home state since 1970.
But the intersection of Zion and Columbia is part glory, part tragedy.
Good genes, a great upbringing and an exceptional basketball work ethic are mixed with the drawn out timing of the Palmetto State's hard conversation on race and politics.
Behold, the great Zion.
Catch him while you can, Thursday during Duke's open-to-the-public (free) practice, Friday in the first-round of March Madness and again on Sunday. These are some of the last few college basketball games for a once-a-generation freshman talent ticketed as the first pick in the NBA draft on June 20.
How Zion Mania got here:
Mt. Zion and flag mounting
• April, 2000 — South Carolina head coaches Lou Holtz and Eddie Fogler and Clemson head coaches Tommy Bowden and Larry Shyatt join Charleston Mayor Joseph P. Riley Jr. and others for parts of a five-day protest march from Charleston to Columbia designed to urge legislators to get rid of the Confederate flag atop the statehouse dome.
• June 6, 2000 — Zion Lateef Williamson is born in Salisbury, N.C. His mother, 5-10 Sharonda Sampson, names him after a Biblical reference to Mt. Zion, the highest point in Jerusalem. She was a track star at Livingstone College, where his father, 6-5 Lateef Williamson, was a defensive lineman.
• April, 2001 — Moving the flag off the statehouse dome to a memorial area isn't enough. The NCAA announces a ban on predetermined championship events in South Carolina until the Confederate flag is moved off statehouse grounds (the ban does not impact the 2002 NCAA men's basketball tournament games already scheduled for Greenville).
• 2002 — Zion and family move to Florence.
• 2002-2013 — Lots of flag outcry and protest but no movement. The NCAA maintains its South Carolina policy.
Emanuel AME, the flag
• 2013 — Sharonda Sampson, now remarried and a veteran coach, coaches Zion's basketball team at Johnakin Middle School in Marion, just east of Florence. Zion's step-dad, former Clemson basketball player Lee Anderson, adds more basketball instruction.
"I miss it," Zion told the Marion Star & Mullins Enterprise last year, "because I have some good friends down there that I don't get to see as much. I think middle school is where you develop your best friends and stuff like that, so I just miss it."
• 2014 — The NCAA switches to a merit-based policy for hosting early-round games in the NCAA women's basketball tournament starting in 2015, allowing Dawn Staley's powerhouse South Carolina program to host. The men's tournament ban holds.
• June 17, 2015 — A young man from Columbia slaughters nine people at a Bible study inside Charleston's Emanuel AME Church on one of the worst days in South Carolina history.
• July, 2015 — The confederate flag is removed from statehouse grounds after a June call from South Carolina Gov. Nikki Haley.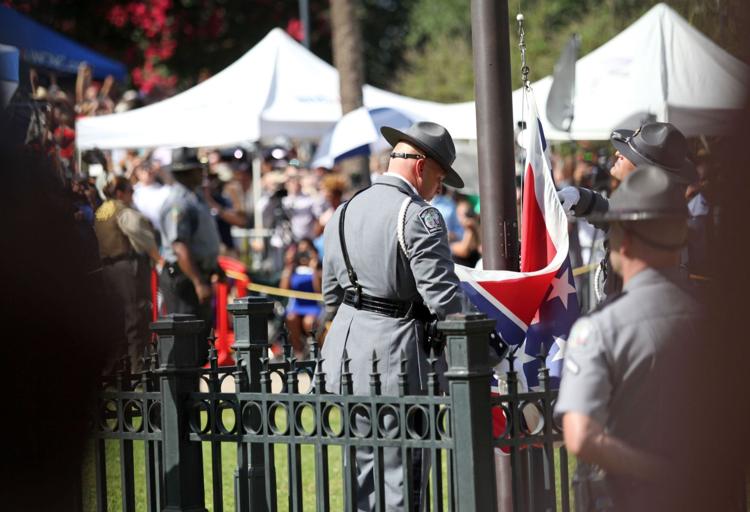 • July, 2015 — The NCAA lifts its South Carolina ban after the flag is finally removed.
• September, 2015 — Zion grows from 5-9 to 6-6 between eighth grade and the start of his sophomore year at Spartanburg Day School.
• 2016 — Mike Krzyzewski, Roy Williams and John Calipari are among the high-profile coaches who visit Spartanburg Day as Zion blows up into a youtube sensation, famed for his monster dunks and NFL left tackle build.
• April, 2017 — The NCAA announces Columbia will host early-round NCAA Tournament games in 2019 with Greenville getting the nod for 2022.
• January 20, 2018 — Zion picks Duke over Clemson, South Carolina, Kansas, North Carolina and Kentucky, not necessarily in that order. He joins Duke-bound RJ Barrett and Cam Reddish, the other two top-rated players in the high school class of 2018.
Opener vs. Kentucky
• Nov. 6, 2018 — Duke opens the season with a 118-84 rout of Kentucky. Zion rockets to the top of 2019 NBA draft prospect lists.
• Feb. 20, 2019 — Zion suffers a right knee injury on Duke's first possession against North Carolina and the Tar Heels win, 88-72. Duke is just 3-3 with Zion recovering down the stretch of the ACC regular season.
• March 14, 2019 — Zion goes 13-for-13 from the field with 14 rebounds and five steals as Duke beats Syracuse, 84-72, in its ACC Tournament opener on the way to an ACC Championship.
• March 17, 2019 — Duke gets the No. 1 overall seed in the NCAA Tournament. And a spot in Columbia for the first and second rounds.
Follow Gene Sapakoff on Twitter @sapakoff