While Major League Baseball is constrained by that pesky little winning-is-important thing, fan bases in the low minor leagues don't check the standings all that much.
Is the ballpark nice?
Food good?
Beverages cold?
Fun scene?
And won't some of these guys we're watching tonight make the majors?
Those are the main fan concerns in Charleston, Greenville, Columbia and North Augusta, where Class A minor league teams are doing well at the gate in 2018 as MLB attendance is taking an alarming dip.
MLB attendance is down a disturbing six percent since last season, which was down from 2016, which was down from 2015. The figures are the lowest since 2003. And it's not just bad baseball. Cleveland, running away with the American League Central, is 22nd in MLB home attendance.
Seattle, despite a sizzling winning percentage hovering around .630, is 17th.
But in South Carolina, four South Atlantic League teams are humming along at the gate. Greenville (4,899 home average in 2017 and 4,860 through Friday in 2018) and  Charleston (4,494 in a record-breaking 2017 and 4,488 in 2018) remain steady. The Augusta Greenjackets with new SRP Park in North Augusta are way ahead of 2017 (4,115 to 2,743) and Columbia's drop from 4,773 to 3,994 is easily explained: Mets novelty attraction-turned-prospect Tim Tebow has moved up to double-A.
The Tebow Factor also helped the rest of the SAL in 2017, as is now pushing figures in the Eastern League.  
In state minor league entertainment, only the Class A Carolina League's Myrtle Beach Pelicans are struggling, down from a 3,587 average in 2017 to 2,860. 
Ten reasons why South Carolina's four South Atlantic League teams are bucking the big league trend, Tebow or not:
1. Exceptionally nice ballparks. The facilities in Greenville, Charleston, North Augusta and Columbia – in that order – were included last week in a Post and Courier ranking of South Carolina's top 25 sports venues.
2. Losing isn't a big deal here. Not like the pain felt in Pittsburgh and Miami.
3. While much of former Charleston RiverDogs' owner Mike Veeck's "Fun is Good" mantra has rubbed off on MLB marketing departments, minor league promotions remain more fun. Which is very good for fans.
Aaron Judge, Mookie Betts
4. South Carolina's ownership and management groups are smart when it comes to pleasing fans. Some MLB ownership groups are just smart when it comes to protecting their investments by ridding themselves of expensive contracts that go with productive players.
5. Market size doesn't matter as much in North Augusta as it does in St. Petersburg and Cincinnati.
6. South Carolina's booming population is a headache during rush-hour but turns turnstiles. Have you noticed that many of these newcomers come from baseball hotbeds in or very near places such as New York and Boston? Not coincidentally, Greenville (Red Sox), Charleston (Yankees) and Columbia (Mets) have newcomer-friendly parent clubs.
7. Grad rates. A lot of Yankees fans are very aware that Bronx stars Aaron Judge, Luis Severino, Gary Sanchez and Greg Bird played in Charleston just as Red Sox fans are aware that Mookie Betts, Jackie Bradley Jr. and Andrew Benintendi played in Greenville.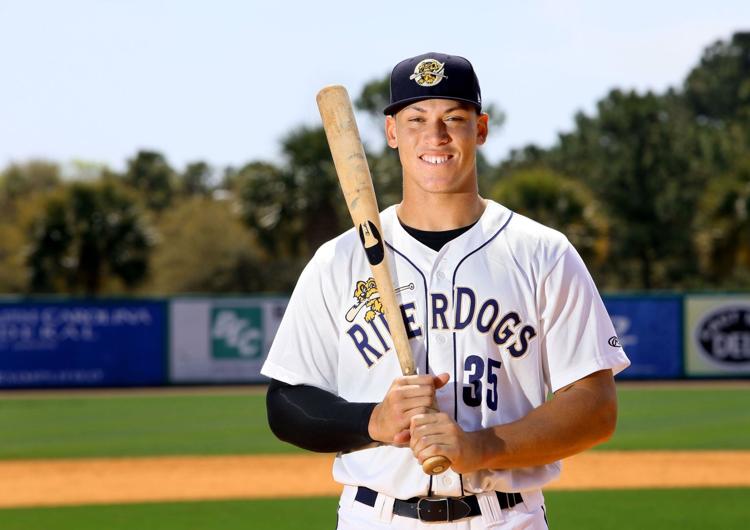 8. Pace of play and calls for shorter games are issues in MLB, not so much in the minors where fans not heavily invested in results can arrive late and leave early with fewer regrets.
9. Intense college baseball interest that few states can rival dovetails nicely into the heart of the minor league season.
10. Kids. Youth baseball. Prospects. Baseball America's 2018 MLB Draft demographics show South Carolina was the No. 8 state for drafted players with 33. That adds up to extra baseball interest.
'Go Back to Ohio Night'
So, yes, South Carolinians live in a sort of baseball cocoon.
But it's a nice cocoon with a Coastal Shrimp Burger at Charleston's Riley Park, a tour of Shoeless Joe Jackson's boyhood home aside Greenville's Fluor Field, a view of the Savannah River from North Augusta's SRP Park and Columbia Fireflies souvenirs shining brightly inside The Mason Jar gift shop.
What can MLB learn from this?
Keep with Atlanta's SunTrust Park (capacity 41,000) trend of smaller ballparks going forward. Fenway and Wrigley had it right all along.
A bit more revenue sharing to boost competitive balance.
Shorten games.
Get even more creative with promotions.
For instance, the RiverDogs once staged "Go Back to Ohio Night" including a prize package highlighted by a one-way airline ticket to Cleveland.
Which might work well again this season as the Indians apparently can use another baseball fan.
Follow Gene Sapakoff on Twitter @sapakoff