Sapakoff: West Virginia QB and Heisman hopeful Will Grier least famous of Grier brothers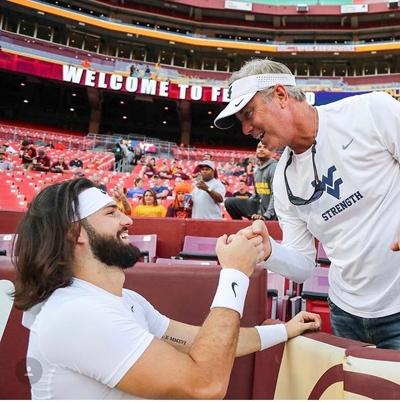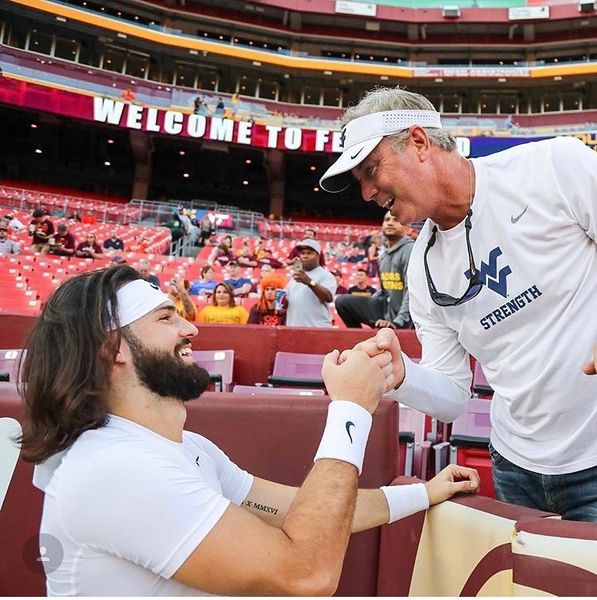 If Will Grier isn't the most interesting man in college football, he plays a supporting role in the most interesting family. The 23-year-old West Virginia quarterback (and possible future Lowcountry resident) is a Heisman Trophy candidate. And a projected first-round NFL draft pick eager to kick off the Mountaineers' season Saturday against Tennessee in Charlotte.
But a mere preseason All-American is Mount Pleasant high school football coach Chad Grier's third-most most famous son.
Nash Grier, 20, is a web celebrity, star of Vine videos, actor, model. His clothing line is rocking.
"Oh, let me see. Yeah, he's in Dubai preparing for Milan Fashion Week," said Chad Grier, in his second season as head coach at Oceanside Collegiate Academy.
Hayes Grier, 18, was the youngest male contestant in "Dancing with the Stars" history, appearing at 15. Also a Vine sensation, he has the lead part in Verizon's "Top Grier" series. Starring as himself.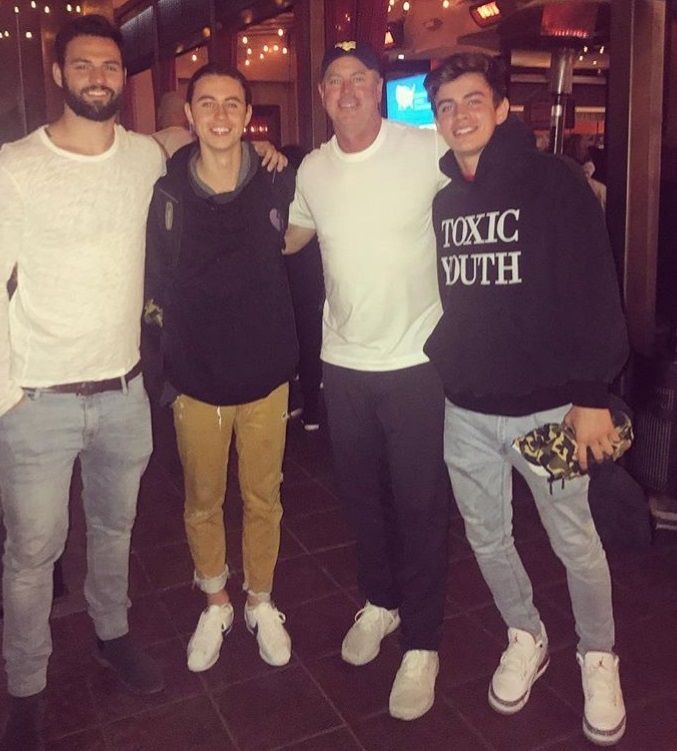 "They've toured the world," Chad Grier said of his two youngest. "Because of them I've been to the Grammy's and the White House Correspondents' Dinner. It's crazy. You can't make it up."
Instagram followers:
Will Grier — 602,000
Hayes Grier — 5.5 million
Nash Grier — 9.9 million
Poor Will Grier, the colorful personality who threw 34 touchdown passes as a West Virginia junior in 2017, the blue-chip recruit who threw for 837 yards in a playoff game for Davidson (N.C.) Day School (Chad was the head coach in the 104-80 win). Yes, a 6-2, 214-pound passer who was going to be a star for Will Muschamp's Florida Gators.
He's barely the most popular person in his own Morgantown, W.Va., household.
Jeanne Grier, Will's wife, is a former Tampa Bay Buccaneers cheerleader with her own photo-packed, blog-filled web site.
Everyone is charmed by Eloise Grier, Will and Jeanne's two-year-old daughter. That's the way it was this summer when Will and Jeanne spent time in Mount Pleasant with his father Chad and step-mom Nila (mother Elizabeth still lives in the Charlotte area) and it's the same way in Morgantown.
Chad Grier coached his oldest son hard into those early high school years and backed off when colleges came calling. Now he cherishes the role of proud dad, and granddad.
'I'm just proud to be his dad," said Chad Grier, who has never missed one of Will's football games. "I think he's a remarkable young man and it has nothing to do with football. And he married his best friend, which is how it should be."
It's hard not to pull for Will Grier — to win games, influence NFL people and hopefully make up some Instragram ground on his little brothers.
Family man, and Muschamp
Will Grier's favorite Sullivan's Island restaurants are The Obstinate Daughter and Mex 1 Coastal Cantina.
It's hard to beat his dad's Tolers Cove location, nestled in the marsh next to the Ben Sawyer Bridge between Mount Pleasant and Sullivan's Island.
"My dad has found a good spot there," he said. "I love being down by the beach. My daughter loves the beach so we really like taking her down there. It's another home for us. I could totally see us living there sometime."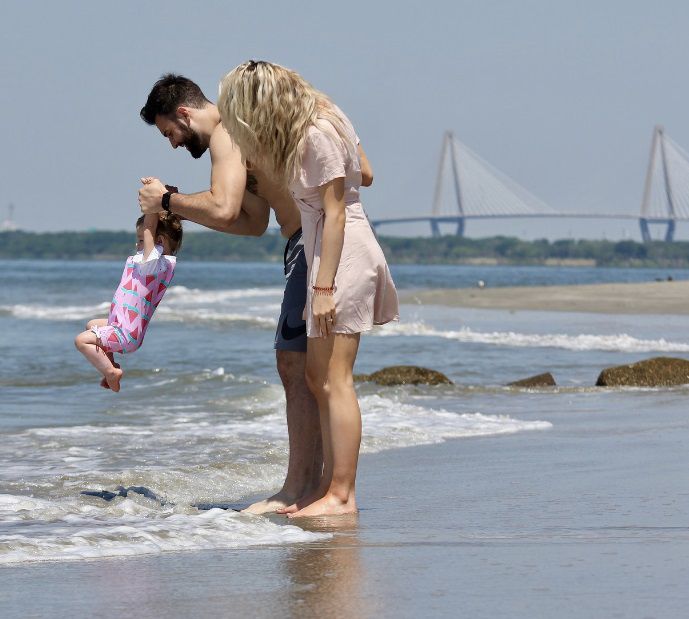 Family balance keeps preseason hype in perspective. New honors and expectations roll in each week: Heisman polls, a No. 17 ranking for West Virginia, mock drafts.
Isn't your daughter your biggest fan?
"I don't know," Grier said from Morgantown, "but I'm her biggest fan. She helps me to be the best father I can be and the best husband I can be. I take that responsibility very seriously. I give a lot of effort to both that and my football, and it offers some perspective. I'll do whatever it takes to provide for my family."
Will and Jeanne met as University of Florida students through mutual friends from Tampa. Grier was supposed to be a quarterback that helped make Muschamp's program an SEC title contender. But his time in Gainesville was marred by injuries, an NCAA suspension tied to Grier's apparent misunderstanding about a banned over-the-counter supplement and Muschamp's dismissal.
The mutual admiration linking former player, his family and coach is nice and unusual.
"I have so much respect for Will Muschamp," Will Grier said. "He's a great coach and a great person. He's texted my dad after games to say 'good game' or whatever. He doesn't have to do that. I think he's a role model who really cares about the people he coaches and has coached."
Chad Grier agrees, calling Muschamp "absolutely one of the great things going in college football."
"He is a real football guy who is down to earth, genuine and just a good dude," Chad Grier said. "His keeping in touch with us has just confirmed all the things he said in the recruiting process, that he really does care about his players."
NFL interview question
Muschamp has his own South Carolina season to think about. But still thinks about the Griers.
"That family will always be special to me," Muschamp said this week. "I hate that things didn't work out for Will at Florida but he's just a wonderful young man and I'm so happy for the success he's having now."
The best football times are ahead.
I asked Grier to offer a preview of the pitch he will make to NFL general managers during interviews.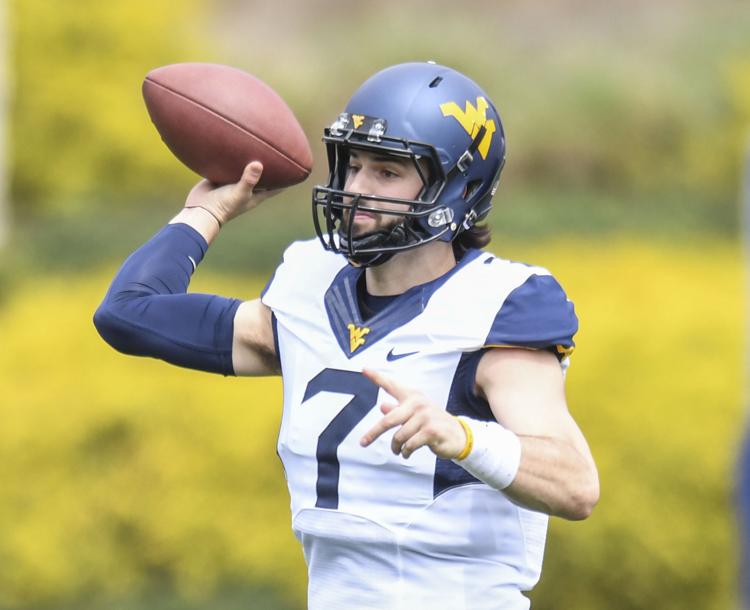 "First off, I'm a team guy. I'm a leader," he said. "I try and make sure I make other people around me better and I try to do everything I can to make the program better. But that's not the only thing you get if you draft me: Off the field, I take a lot of pride with who I am in the community. As a father. As a husband. I want to be a very well-respected person. I want to do good by everybody.
"And as serious as I take football, I take my off-the-field stuff just as serious. So I think you're drafting a very well-rounded family guy who's very focused on winning football games and not just focused on himself."
NFL analysts say Will Grier has elite-level arm strength and a ridiculously quick release, too.
Sounds like a guy who might eventually rival his brothers' popularity
Follow Gene Sapakoff on Twitter @sapakoff