Ten takeaways from SEC Media Days and ACC Football Kickoff with just six weeks to go before the first Saturday of actual college football:
1. Clemson's Brent Venables deal is ridiculous, and shrewd. So the going rate for a top-notch defensive coordinator is a record-$11.6 million over five years? Absurd, considering Clemson, lacking room for students to live on campus, pushes them into expensive off-campus leases while they (or their parents) are saddled with the tuition debt young people (or their parents) must grapple with for decades.
And Venables might be the most valuable assistant coach in college sports.
2. Nick Saban has another big board. Of course, the detail-obsessed Saban makes sure Alabama has a thorough recruiting analysis system. But Saban in Atlanta also revealed he keeps a list of active college coaches, tracking "who are the best people developing at every position out there regardless of what level they are coaching at in terms of their ability to coach players, teach players, have success in leadership roles, whether it's offensive coordinator, defensive coordinator, whatever it might be. And who are the best recruiters."
Saban has six new assistant coaches this season.
3. Larry Fedora wins the Preseason Idiot Award. Football "under attack" as America declines? Questioning CTE data? Sure, the sport has contributed much to society: work ethic, teamwork, meritocracy, entertainment … And some of what Fedora said about continuing safety efforts made sense.
But a head coach at North Carolina should know football gets better, not worse, when "under attack" from medical experts and others trying to make the sport safer.
4. The Bentley family keeps making progress. Gamecocks quarterback Jake Bentley spent some of his summer working as an intern under South Carolina Athletic Director Ray Tanner. Bentley joked he was "interim AD" when Tanner was out of the office.
"It was awesome experience seeing the administrative side behind-the-scenes," Bentley said.
Bobby Bentley, Jake's dad and the Gamecocks' running backs coach, got high praise from a former boss, Auburn head coach Gus Malzahn.
"Bobby Bentley will be a coordinator or head coach in this league," Malzahn said.
5. Clemson's veteran edge is immense. Head coach Dabo Swinney gushes about his "most experienced team." The tenure is more impressive in relative terms.
Career starts among the ACC's returning offensive and defensive starters, per David Teel of the Newport News (Va.) Daily Press: Clemson 325, Duke 273, Boston College 257, Wake Forest 256, Syracuse 228, Miami 217, Virginia 208, Georgia Tech 183, Pittsburgh 171, N.C. State 169, Florida State 166, Virginia Tech 164, Louisville 157, North Carolina 157.
6. Willie Taggart's "Florida State culture" emphasis is working. Players liked that their new head coach had FSU legend Bobby Bowden and former Seminoles stars come to spring practice. And Taggart learned about the importance of program identity during a visit to Clemson just after he got the Oregon job last year.
"They've done a great job over the years," Taggart said, "and once you go there and you get around the program and you see the environment, you see the culture, you can understand why they're having a lot of success at Clemson."
By the way, the latest head coach to visit Clemson for a "culture" lesson? Two-time NBA champion Erik Spoelstra of the Miami Heat last week.
7. Jeremy Pruitt's Rocky Top start remains a bit rocky. He awkwardly ripped Tennessee fans for their non-attendance at the spring game. This week he attempted to brush off criticism from former Georgia players about his tepid relationship with former Georgia head coach Mark Richt. Meanwhile, in Charlotte, Richt refused to talk about Pruitt when an Atlanta radio station correspondent asked for a comment.
But Pruitt's no-nonsense toughness might be just what Tennessee needs.
8. Vanderbilt is lousy but handsome Kyle Shurmur is capable of engineering an upset. "He really hurt us in the passing game last year," South Carolina head coach Will Muschamp said of the Vandy senior quarterback in the Gamecocks' 34-27 win.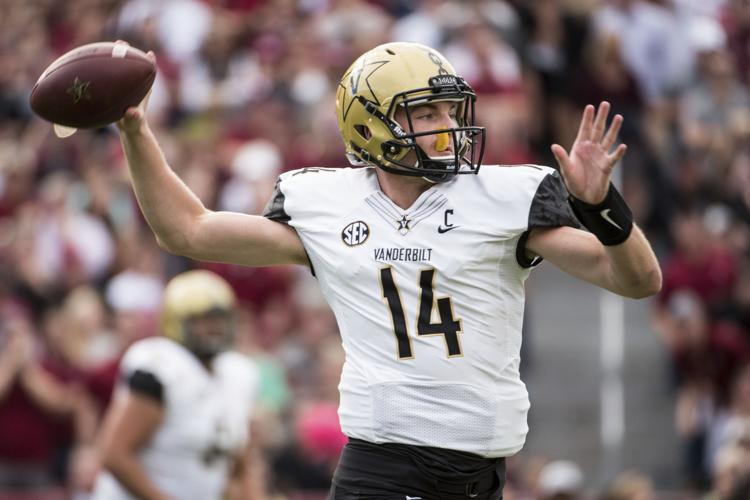 Vanderbilt paid for a Shurmur billboard in downtown Atlanta.
"I've heard a lot about it," said Shurmur, son of New York Giants head coach Pat Shurmur. "The best response was from my mom. She said, 'Oh, you look so handsome.'"
9. Safe bet: standardized injury reports are coming. And whether coaches like it or not. As predicted in May, more legalized sports gambling means more pressure on sports and conferences to issue NFL-style weekly injury updates. SEC Commissioner Greg Sankey and ACC Commissioner John Swofford acknowledged as much this week.
10. SEC Media Days should give South Carolina a try. After 33 years in Alabama, the mother of all conference PR showcases moved to Atlanta's College Football Hall of Fame this week. It's back to Hoover next year.
After that, SEC officials like the idea of moving the event around, mentioning Dallas, New Orleans, Nashville and Orlando as possibilities.
Charleston, Myrtle Beach or Hilton Head sound better.
Follow Gene Sapakoff on Twitter @sapakoff