Sapakoff: Vandy's projected No. 1 overall pick had the Wright stuff early on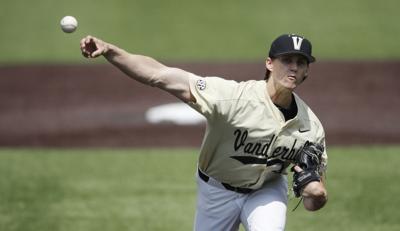 CLEMSON – Kyle Wright was such an odd little five-year-old.
"We would be watching the Braves together on TV and I would just scratch my head," Roger Wright, Kyle's father, said Friday at Doug Kingsmore Stadium. "Kyle would pick out these small details – the pitches the pitchers threw, the positioning of outfielders. Things someone that age just shouldn't notice."
Lots of important people will notice Saturday night when Kyle Wright – not so little at 6-4 and 225 pounds – pitches for Vanderbilt against Clemson in an NCAA Tournament winner's bracket game. It might be Wright's last outing before the Major League draft on June 12, when the red-hot right-hander is projected as the first or second overall pick.
The game means a lot to the host team, too. This is the spot where the Tigers lost to Oklahoma State last year on the way to losing a regional.
To advance this time, Clemson must beat a guy who has allowed only six runs in his last 46.2 innings pitched.
And a proud papa, who will wear one of his son's old gold No. 44 Vanderbilt jerseys and nervously pace the concourse.
It's one thing for Clemson to come in as the favored No. 1 seed, enjoy some home cooking and open with a 5-4 victory over UNC Greensboro. It's another to have to face a smart someone who has 62 strikeouts and eight walks to show for the last six starts.
Tough task for a team that had trouble scoring against UNC Greensboro.
Don't let the mediocre 4-5 record fool you. Wright's 2.91 earned run average is backloaded, which is why he made the All-SEC first team in a vote of league coaches.
Head coach/dad
He is well-rested, too, thanks to South Carolina. Vanderbilt's loss to the Gamecocks in the single-elimination opener of the SEC Tournament meant Wright didn't get his typical turn following No. 1 starter Patrick Raby.
Scouts like Wright's mid-90s fastball that gets up to 97 mph. He has put on 30 pounds since high school, when he was considered first-round material but was no committed to attending Vanderbilt no team bothered drafting him. He pitched well in the College World Series and improved his off-speed offerings.
If the Minnesota Twins don't grab Wright with the first overall pick, the Cincinnati Reds are likely to take him with the second. The perceived choice is Wright or Louisville's Brendan McKay.
By late Saturday night, Clemson hitters will rank as experts in the debate: they lost to McKay, 4-2, at Doug Kingsmore Stadium on May 12.
Baseball, and pitching, run in the Wright family. Roger Wright played at North Alabama and was Kyle's head coach at Buckhorn High School in Huntsville.
Older brother Mitchell is a student assistant coach at Alabama-Huntsville. Younger brother Trey is a junior in high school.
"He gives you a chance to win," Vanderbilt head coach Tim Corbin said of Wright. "He's quite competitive. He's a coach's boy so he's a low, low maintenance kid."
Donny Everett Scholarship
Clemson also faces a Vanderbilt team that got over a major emotional hump Friday. Raby improved to 10-3 and Will Toffey had four hits in a 13-4 victory over St. John's on the one-year anniversary of Donny Everett's death.
Everett, a freshman pitcher, drowned while swimming near Cat Walk Bridge in Normandy Lake approximately 75 miles southeast of Nashville. It happened late in the afternoon before Vanderbilt was scheduled to host Xavier in an NCAA Tournament game. Rain postponed the game until Saturday but Vanderbilt lost, 15-1. The Commodores were eliminated by Washington that night.
"That was a big step in a lot of different ways," Corbin said of Friday's win.
Vanderbilt established the Donny Everett Scholarship, and Wright is the first recipient.
"It's still tough to talk about that," Roger Wright said. "The thing with pitchers in college is that they spend so much time together. They were all very close. For Kyle to receive the scholarship, that might be the biggest honor he's ever received."
The next honor, a phone call in the opening minutes of the MLB draft, comes with life-changing millions (the slot values for bonuses for the first two picks are $7,770,700 and $7,193,200, respectively). Wright will join a list of recent Vanderbilt pitchers selected among the first 25 picks in the draft that includes David Price (2007), Mike Minor (2009), Sonny Gray (2011), Tyler Beede (2012), Carson Fullmer (2015) and Walker Buehler (2015).
Not surprising considering those precocious kindergarten baseball-watching moments.
"Kyle was always a good player," Roger Wright said, "and he was always a little different than others."
Clemson will find out just how different Saturday night.
Follow Gene Sapakoff on Twitter @sapakoff