What a sweet Cinderella story. On a grand old course that nagged legends such as Ben Hogan and Sam Snead, the 74th U.S. Women's Open champion on Sunday was a 23-year-old rookie and first-time LPGA Tour winner straight out of Gyeonggi-Do.
Jeonguen Lee6, "Six" to friends, is very happy she went 6 under.
She is a Korean who is $1 million richer after triumphing over the Country Club of Charleston's tricky false fronts, a Duke varsity/alumni meeting, a charge from Lexi Thompson wearing Sunday teal and a crowd at the top.
Fifteen players were within three shots of lead midway through the final round (but only one took my advice: "Every putt breaks toward Fort Sumter").
Lee6 aside, there were six other U.S. Women's Open stars this week:
1. Realtors
High-end realtors and low-end realtors. Mid-range realtors. People who just received their license and are selling coop timeshares at campgrounds.
Those aerial shots of a beautiful golf layout tucked aside marsh, Wappoo Creek, the Ashley River … The boats in the water … Pretty birds in the water …
"Where is THAT?" they were no doubt asking while watching TV in less inviting places. That is, just about everywhere.
2. The logistics plan
Lowcountry natives and residents know traffic issues come with watery scenery on splendid spits of land connected by twisty little roads. Hence, PGA Championship movement got ugly when it rained during the 2012 tournament at the Ocean Course.
But careful parking planning and a shuttle bus fleet made the U.S. Women's Open run as smoothly as could be expected, particularly considering Charleston County schools were still in session on weekdays.
3. The Club
A 1920s Seth Raynor design is picture perfect for the 21st century LPGA game.
The golf course looked as good during an 18-hole morning walk as it did when highlighted by afternoon shadows on TV. It's a tribute to the Country Club of Charleston's rich history and lots of prep work.
The volunteers were outstanding.
"We love coming here," John Bodenhamer, the USGA's senior managing director of championships, said when I bumped into him on Sunday.
"Hope you come back," I said.
"We do, too," Bodenhamer said. "Tell the club."
4. SEC vs. ACC
Rising stars from college golf shined all week and laid the groundwork for some potentially fun SEC vs. ACC rivalries for fans.
Maria Fassi (Arkansas) won the 2019 NCAA individual championship and finished in an impressive tie for 12th at 1 under in her pro debut. Jennifer Kupcho (Wake Forest), also a former NCAA champion and winner of the inaugural Augusta National Women's Amateur, made the cut in her pro debut.
Florida Gators amateur Sierra Brooks, the 2019 NCAA runner-up, didn't make the cut but had her moments.
Duke players almost stole the spotlight. Yu Liu of China and Celine Boutier of France were teammates when the Blue Devils won the 2014 national championship and were tied for the third-round lead. They finished tied for seventh place.
Gina Kim is a 19-year-old who earned low amateur honors, finishing tied for 12th at 1 under. She was part of Duke's seventh national title team in May and is the daughter of two Spanish professors at the University of North Carolina.
No wonder Duke head coach Dan Brooks flew through the night from Oregon on Saturday to get to Charleston on Sunday morning. The itinerary included stops in Boise, Seattle and New York.
5. The oak tree
Oak trees are such great team players, aren't they?
They provide backdrops, shade, animal habitats.
They regularly contribute as human climbing opportunities.
The large oak along the 18th fairway took one for the tournament Friday afternoon during a brief storm. A lightning bolt split the tree almost in half.
It was completely removed Friday night.
"This is scary stuff but I have heard that no one was hurt," tweeted Beth Daniel, a Country Club of Charleston veteran and World Golf Hall of Famer. "This strike was just to the left of #11 green and shows that even God can't hit the 11th green! #thankfuleveryoneisok"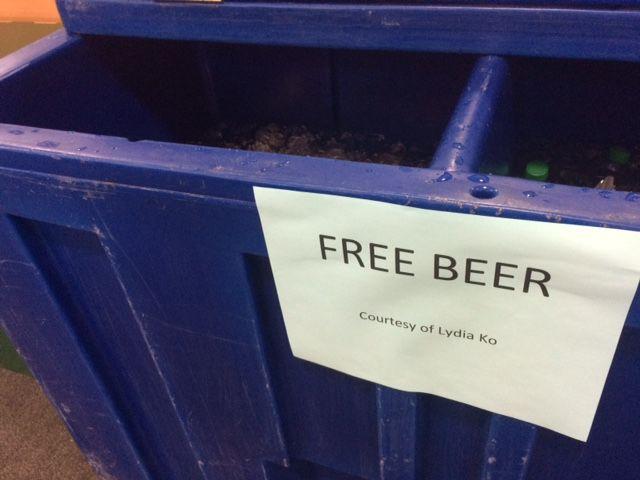 6. Lydia Ko
About that 11th green …
Ko, a two-time LPGA major winner from New Zealand didn't fare that well in Charleston (tied for 39th). But part of her celebration for a hole-in-one at notorious No. 11 on Sunday was treating a large media contingent to free beer.
Thanks, Lydia, you're my new favorite professional athlete.
Follow Gene Sapakoff on Twitter @sapakoff.