Sapakoff: Time for South Carolina, Clemson to add Spanish sports radio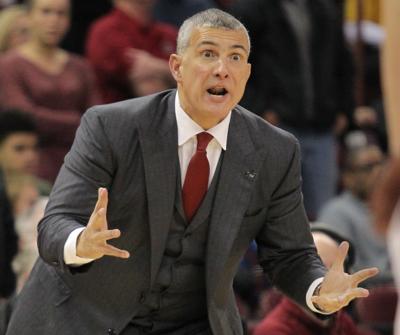 The first Palmetto State athletic department that taps into an expanding pool of sports fans and potential sports fans wins loyalty for generations.
But it doesn't have to be a question of South Carolina or Clemson.
Both should embrace the idea of Spanish-language radio broadcasts that would spread interest and fun without costing the schools very much.
Gamecock Deportes/Tiger Deportes concept pitch:
• Broadcast South Carolina and Clemson sporting events in Spanish
• Use current Spanish majors and grad students in play-by-play, analyst, sideline reporter roles
• Sell ads, cross-marketing with current sponsors
• Internet-only broadcasts to start
In other words, an inexpensive, educational outreach path to new customers and good will.
"I'm just telling you, I think it's a great idea," Gamecocks basketball coach Frank Martin said. "I've seen it. In my seven years in the state, the Hispanic population has grown tremendously. In my church, it's unbelievable how many Hispanic folks are there now. It wasn't like that seven years ago."
South Carolina's Hispanic population grew by 22 percent from 2010 to 2017, adding 50,070 people. It figures to keep rising, which makes sports outreach a simple matter of good business.
And those are just official numbers; the Hispanic population is almost always under-recorded, for various reasons.
'A wonderful idea'
You don't have to be the son of Cuban immigrants like  Frank Martin — known to his grandmother as Franquito while growing up in Miami's Little Havana — to recognize a good sports investment.
"I think it's a wonderful idea," said Raquel Anido, an Assistant Professor of Spanish in Clemson's Department of Languages. "Many Spanish majors would like to practice their Spanish while being involved with Clemson sports. It's a double-opportunity for them, and a great initiative for Spanish speaking fans."
What a great way to add to the popularity of Dabo Swinney's football program and its two national titles in three years. Or grow Will Muschamp's Gamecock program.
Two SEC schools, Texas A&M and LSU, have Spanish-language radio broadcasts for football.
The NFL, with Spanish radio broadcasts in several cities and a three-year agreement to stage a regular-season game in Mexico, sees a growing Hispanic market.
But why stop at football?
Basketball, baseball, soccer
Basketball, a bit more of an international sport, might translate better for South Carolina and Clemson. After all, Martin speaks fluent Spanish and Clemson's Brad Brownell is very versatile.
Baseball seems like a natural.
Soccer, of course.
Dawn Staley has won a national championship in women's basketball and don't look now but Clemson is in bracketology talk for the first time in years.
With student help and internet tech, you don't need a big budget to get the translated word out.
And Clemson and South Carolina aren't the only state schools that should experiment with this.
"It's a great way to reach and communicate with more people," Martin said. "It would be unbelievable. I'll do whatever I have to do on my end to make something like that happen. It opens a door.
"I mean, think about it, career-wise: ESPN Deportes could be down the line for some of these students. It gives a young student an opportunity to grow into a field. I think it's a home run."
When a basketball coach uses a baseball analogy in a football state, the idea is worth looking into.
Follow Gene Sapakoff on Twitter @sapakoff