Sapakoff: This formerly maligned South Carolina baseball team deserves a fan fest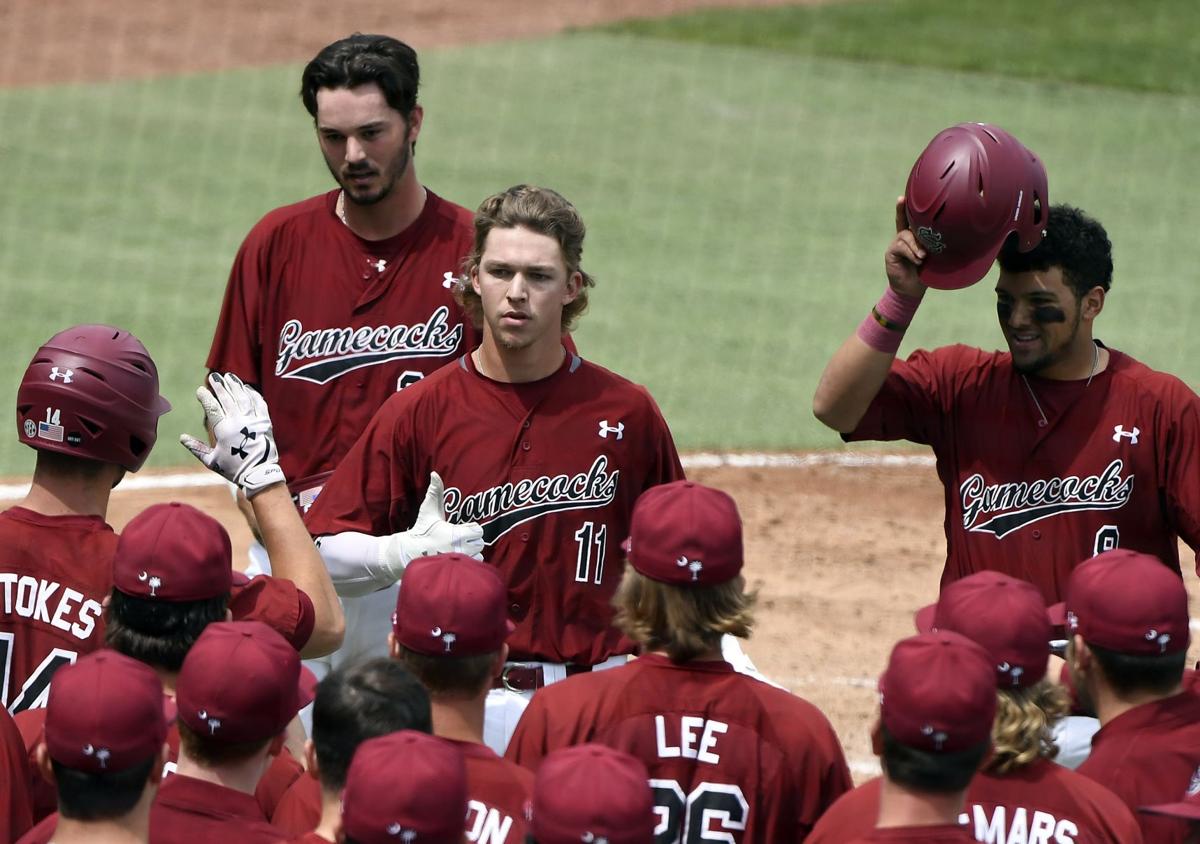 COLUMBIA — South Carolina baseball players L.T. Tolbert, Madison Stokes, Jonah Bride, Danny Blair and Cody Morris stood around a concourse and talked about going to Arkansas for a super regional that starts Saturday night. The rest of Founders Park was empty.
Nothing odd there. No practice scheduled. No game. All the big black bat bags were packed, piled in the players' parking lot.
It was lunch time on a Wednesday, 92 degrees in the shade.
But truly strange: This regional-winning, Omaha-contending, odds-beating bunch of Gamecocks still hasn't celebrated much with South Carolina's nationally recognized fan base.
Sure, there was a little support in Greenville, N.C., last week where the Gamecocks (36-24) survived weather, Ohio State, East Carolina and UNC-Wilmington. But when last seen in Columbia, South Carolina was edging mediocre Missouri, 1-0, to win an SEC series. That was the same week of a 9-0 loss in Columbia to College of Charleston.
Heading to Texas A&M at a modest 30-21 for the final three games of the regular season, the Gamecocks were perhaps a lost sweep away from the NCAA Tournament bubble.
Now they have a nice new regional trophy to show off.
Maybe more hardware on the way.
These guys deserve a fan fest at Founders, or some kind of party. Post-Fayetteville, post-Omaha but something better than a football halftime bow.
"Our fans have been awesome," said Tolbert, a junior infielder. "I feel for them, too, because there have been ups and downs. I know as a player the emotional roller coaster we've been on with injuries and setbacks and highs and lows. Now that we're having so much success, I know these fans here are proud of us.
"It's something we do take pride in, trying to make them proud. Hopefully, we can return after this weekend with something to celebrate."
Ridicule, heartache
This is the least appreciated core group of Gamecock baseball players of the millennium, easily.
Consider what they've been through over the last two seasons:
• Failed to make the NCAA Tournament.
• Ridicule.
• Head coach Chad Holbrook was fired.
• Humiliation.
• Ace starter Clarke Schmidt suffered a season-ending arm injury.
• Heartache.
That was just last season.
This year, it was losses to seemingly every team in the state with a baseball program above the intramural level: Clemson and The Citadel, Charleston Southern and Presbyterian, Furman and College of Charleston.
Clemson. Again.
And a 20-17 start after managing only six hits in a 7-4 loss to Presbyterian on April 17.
That's not a formula for positive buzz at a program that has a showplace ballpark and a pair of recent College World Series titles.
"We knew the guys we had here were so talented and we knew the coaching staff that had been brought in here was the perfect fit for us," Tolbert said, "so us not having that success right away was frustrating. We wanted to do it for (the coaches) and for this fan base."
This week you address these people as super regional participants.
"It means a lot," said Stokes, a senior infielder. "Especially with our season last year ending short and this year starting not how we wanted to start. We're extremely grateful to be in the position we're in."
'They've earned it'
I'm not here to talk about the future; it's too early to get overly excited. If the Gamecocks take a dive in 2019 the cynics will say head coach Mark Kingston won in 2018 with Holbrook's players.
Almost all high-level college baseball joy/pain is a matter of a few bounces here and there.
"They're getting things they deserve because they've worked for it," Kingston said. "They've earned it. They've made adjustments. They've improved. They stuck together. All those things help lead you to success. I'm just glad they're getting the success they deserve because sometimes you put everything you have into it and it still doesn't go your way."
Tolbert was talking about just that Wednesday, recalling a 2017 season. South Carolina lost a game during 2-1 series losses to Clemson and six SEC foes either in extra innings or by one run. Those Gamecocks finished 35-25, 13-17 in the SEC.
"If Schmidt doesn't go down and some other things, we're probably in the playoffs and we could have been making a run as well," Tolbert said. "But I don't really want to focus on last year because this year has been so much fun."
Postseason wins are still available, and hopefully a fan fest to be named later.
Follow Gene Sapakoff on Twitter @sapakoff