SAVANNAH, Ga. — Sonny Seiler squinted hard Wednesday as he thumbed through his 1950 Porter Military Academy yearbook looking for classmates. The Savannah native was on the swim team and basketball team at a Charleston high school that later became Porter-Gaud. He was sent across the border to become a border student.
His mom, a teacher, knew best.
"This is like seeing ghosts jump out," Seiler said. "We've dwindled down to damn near 10 people. That's not healthy."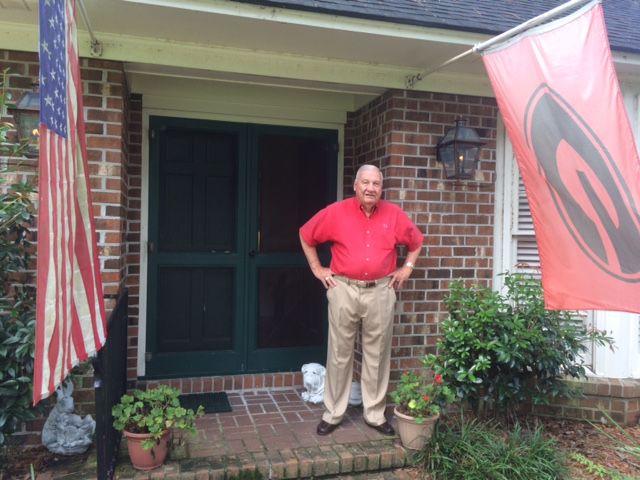 But one of those Class of '50 grads is as feisty as ever at 85. Still ending phone calls with "Go Dawgs" and wearing a red and black University of Georgia polo shirt.
Still surrounded — literally — by the glow of the greatest mascot tradition in college athletics, a legacy he helped create.
Uga X is the 62-pound representative of an Uga line of pure white English bulldogs Seiler and his family have owned since 1956. That's when the first Uga (a play on U. of Ga. and pronounced UGH-uh) took to the sidelines. Georgia is 32-10 with Uga X as mascot going into Saturday's game at South Carolina, a stat many Bulldog fans take seriously.
Everyone who has lived in Savannah long enough to see a couple of St. Patrick's Day parades knows Frank W. "Sonny" Seiler is more than a pet project. He spent a career as one of America's most prominent attorneys. He was a big part of John Berendt's 1994 bestseller "Midnight in the Garden of Good and Evil."
A famous director came to Savannah to interview the real-life subjects of the book and scout locations for a film starring Kevin Spacey, John Cusack and Jude Law.
"I'm going to make you a celebrity," the man said as he leaned down to pet Uga V.
Sonny frowned, and so did his wife.
"Uga," Cecelia Seiler told Clint Eastwood, "already is a celebrity."
Ugas 1 through IX are buried in marble vaults within the confines of Sanford Stadium with epitaphs inscribed in bronze. Flowers are placed near the graves before each Georgia home game.
Uga made the cover of Sports Illustrated as the "No. 1 Mascot" in 1997 and has been to the Final Four and Heisman Trophy presentation. He just made the cover of South magazine's Southern Style Issue.
The essence of Uga requires a grand tour of Savannah homes, human and canine:
Sonny Seiler's house
The marsh and creek views are spectacular from out back of the brick ranch on Whitemarsh Island. The highlight, however, is inside, the Uga museum that is Sonny's den.
All four walls are crammed with Uga or Georgia memorabilia, including a glass case for more than 50 Uga figurines or statuettes.
And here is a framed Herschel Walker jersey.
And not just any Herschel jersey.
It is from Walker's first Georgia game, a win at Tennessee during the Bulldogs' national championship season, the game in which the future Heisman Trophy winner bowled over Tennessee players on the way to a touchdown inspiring Georgia radio voice Larry Munson to blurt out "My God, a freshman!"
"It's Herschel's first jersey," Sonny said. "Herschel changed jerseys after they made a shoulder pad adjustment on the sideline and he handed this one to me. I've kept it ever since."
Sonny lives alone now; Cecilia died at 80 in 2014. But it's rarely quiet in this house.
Every time Sonny gets to talking about Uga stuff, the landline phone starts ringing off the hook.
"I see the point-spread has gone up to 10 points," Sonny says to someone asking about Saturday's game. "People must think something of us."
Here is an Uga painting over the fire place and the spiked collar Uga III wore as Georgia clinched the 1980 national championship with a Sugar Bowl win over Notre Dame.
There is a poster-sized shot of Uga V lunging at Auburn wide receiver Robert Baker in 1996 after Baker startled the dog with a touchdown celebration at Jordan-Hare Stadium.
Sonny Seiler likes to talk about other mascots, too.
Like the time Ralphie, the University of Colorado's buffalo, came to Athens in 2006.
"They needed eight people to hold that buffalo," Sonny said. "Uga met Ralphie. Uga just thought, 'That's a big dog; I don't want any of that.'"
Sonny Seiler keeps in shape by walking a lot. He fishes off the dock or takes his boat for a spin. He still pops into the law office. 
But Uga doesn't live here anymore.
Charles Seiler's house
True, Charles and Wendy Seiler live in the fashionable two-story tucked among the moss-draped oaks that extend across Victory Drive some 10 minutes from Sonny's home. But it's really one big dog house.
"We built this house around Uga," said Charles Seiler, Sonny's 57-year-old son and Uga's primary caretaker since 2007.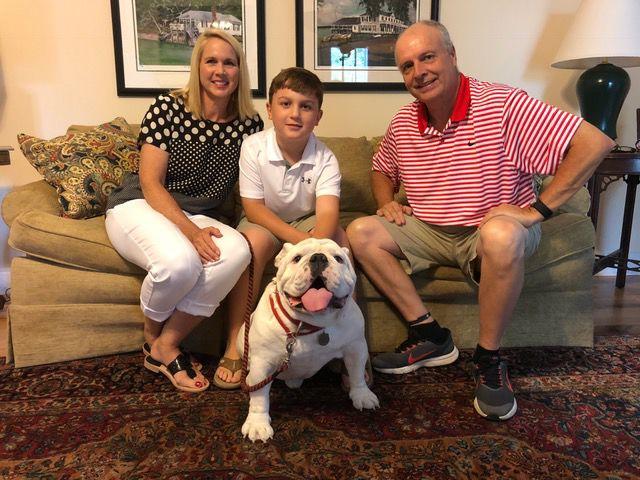 The basement, done up in Georgia colors, includes a doghouse inside a metal pen with a doggie door leading to a high-fenced yard. The Seilers and their 10-year-old son Cecil and Charles' sister Swann, a public relations executive, help out with Uga chores.
Which are many.
"I had no idea how big of a job it was," said Charles, an insurance agent.
Like making sure Uga is properly fed, and not overfed.
Basic diet: dry dog food.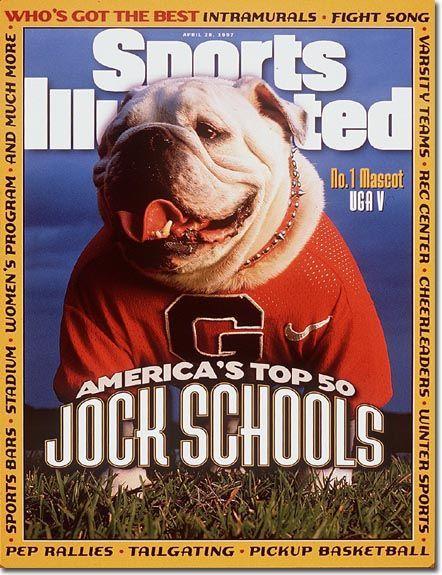 Favorite treat: Chick-fil-A (yes, chicken, Gamecock fans).
"At some stadiums they'll actually throw stuff at us," Charles said. "Our fans will throw dog bones or say 'We stopped for breakfast this morning and we have an extra biscuit. Can he have it?' Thanks, but no. Bulldogs can get sloppy; they'll eat anything."
Uga knows Georgia players and coaches often get Chick-fil-A meals after games or on road trips.
"A lot of that stuff ends up on the floor," Charles said. "We have to be careful."
Uga's other houses
Alas, Uga X won't be traveling to Columbia for the game at South Carolina.
Too hot.
With the forecast in the low 90s, the Seilers decided early this week to keep Uga home.
"TV games are longer these days. And have you been to a game in Columbia lately?" Charles Seiler said. "It's so loud it's damn near a rock concert."
Uga doesn't like excessive noise.
"I'm looking for a dog that is docile enough to take pictures with kids and if they get in his face or accidentally poke him, he won't get crazy," Charles said.
It was bad enough last week in Athens. Uga was on the sideline as Georgia beat Austin Peay, 45-0. But he didn't watch.
On a 92-degree day the dog also known as Que stayed inside his permanent, air-conditioned dog house built near the cheerleader platforms between the hedges at Sanford Stadium. The door stayed shut, Charles said.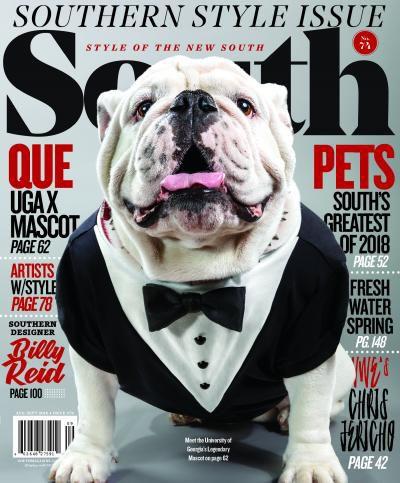 But Uga makes most road trips, riding inside his traveling house — a custom-built Chevy Suburban — and hanging out on the sidelines in a "Travel Aire" kennel.
As Uga draws a longer line than players or coaches for photos at Georgia's annual picture day, he is asked to pose with as many opponent fans as Bulldog fans before games.
Of course, there are the endorsement deals. The Uga portfolio has included McDonald's, Coca-Cola and Eastman Kodak. The University of Georgia owns the Uga trademark and image but the Seilers have the first right of refusal on deals.
A recent Uga wine pitch?
Rejected.
Official Uga plastic dog poop for use as a paper weight?
"We nixed that," Charles said.
But the Seilers were on campus in full family force in April when Sonny was inducted into Georgia's prestigious Circle of Distinction, for individuals who have given extraordinary support to Georgia athletics.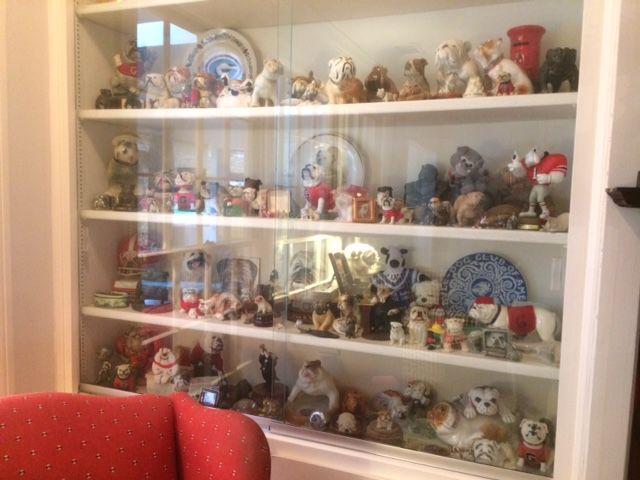 "A lot of people say 'I'm the biggest Georgia fan there is' and my dad hears that and just smiles," Charles Seiler said. "No way. This is his deal."
Since 1956, and for as long as Georgia fans care about mascots and college football.
Follow Gene Sapakoff on Twitter @sapakoff