CLEMSON — Did you say Trevor Lawrence?
Well, Billy, I know you and all my other grandkids know Trevor Lawrence mostly for the Super Bowls he won with the New England Patriots. And his acting career and as the color analyst on Sunday Night Football. All that stuff.
But let me tell you about the season opener on a sunny Saturday back in 2018 when I took your dad to Death Valley to see Lawrence take the field for his very first college football game at Clemson.
Your dad was just 16, same as Lawrence's jersey number that day. Clemson was ranked No. 2, behind Alabama.
What a debut, Billy. We saw Lawrence throw three touchdown passes while splitting time in a 48-7 win over Furman, and show skills that would make him the starter later that freshman season.
Official attendance was 80,048 but a few hundred thousand people swear they were there.
I tell you, Billy, it was more fun than a corn maze.
"I don't know exactly how I would grade it," Lawrence said after the game, which was the first time he talked to the media as a Clemson player. "I think I played pretty well."
Lawrence showed right away he had a rocket arm that reminded people of Cam Newton. He had some of Russell Wilson's poise.
Billy, he completed 9 of 15 passes for 137 yards. But what stood out to me from an 18-year-old Lawrence was a simple 18-yard out pass to Trevion Thompson in the second quarter that kick-started a long touchdown march.
"That was the drive that changed the game," offensive co-coordinator Jeff Scott said after the game. "That set the tempo."
Billy, it was a laser.
Unstoppable.
The kind of throw you need to beat Alabama, Georgia or Ohio State in January.
A throw NFL scouts crave.
Lawrence knew it, too. He was modest about the quarterback battle with Kelly Bryant — "It's been really good," he said. "It's made me better and I think it's made Kelly better, too."
But he also knew the value of a precision down-and-out fastball.
"Stuff like that can put us in a good position to make plays," Lawrence said.
He woke up at the team hotel in Anderson that Saturday morning. He told a Charleston reporter he had a breakfast of eggs, bacon and oatmeal and sounded very grounded after the game. Almost like the great Deshaun Watson after the Georgia game his freshman year.
"I wasn't really nervous," Lawrence said. "I got a little bit of butterflies before I ran out there for my first series but I wasn't too nervous."
People were almost as excited to see Lawrence's first game as they were to see a complete solar eclipse in South Carolina the year before. I remember before the game we stopped on the side of the road at that big boiled peanuts stand near Pendleton. Still there, you know.
Then, of course, we got our biscuits at Bojangles and headed to the stadium. We sat way up in the cheap seats, Billy.
This was back during the Dabo era, remember. Back when tickets were hard to come by and Clemson was winning national championships. It wasn't like now, when there are plenty of good seats available and Florida State is running the ACC again like they were before Dabo took over.
And that was long before Penn State and West Virginia came into the ACC after that reshuffling to create four Super Conferences.
Oh, it was so hot that day. The game started just after noon. The people in front of us didn't use near enough deodorant.
But when Lawrence came in, it was fresh air and roses.
'It's been awesome'
The roar was like Clemson fans used to give for Deshaun Watson, and like Watson got that same Saturday when they showed pictures of all the Clemson players in the NFL on the scoreboard and saved Watson for last.
Clemson fans immediately loved Lawrence and he loved them, too.
"It's been awesome," Lawrence said of his first few months on campus. "Definitely a fun atmosphere. I've met a lot of good people and made some good friends, so it's been really good."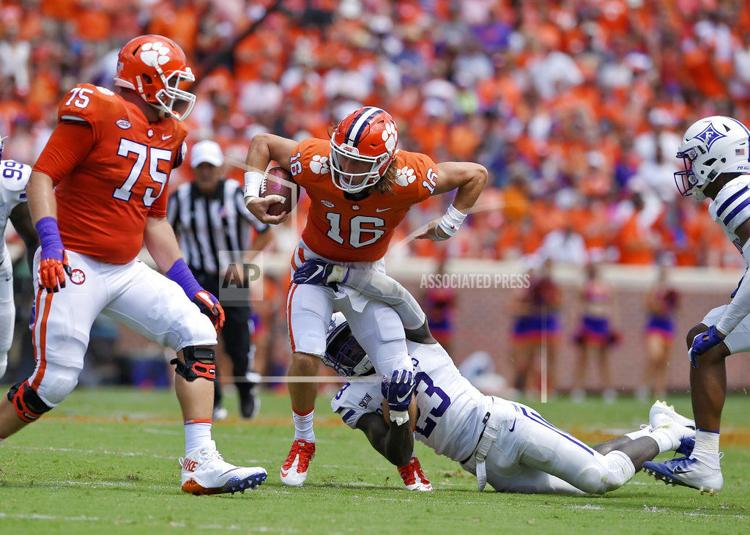 And, Billy, that Kelly Bryant guy?
Remember him?
Went on to become the head coach at Georgia State and later a big-time CEO.
And, sure, most Clemson people these days know him as the answer to a trivia question: Name the Tigers' starting quarterback between Deshaun Watson and Trevor Lawrence. But Bryant was a good player, led Clemson to an ACC championship and the College Football Playoff in 2017. Wouldn't Clemson kill for a season like that now!
The 2021 NFL draft
Back then, though, it would have been tough for anyone to fight off Trevor Lawrence.
See this photo from the Furman game?
I know what you're thinking, the hair.
That was before Bill Belichick made him cut it, after the Patriots shocked everyone in the 2021 NFL draft. Look it up: They traded three first-round picks, two McCourty brothers and one bundle of cash for the No. 1 overall pick.
But we saw all the potential that Saturday at Death Valley.
Well, Billy, maybe we didn't see everything.
Clemson had a trip to Texas A&M the next week and Dabo Swinney didn't want to show Jimbo Fisher too much.
Follow Gene Sapakoff on Twitter @sapakoff