CLEMSON — Khalil Greene still makes his presence felt at Doug Kingsmore Stadium. The best college baseball player in Palmetto State history is there every game. Never in person, of course, though he lives nearby. Always in spirit.
Etched in glorious honor on the left-field fence is a "Khalil Greene 2002 National Player of the Year" tribute to a single-season that defies gravity.
The personable senior from Key West hit .470 with 27 home runs while playing nearly flawless defense at shortstop on a Clemson team that reached the College World Series. No one at any school in South Carolina has had a more dominating season in a major college sport. Not Heisman Trophy winner George Rogers, not Deshaun Watson.
Greene was a first-round draft pick and played seven years in the majors, hitting at least 15 home runs for four seasons in a row with the San Diego Padres.
He was traded to the St. Louis Cardinals in 2008, struggled with a social anxiety disorder, struggled with the fear of interacting with people some more and was released by the Texas Rangers in 2010.
Then Khalil Thabit Greene disappeared. At 29, he walked away from big league baseball and much of his past.
Saturday night would have been perfect for a reunion, Vanderbilt at Clemson in an NCAA Tournament winner's bracket game. Before Tim Corbin won a College World Series while turning Vandy into a powerhouse he was Jack Leggett's top assistant at Clemson, where he mentored Greene.
Bradley LeCroy, Monte Lee's recruiting coordinator on the current Clemson staff, was one of Greene's Tiger teammates.
But Greene fell off the face of the baseball earth and hasn't returned. To the Padres, Cardinals and their fans he remains a great mystery – indeed, the subject of academic journals. At Clemson, his absence is the obvious void at alumni games.
He doesn't throw out first pitches.
Greene is very good at staying away, living a private life in the Greer area with his wife and two children.
"I have to believe he's in a good place health-wise," said Corbin, whose wife often talks to Greene's wife. "He has two kids. We love his wife and everything seems to be good. Just the thought that he's in a good place and does his thing, I respect that."
Lee has made efforts to reach out to Greene through LeCroy and others. No luck.
"Khalil's the type of guy who likes to keep to himself," LeCroy said. "He doesn't like to come to games and be recognized; he'd rather sit on his couch and watch the games. If he were to come to a game here, he would want to sit up on the Jervey balcony (just outside the ballpark) all by himself. It's not that he doesn't want to be around people, it's just the way he is."
LeCroy hasn't seen Greene in five years, but has communicated more recently in texts and emails.
"We kind of let him reach out to us," LeCroy said. "You don't want to press someone if they're uncomfortable."
High glory, hard anxiety
Greene was anything but the typical Clemson player. He remained steadfast to his Baha'i faith, a mix of beliefs and the "oneness of humanity." Greene out-worked everyone. He liked rap music and professional wrestling.
He took nutrition seriously.
"As college guys on Friday night and Saturday night we were going out for burgers and wings," LeCroy said. "Khalil stuck to his diet, eating tuna and low carbs and high protein."
The 2002 production at Clemson was in response to the Chicago Cubs taking Greene in the 14th round of the 2001 draft; he was insulted.
"It's the most phenomenal college baseball year I have ever seen in my entire life," Corbin said, "from an offensive standpoint to a defensive standpoint and even a locker-room standpoint. I watched a kid mature to really take a team and bring it with him to Omaha. And he did it in his unique way and with his own personality. It was just fun to be a part of."
Greene was in the majors just 439 days after his final Clemson at-bat in a loss to South Carolina in the 2002 College World Series. When the Padres traveled to Atlanta in 2004, Greene's first full season in the majors, a group of Clemson players and coaches including Leggett, LeCroy and current Florida head coach Kevin O'Sullivan went to Turner Field after a Tigers practice.
During that Padres-Braves series, San Diego first baseman Phil Nevin told the Post and Courier about a drive he made with Greene from San Diego to Los Angeles for an L.A. Clippers basketball game.
"It was like pulling teeth to get a conversation out of him for about 2 1/2 hours on the way up there," Nevin said. "He's an interesting person. He's different."
Greene seemed relatively comfortable with the Padres, and slugged 27 homers in 2007. He did some PR videos for Rawlings, the glove manufacturer.
But San Diego was in a rebuilding mode in 2009 and traded Greene to the Cardinals.
There were red flags. Greene slumped to a .213 average in 2008 and broke his wrist late in the season after punching a dugout equipment chest in frustration after a strikeout.
When Greene was traded, San Diego manager Bud Black said he hoped the introverted infielder would stop "internalizing" poor performances.
'I miss him'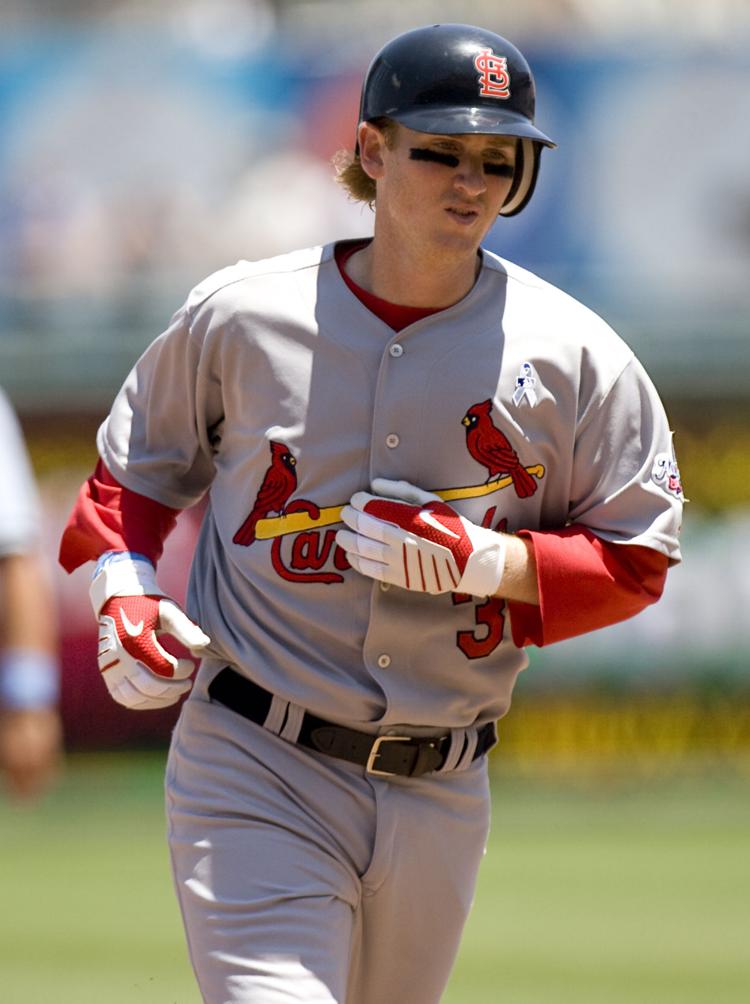 St. Louis manager Tony La Russa did plenty of research. He dug deep into Greene's college years and decided he had a shortstop of the future.
Greene opened 2009 in the clean-up spot for St. Louis, and things went downhill from there. He went on the Disabled List twice with anxiety issues. Cardinals players said Greene had a habit of physically punishing himself in response to baseball failures.
He lasted less than a month with the Rangers in 2010, never even getting in a spring training game. Texas released Greene after his agent, former Clemson pitcher Mike Milchin, told the club Greene was having "a recurrence of issues he's dealt with in the past."
As to why Greene got along so well at Clemson and, for the most part, in San Diego but fell apart in St. Louis some of his friends have a theory: Greene methodically came through the ranks within a college structure and gradually got to know Padres people in the minor leagues. The sudden moves to St. Louis and Texas were too much.
"Khalil had a great big league career," LeCroy said. "I wish it could have gone on a little bit longer, but he's fought things a lot of us don't have to deal with."
Greene had 2,567 at-bats in 736 Major League games over seven seasons.
He hit .245.
He made $14,310,500.
"I miss him," Corbin said. "I've spent a lot of time with him. But I respect his space."
What is Greene, 37, up to these days?
An eclectic variety of things, based on past conversations. He is interested in art and physics, music and culture.
"I try to challenge my mind in all areas," Greene told the St. Louis Post-Dispatch in spring training of 2009. "I really enjoy the intricacies of things."
He also said: "I don't think I'm an enigma by any means. I think somebody has to want to know you or they never will."
Of course, a good bit of Clemson Nation would like to reconnect with Greene. Maybe he will ease back. Maybe he will realize he has a story to tell that might help others in South Carolina, San Diego, St. Louis, world-wide.
Maybe he was at the Clemson-Vanderbilt game Saturday night.
"I'm sure he watches on his iPad but, you never know, he might be here quietly in the Chapman grandstands," LeCroy said, motioning from the home dugout to the seats beyond the left-field fence.
The same seats right above a Khalil Greene sign that remains a part of every Clemson home game.
Follow Gene Sapakoff on Twitter @sapakoff