Sapakoff: Same dynamic Deebo for South Carolina football? No, better
ATLANTA — Will Muschamp didn't try to curb his Deebo Samuel enthusiasm.
"Absolutely," the South Carolina head coach said Thursday at SEC Media Days when asked if Samuel can have the same dazzling impact this season as he did before suffering a broken leg against Kentucky in the third game last year. "That's what I'm expecting. You look at 11 quarters last year, he was probably as explosive as any player in college football. That's certainly our expectation."
Why not?
Samuel, recovered from leg and foot injuries, says he has regained that speed displayed on touchdown kick returns against N.C. State and Missouri in the first two games of 2017.
The 6-0, 210-pound senior already has 86 career catches and now has an elite supporting cast of receivers: Bryan Edwards, OrTre Smith, Shi Smith.
Quarterback Jake Bentley is a confident veteran coming off a come-from-behind Outback Bowl upset of Michigan.
New offensive coordinator Bryan McClendon presides over what's billed as a fast-paced attack.
It adds up to a Samuel for Heisman campaign waiting to happen, and an edge that gives South Carolina the best chance of any SEC East team to upset Georgia, the loaded College Football Playoff finalist.
Samuel sure looked the All-American part during interviews Thursday at the College Football Hall of Fame.
Shiny white sport coat.
Gray bow tie and handkerchief.
Black pants.
White shoes.
Thank you, Men's Wearhouse of Columbia.
Take a bow, doctors and trainers.
Samuel can't wait for that first kickoff against Coastal Carolina on Sept. 1.
"Every time the ball is put on the tee," Samuel said, "I see where the holes are going to be and where I'm going to find the crease to score a touchdown."
After Samuel got hurt last year, Bryan Edwards got the double-coverage routine but still grabbed 41 passes. This year, picture Edwards enjoying single coverage.
Shi Smith (53 catches) and OrTre Smith (28 catches) were good as freshmen. They will be better as sophomores.
Bentley has seen the potential this summer in PRP (players-run practice) drills.
"Deebo is fearless in his attitude," Bentley said Thursday. "I don't think he's going to be timid or anything. He'll just run as fast as he can."
New McLeondon tempo, too
Swirl in McLendon's up-tempo intentions and foes should have extra trouble figuring out how to stop the new-look Gamecocks. If it works the way it should, a suspect offensive line doesn't have to be great, at least not for nine or 10 of the games on the schedule.
"The tempo's going to help us a lot," Muschamp said. "Jake plays better when he plays faster."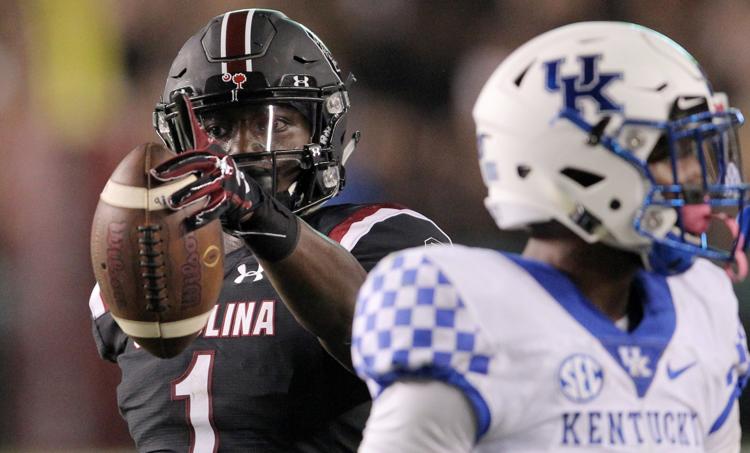 Not that Muschamp is conceding that the offensive line is weak beyond standouts Sadarius Hutcherson at right guard and Zack Bailey at left guard; Muschamp says it's the best offensive line he has coached.
But everyone in garnet knows projections are one thing — Samuel and A.J. Brown of Ole Miss are widely considered the SEC's top preseason wide receiver prospects — and reality another.
Samuel, an Inman native nagged by hamstring issues before the broken leg, is just "praying" for his first fully healthy college football season.
"The thing that was motivating me was my love for the game," he said of his rehabilitation.
'A humble kid'
Almost a full season off and all that rehab was painful, physically and emotionally. It also sharpened Samuel's mentoring skills, which helped Shi Smith and OrTre Smith last season — and continues to help.
"Deebo is selfless," Bentley said. "He gets hype but he's really just a humble kid who just wants a win."
The South Carolina offense under former coordinator Kurt Roper plunged to 12th in the SEC in scoring last season. Things might have been different with Samuel, who starred in a 35-28 win over N.C. State in Charlotte and a 31-13 win at Missouri.
Yeah, he's back.
Repaired.
Just as good, maybe better.
"I'm capable of anything," Samuel said.
Absolutely.
Follow Gene Sapakoff on Twitter @sapakoff