Sapakoff: 7 reasons why Deshaun Watson is the perfect featured speaker for The CHARLEYS
The Post and Courier considered many featured guest speaker options for its first annual ESPY-style program celebrating the greatest moments in South Carolina sports, and we were willing to throw in a gift basket containing pralines.
But when you're giving legendary Summerville High School football coach John McKissick a Lifetime Achievement Award and handing out honors for such things as The Goat, Clutch, Inspirational, Best Dressed, Mr. Class Act Nice Guy, Tremendous Teamwork Teammate and Greatest NFL Catch Ever, simply moving the chains isn't enough.
You want to do it with style.
Deshaun Watson, the Houston Texans quarterback who led Clemson to a national championship, fits perfectly into our May 11 format set for the Charleston Gaillard Center (tickets at thecharleys.com) and including awards for athletes or coaches from Clemson, South Carolina, The Citadel, Charleston Southern and College of Charleston as well as the NBA, NFL and Major League Baseball.
Seven reasons why:
Watt, Clowney, Hopkins
Wow, that NFL debut. It was fun last season to see the smiles on the faces of Houston Texans star pass rushers J.J. Watt and Jadeveon Clowney and top receiver DeAndre Hopkins as they realized they finally had a top-tier quarterback as a teammate.
Watson despite missing most of the season with a knee injury was the NFL version of a two-time Heisman Trophy finalist. He threw for 19 touchdown passes and 1,699 yards with eight interceptions in just seven games.
"No play is ever over with that guy," said Clowney, the former South Carolina All-American. "They better get somebody out there who can contain him."
Watt, Watson's off-season rehab partner, says he is "very excited to see where (Watson) goes from here."
Work ethic and poise
It was there from the day Watson walked onto the Clemson campus. Coaches marveled at his film-study habits. They were not surprised to learn Watson and wide receiver Artavis Scott, his roommate, sometimes snuck into Death Valley to practice pass routes.
Hard to believe this guy is just 22.
Saban's worst nightmare
Nick Saban called Watson "the best player in college football since Cam Newton" after Alabama edged Clemson 45-40 in the 2015 national championship game.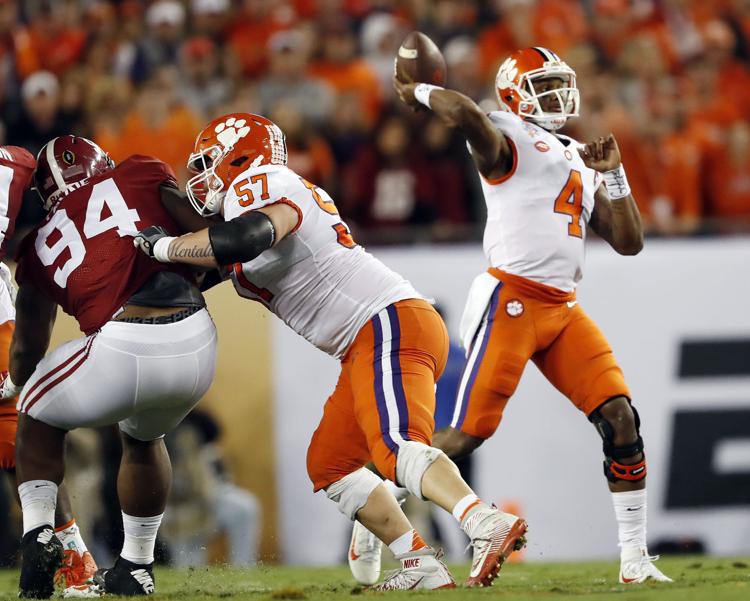 After Clemson's 35-31 win over the Tide in the 2016 national title game, Saban said Alabama lost "to the best team with the best quarterback."
Watson's two-game totals vs. Saban, he of the six national titles: 66 for 93 passing for 825 yards, seven touchdowns and one interception; 41 carries for 116 yards rushing and one touchdown.
The Drive
Nine plays, 68 yards in 2:06 just after midnight on an enchanted Tampa evening.
Down 31-28 to Alabama, Watson quickly passed Clemson into Alabama territory.
Only one third-down conversion necessary in those nine plays, a 6-yard strike to Hunter Renfrow to the Tide 26.
Tight end Jordan Leggett's circus grab for a 17-yard gain was huge.
First-and-goal from the 2 after pass interference penalty.
Orange Crush, the rub/pick play pass to Renfrow for glory with one second remaining.
Texas-sized heart
It's hard to explain to a non-Houstonian just how much one of America's largest cities suffered from Hurricane Harvey. But Watson knew, and he donated his first NFL game check — worth roughly $29,000 — to three NRG Stadium cafeteria workers hit hard by the storm.
Watson as a kid was the recipient of NFL player kindness; Warrick Dunn, the former Atlanta Falcons running back, donated a four-bedroom Habitat for Humanity home to the Watson family.
The CHARLEYS, by the way, is offering free tickets to military families and $5 tickets to Future Scholars (see charleys.com).
Hated, respected
Sometimes the most revealing take on a competitor comes from the competition.
The more bitter the rivalry, the better.
"Deshaun Watson is a very, very special football player," South Carolina Athletic Director Ray Tanner told me as Watson was on the way to Houston. "He was very instrumental in the success of Clemson football and he seems to be an outstanding young man. He represents what student-athletes should be all about."
Good starts
Watson, the consummate starter, gets off to good starts as well as anyone.
In high school with the Gainesville (Ga.) Red Elephants.
At Clemson. Against South Carolina. In his first bowl game.
Against Alabama.
In the NFL.
We this guy taking snaps, we think The CHARLEYS will get off to a good start, too.
Follow Gene Sapakoff on Twitter @sapakoff