Sapakoff: Panthers make a better America's team than Dallas Cowboys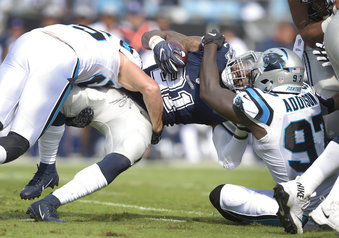 CHARLOTTE — How 'bout them Cowboys?
The Carolina Panthers were vulnerable Sunday, having lost a star tight end (Greg Olsen) in the first quarter and a right tackle (Daryl Williams) in the fourth. A lot of Dallas fans — mostly older folks and other nostalgia buffs — were on hand at Bank of America Stadium.
But the Cowboys players, coaches and dreamers never frightened anyone in teal, losing ugly 16-8 in the NFL season opener for both teams.
"We put our defense in a bad situation," running back Ezekiel Elliott said. "We had them on the field too long. We couldn't get first downs. We couldn't keep our drives going. I mean, we have to improve as an offense."
And as a punch-line.
Suburban Dallas' Team, once popularly regarded as America's Team, has fallen on hard times.
Of course, some people and pro sports teams have a bad quarter-century every now and then. But the Cowboys' slump is particularly striking when you consider a couple of things:
1. Dallas has won exactly three playoff games since winning their last Super Bowl in 1996. Later that year, Muhammad Ali lit the torch at the Olympics in Atlanta and Nintendo 64 was released.
Hey, you remember …
Well, if you were alive that long ago …
That was also the year a kid named Eldrick Woods won his third U.S. Amateur golf title.
2. A few Americans still insist on calling the Cowboys America's Team.
Sure, Dallas led the NFL in jersey sales and cheerleader reality TV shows for the 2017 season. But America is in trouble if this is America's Team.
Something is wrong with a country that celebrates sustained averageness.
It's time to add a referendum on sports logic to those relatively meaningless mid-term elections: No more America's Team references to the Cowboys unless they hire Nick Saban, win a few more Super Bowls in a row and rename their stadium after Ed "Too Tall" Jones.
Forget about the Packers, Steelers or Patriots.
The Cowboys have enough trouble matching up with the Panthers in an America's Team comparison:
Head coach
Ron Rivera vs. Jason Garrett.
Rivera took the Panthers to a Super Bowl (and does regional home security commercials). Garrett, who must have something on owner Jerry Jones, has had three winning seasons in his seven full years as head coach.
Edge: Panthers
Quarterback
Cam Newton vs. Dak Prescott.
One of these former SEC quarterbacks won a Heisman Trophy and is a sport-changing talent.
Edge: Panthers
Norv Turner perspective
The Panthers' new play-caller has worked for eight NFL teams and one of them (Chargers) twice since helping the Cowboys win two Super Bowls as Jimmy Johnson's offensive coordinator.
Turner's son Scott Turner is the Panthers' quarterbacks coach.
So far, so good.
Norv Turner to Newton before the game: "Hey, baby, I'm going to let you be you."
Newton: "All right, coach."
Edge: Panthers
Net worth
The Cowboys rank No. 1 among NFL teams, per Forbes, at $4.8 billion.
The Panthers are No. 21 at a mere $2.3 billion.
Edge: Cowboys
Nicknames
Newton is "Superman."
Some people call Elliott "Zeke."
Where have you gone, "Hollywood" Henderson?
Edge: Panthers
Road support
Cowboys fans certainly show up. But maybe all the losing has taken away their venom. They were nothing in Charlotte like Boston Red Sox fans were in Atlanta earlier in the week with those roaring "Let's go, Sox!" chants.
Edge: Cowboys
Star on defense
All-World linebacker Luke Kuechly for the Panthers.
Defensive end DeMarcus Lawrence for Dallas? That will have to do because Randy White and Mel Renfro are not on the roster anymore.  
Edge: Panthers
Home stadium
Jerry World vs. Bank of America Stadium.
Edge: Cowboys
2018 upside
The Panthers will be in the thick of the race in the NFC South, perhaps the NFL's toughest division.
The Cowboys might finish last in the NFC East, maybe the NFL's weakest division.
Edge: Panthers
Juggling adversity
The Cowboys lost All-Franchise tight end Jason Witten to retirement but had an offseason to adjust.
The Panthers lost Olsen and Williams during the game but had backup players come through. Contributors included cornerback Captain Munnerlyn, the 10-year vet from South Carolina who sealed the win with a fumble recovery.
Edge: Panthers
Ancient history
Five Super Bowl wins for Dallas with Roger Staubach or Troy Aikman at quarterback before most current college students were born. The Panthers franchise wasn't around for most of that, either.
Edge: Cowboys
Recent history
Nine playoff wins and two Super Bowl appearances for the Panthers since the Cowboys last Super Bowl hurrah.
"We know they have a very strong fan base," Newton said, "and we have a very strong fan base too."
At this rate, those lines might intersect sooner than you think.
Edge: Panthers
Verdict
Time for a change. Packers, Steelers, Patriots, Panthers, Oregon State baseball …
America's Team must include successful Americans.
Follow Gene Sapakoff on Twitter @sapakoff.