Some Halloween party costume ideas for busy people in search of something simple: Steve Spurrier.
You can go as the current Head Ball Coach, the hilarious shoulder-riding Dos Equis spokesperson. All you need is sunglasses, a visor and a six-pack or two for your party hosts.
Or go vintage and choose from one of two Spurrier looks tagged to his 2005-2015 stay at South Carolina:
• The glory days HBC. He of the three straight 11-2 seasons, 2010 SEC East title, that 5-0 stretch of double-digit wins against Dabo Swinney's upstart Clemson machine and four consecutive bowl victories.
• Or the irritated Spurrier, the last-place guy that let recruiting fall hard before quitting with an 0-4 SEC record halfway through the 2015 season.
Those are the two Spurrier ghosts that haunt Gamecocks coach Will Muschamp.
At Halloween and year-round.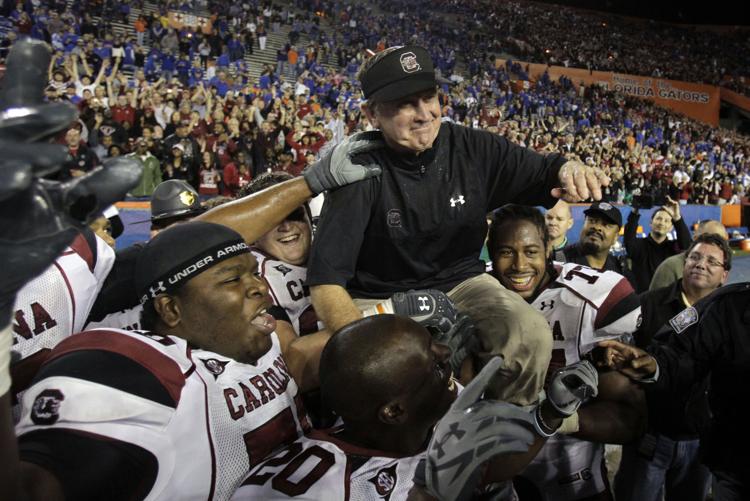 Spurrier's unprecedented South Carolina success towers over Muschamp.
Spurrier's neglect of recruiting undermined his successor.
The glory years invite unrealistic expectations.
The recruiting slippage still means more catch-up work at every turn, even as the Gamecocks prepare for a Saturday night home game against Tennessee.
Muschamp is 18-14 in two-plus seasons at South Carolina, 3-3 so far this year.
True, it's looking a bit like Muschamp's tenure at Florida: 7-6 start (6-7 at South Carolina), really nice second season (11-2 at Florida and 9-4 at South Carolina) and then a drop-off (4-8 at Florida).
But note that Muschamp took over a 3-9 mess in Columbia from Spurrier (interim coach Shawn Elliott isn't to blame).
'I see a lot of improvement'
I asked Muschamp on Tuesday how he measures progress within the program.
"Player improvement and unit improvement, when you look from week to week and month to month within the season," he said. "Obviously, you're measured by your record; you are what your record is at the end of the day and we're 3-3 right now. But from my eyes I see a lot of improvement from Week 1 to where we are at this point."
If you think where the Gamecocks are at this point is disappointing, it's probably because Spurrier and his staff had an incredible 42-11 run over four seasons (2010-2013) never before seen or anticipated in Columbia, and that likely will never be duplicated.
Spurrier and Co. recruited well before and during that stretch.
They also got real lucky.
Never has the Palmetto State produced so many elite Gamecock signees in such a short time: Stephon Gilmore, Alshon Jeffery, Jadeveon Clowney, D.J. Swearinger, Marcus Lattimore, A.J. Cann, DeVonte Holloman, Bruce Ellington.
Mix in out-of-state stars such as Melvin Ingram, Connor Shaw, Ace Sanders, Mike Davis and Pharoh Cooper with the above South Carolinians and everyone else in garnet looked a lot better.
Fickle progress
That brief but rich talent run under Spurrier covered up a lot of recruiting mistakes, player development failures and coaching errors.
When it came crashing down, athletic director Ray Tanner turned to Muschamp to rebuild.
Progress?
Fickle, sometimes.
But try judging Muschamp by the common standard of a middle-of-the-pack SEC East program, minus a Spurrier link.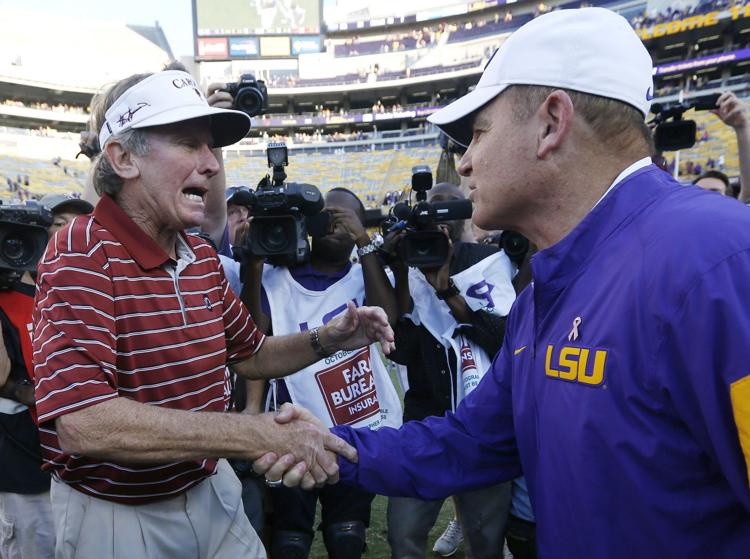 Because, often, following the best head coach in school history after that coach leaves voluntarily means you inherit some momentum.
And, usually, taking over a slumping program means you don't have to deal with a legend's shadow.
Instead, Muschamp got the worst of both scenarios.
But at least that gives Halloween costume shoppers a pair of Steve Spurrier options, not even including merry beer salesman.
Follow Gene Sapakoff on Twitter @sapakoff