I love Ray Tanner's perspective.
"When athletes, coaches and fans walk into our venues," the South Carolina athletic director said this week upon announcing a jersey retirement policy across all sports, "they'll know who set the stage for Gamecock successes."
Overdue?
Yes.
But South Carolina has done an exceptional job with its Athletic Hall of Fame and will do well with this, too.
Rules include a five-year waiting period between a player's final game and consideration eligibility.
The path for coaches includes championships but also "iconic status."
Keep in mind that South Carolina has already retired some jerseys, including Tanner's No. 1.
No more than one jersey per sport per year will be retired (honored is the more appropriate word as the actual jersey numbers will remain in circulation).
And, yes, professional or Olympic success is considered (as will graduation and academic records).
All Gamecocks sports are part of this, which is great.
So much to consider in determining relative dominance: one sensational year vs. three very good ones, a great player on bad teams vs. consistent winners, stats vs. impact, balancing college and pro prowess.
Of course, fun subjectivity means there are few identical induction idea lists among any 25 people who have carefully watched Gamecocks teams over the years.
But here's mine for the classes from 2020 to 2024 for football, men's basketball, women's basketball and baseball:
Football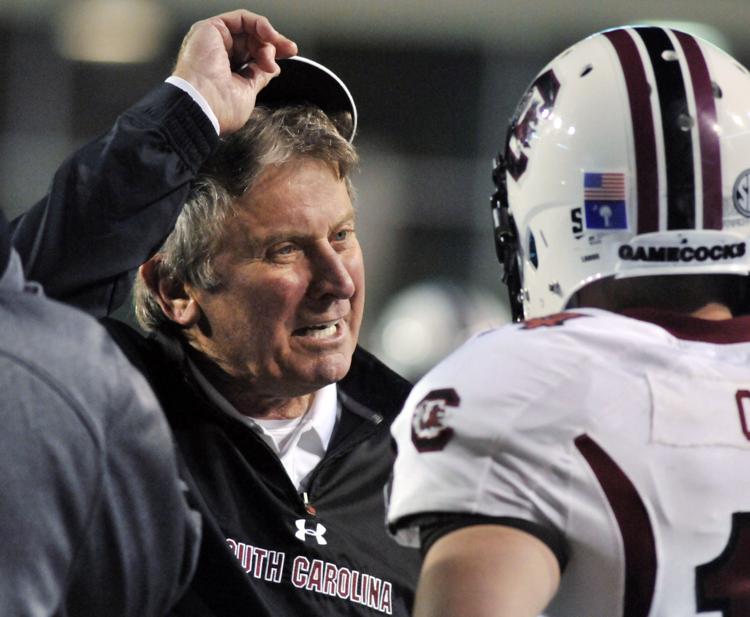 2020: Bobby Bryant. What about the exceptional two-sport athletes, such as Bryant and Bruce Ellington? They surely could have been greater in one sport had they not divided stellar work ethic. They should not be penalized for this. But Bryant's football stuff stands on its own: An All-ACC defensive back and standout punt returner, he played 13 NFL seasons (two Pro Bowls) for the Minnesota Vikings. Also a pitcher, he led the baseball team in wins in 1966 and tied for the lead in 1967.
2021: Steve Spurrier. Three straight 11-2 seasons, four straight bowl wins, an SEC East title and a five-game win streak vs. Dabo Swinney.
2022: Jadeveon Clowney. He's becoming a Pro Bowl regular after a larger-than-life stay in Columbia, where in 2012 he became the program's only unanimous All-American.
2023: Dan Reeves. A three-year starter at quarterback at South Carolina and not a great one. But played running back for the Dallas Cowboys for eight years. Then won 201 games as an NFL head coach, taking four teams to the Super Bowl.
2024: Stephon Gilmore, a first-team All-SEC cornerback now considered the best cover defender in the NFL. Just helped the New England Patriots win the Super Bowl. Gets the edge over a group including consensus All-American and L.A. Chargers star Melvin Ingram, All-American linebacker Eric Norwood, three-time All-SEC blocker Jamar Nesbit and quarterback wins leader Connor Shaw.
Men's basketball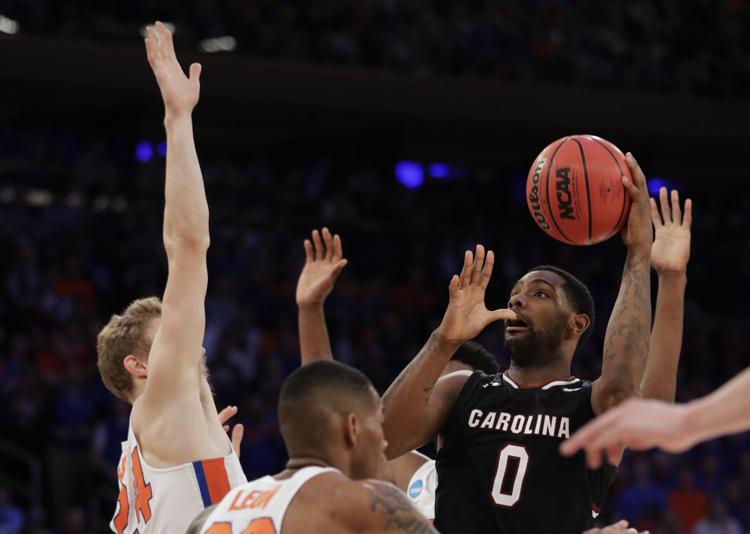 2020: Frank McGuire. No more obvious, overdue pick. Naismith Basketball Hall of Famer. Put South Carolina basketball in the national conversation. Recruited Gamecocks legends John Roche, Alex English, Kevin Joyce, Mike Dunleavy, Tom Owens, Tom Riker, Bobby Cremins and Brian Winters, among others.
2021: Devan Downey. Fifth on South Carolina's career scoring list, the dynamic guard was first-team All-SEC in 2008, 2009 and 2010.
2022: Sindarius Thornwell. The best player on the best team in school history, the 2017 Final Four crashers. SEC Player of the Year in 2017.
2023: Tom Owens. All-ACC first-team post player in 1970 and 1971 (and second-team in 1969) and played in the ABA or NBA from 1972 to 1981. Scored the winning basket in the 1971 ACC Tournament championship game. But has turned down invitations to return to campus, miffed that his jersey wasn't retired a long time ago.
2024: Brian Winters. Over 10,000 points in the NBA gives him the edge over the likes of Mike Dunleavy, Melvin Watson, Terry Dozier, Jo Jo English and Zam Fredrick. Also over 1,000 points from 1972-74 as a sharpshooting guard at South Carolina.
Women's basketball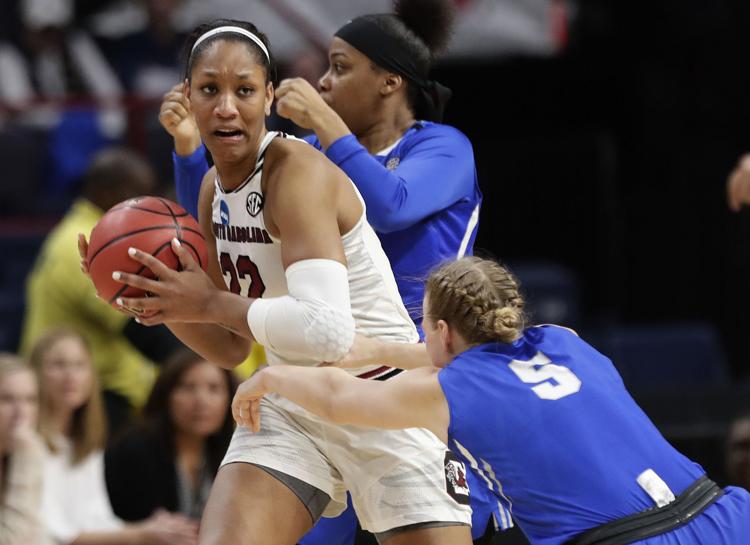 2020: Dawn Staley. Still active or not, it's ridiculous not to honor a national champion, two-time Final Four participant and 2020 Team USA head coach ASAP.
2021: And the run of Staley's top players starts with Aleighsa Welch, a two-time All-American from Goose Creek High School and a vital part of the foundation for Staley's elite program.
2022: Three-time All-American Tiffany Mitchell, the Gamecocks' best-ever player not named A'ja Wilson.
2023: Wilson, All-World, four-year star, No. 1 overall pick in the 2018 WNBA draft.
2024: Time for Alaina Coates, three-time All-American (2015-2017).
Baseball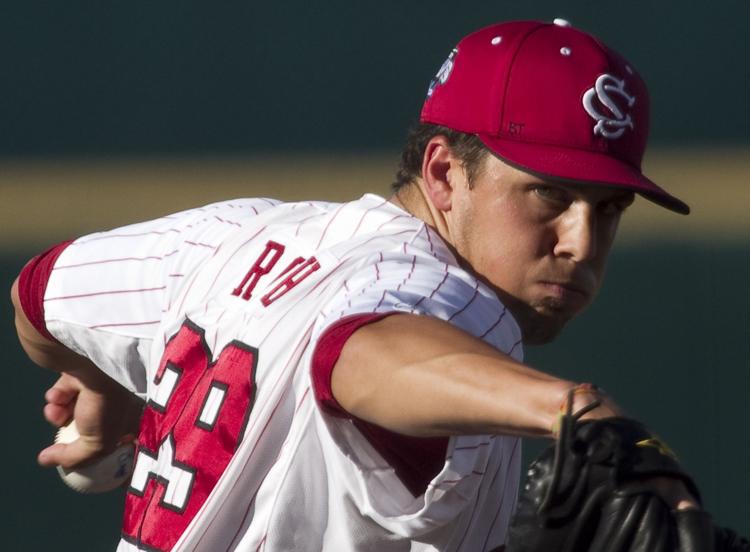 2020: Justin Smoak. The slugger from Stratford High School is South Carolina's career leader in homers, runs batted in and total bases. Also has hit more MLB home runs than any Gamecock (169 and counting).
2021: Kip Bouknight. At 45-12, the winningest pitcher in school history. The 2000 Golden Spikes Award winner (national player of the year).
2022: Michael Roth. Star pitcher on the Gamecocks' 2010 and 2011 College World Series winning teams, plus the underrated 2012 team that reached the CWS finals.
2023: If you're telling me to consider pro performance, I will point out that Whit Merrifield of the Kansas City Royals led the majors in hits in 2018 with 192, arguably the most impressive thing any South Carolina player has done in the big leagues. He also was a big part of the 2010 CWS team and ranks among the top 10 in several Gamecock categories.
2024: Jackie Bradley Jr. Red Sox postseason star, Gold Glove winner and key member of two CWS winners. Gets the edge over Drew Meyer, the former Bishop England High School shortstop who was the catalyst of South Carolina's 2002 CWS team that reached the championship game and remains third in career hits (285).
Follow Gene Sapakoff on Twitter @sapakoff.