Sapakoff: I was wrong about Clemson's Brad Brownell, who went from hot seat to Sweet 16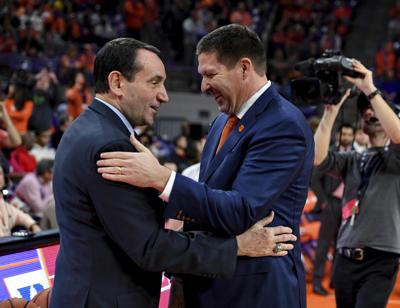 SAN DIEGO — Clemson head basketball coach Brad Brownell will meet with athletic director Dan Radakovich in a couple of weeks for his annual job review. Expect a contract extension and a salary bump, up a significant chunk from the $1.9 million Brownell is scheduled to make next season.
The meeting will be all smiles, quite unlike the huddle last April when a six-year NCAA Tournament drought almost cost Brownell his job. Radakovich reduced Brownell's buyout and demanded progress as some boosters and a certain columnist hinted that Wichita State's Gregg Marshall might be a better idea for Clemson basketball.
We were wrong.
Brownell celebrated with his team Sunday night after clobbering No. 4 seed Auburn by 31 points at an NCAA Tournament party in San Diego.
He has vindicated himself, all the way to a Sweet 16 matchup with Kansas on Friday night in Omaha. Not only did Brownell save his job this season, he offered a sustainable success formula built around transfers who buy in quickly.
What a difference a good ACC season and Clemson's first main-round NCAA Tournament victories since 1997 make in perception.
A year ago this thing was on ground shakier than any California fault line.
Now the pitch to transfer prospects is loud and clear: Come to Clemson, graduate, play against Duke and North Carolina, win, play against Syracuse and Louisville, watch good football, get to the NCAA Tournament.
That Brownell is humble about this career flip says something about a 49-year-old Indianan who has run his program all the right ways off the court.
"It wasn't like I had to go in and convince them to keep me," Brownell said of his meeting with Radakovich last April. He praised the "partnership" that runs from Clemson's administration through athletics.
But …
"There were some things that needed to be changed," Brownell said.
'I knew I needed to win'
Antonio Reynolds Dean, a former College of Charleston assistant, was brought in to work with big men. Brownell got a bit more player-friendly. Clemson — and its coach — did a better job of finishing games after losing so many close ones last year.
"I knew I needed to win this year," Brownell said. "That's OK. This is high-level basketball."
Clemson basketball doesn't get more elevated than the brand that smothered Auburn.
It was hardwood art: a creative mix of zone and man-to-man defense with ideal floor spacing against Auburn's perimeter-based attack; 10 guys contributing early on offense.
"We thought they would extend (their defense) a little more," Auburn head coach Bruce Pearl said. "Instead, they packed it in."
True 'Clemson Grit'
So Clemson (25-9) is off to Omaha, where the resumes of the four head coaches look like this:
• Mike Krzyzewski, five national championships at Duke, a record 12 Final Fours
• Jim Boeheim, one national championship at Syracuse, five Final Fours
• Bill Self, one national championship at Kansas, two Final Fours
• Brad Brownell, survivor
But the Tigers wore "Clemson Grit" shirts as they took the Viejas Arena court to warm up before the Auburn game. They played up to the slogan Brownell championed earlier this year.
"Grit, passion and perseverance toward a long-term goal," he said. "And that can be applied to many things. That's something I wanted to challenge our players with because I don't think young people … Long-term isn't how they think.
"It can pertain to just about anything."
Brownell will take his true grit all the way to Omaha and a contract extension.
Follow Gene Sapakoff on Twitter @sapakoff