Sapakoff: How to help pathetic ACC football keep up with elite Clemson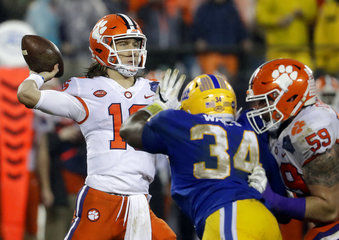 CHARLOTTE — It's lonely at the top, lonelier atop the Atlantic Coast Conference Championship Game trophy presentation platform. That's where Dabo Swinney and his evolving cast of Clemson contributors have a second home.
It's kind of like being the biggest predator in a bowl of bisque, except that the Tigers, off to their fourth straight College Football Playoff, are big enough to sip the finest.
Predictably, the nation's No. 2-ranked team pulled away from unranked Pittsburgh, winning 42-10 on a rainy Saturday night.
"I think we should come back and do it again next year," Swinney said after Clemson sealed its fourth title in a row.
Pity Pitt, a bunch of overachievers who earned passage to the ACC title game at Bank of America Stadium by winning an ACC Coastal Division golf cart race.
The Panthers (7-6) started out reasonably well, but eight yards passing won't cut it.
Four pass attempts in the second half?
That wasn't good strategy or good television. It was more like an underdog FCS team that comes in for a paycheck.
Pittsburgh couldn't keep up with Clemson running back Travis Etienne (156 yards and two touchdowns) and couldn't advance the football beyond the line of scrimmage often enough (nine Clemson tackles for loss).
"Congratulations to Pitt - they worked their tails off to get here as well," Swinney said on his way to another celebration, "but this is special."
The result wasn't surprising, considering the orange and white top-heavy ACC entered Saturday with just two teams ranked in the College Football Playoff top 25, Clemson and No. 20 Syracuse.
That had to make an ACC title game in which Clemson was a 27-point favorite less than sizzling prime-time entertainment on any platform.
A decent crowd watched at Bank of America Stadium, but there were large sections of upper deck seats covered with blue tarps stamped with an ACC logo.
That doesn't mean we should give up on a quest for a more interesting ACC Championship Game.
A five-point plan:
• Beg, leverage, bribe, threaten, blackmail. Whatever it takes to get Notre Dame into the ACC Championship Game eligibility pool. Convince the Irish that while it might have hurt their playoff cause this year, it might help in the future.
• Forget the Atlantic Division-Coastal Division winners format. Go with the top two teams in the College Football Playoff rankings, regardless of division.
• Play the game at least every few years at a military base, honoring our armed forces and creating more buzz. Fort Bragg, N.C., site of an Atlanta Braves-Miami Marlins regular season Major League Baseball game in 2016, would be cool and convenient (letting the higher ranked team is an option, too, but Clemson would just win by more points that way).
• Instead of an ACC title game, have the top ACC team play the No. 1 team from the Pac-12. Or did you miss all those empty seats — and large tarps — Friday night at the Utah-Washington game in Santa Clara?
• Upgrade facilities around a conference that has fallen behind the trend of top national programs.
Or some of the above.
ACC Coastal calamity
No question. Pittsburgh's Pat Narduzzi, a 52-year-old father of four from Youngstown, Ohio, is one of the most underrated head coaches in college football. Along with handing eventual 2016 national champ Clemson its only loss in a Death Valley shocker, his Panthers also upset No. 5 Penn State in 2016 and stunned No. 2 Miami in the 2017 regular-season finale.
But this wasn't a fair fight.
"We had a lot of unforced errors out there," Narduzzi said. "Great defenses make you have unforced errors."
The ACC Coastal is the lowest-rated part of Power Five college football, per the USA Today Sagarin computer and any objective eye test.
Virginia Tech lost to Old Dominion.
North Carolina fired head coach Larry Fedora and brought back 67-year-old Mack Brown.
Mark Richt's initially promising Miami program can't find a new quarterback or an old fan base.
Duke can't close.
Georgia Tech lost to South Florida.
Elsewhere in the ACC, Boston College got clobbered by Purdue.
Louisville fell apart and fired Bobby Petrino.
Pittsburgh was pummeled by Penn State (51-6) and Central Florida (45-14).
$22 tickets
About those ACC facilities.
A 24/7sports.com ranking this season had just three ACC schools ranked among the top 25 football digs: No. 2 Clemson, No. 12 Florida State and No. 24 Miami (South Carolina, by the way, was No. 20 and Oregon No. 1).
Maybe it's a good, sensible thing that most of the famously fine institutions that make up the ACC are not as caught up in excessive football spending as Clemson and other schools.
A sudden shortage of top quarterback talent isn't helping the ACC, either.
But those are more reasons why the ACC should tweak its showcase football event.
"I don't know how the outside city is feeling (about the ACC Championship Game)," Narduzzi said this week. "The University of Pittsburgh is buzzing."
Those $22 tickets available Friday on StubHub spoke volumes.
Hopefully, the ACC makes a few changes, maybe by the next scheduled Clemson-Pittsburgh game – at Heinz Field in 2021.
Better yet, by the 2019 lopsided Clemson-Pitt ACC Championship Game.
Follow Gene Sapakoff on Twitter @sapakoff.