Sapakoff: How Clemson probably makes the College Football Playoff with a loss to Miami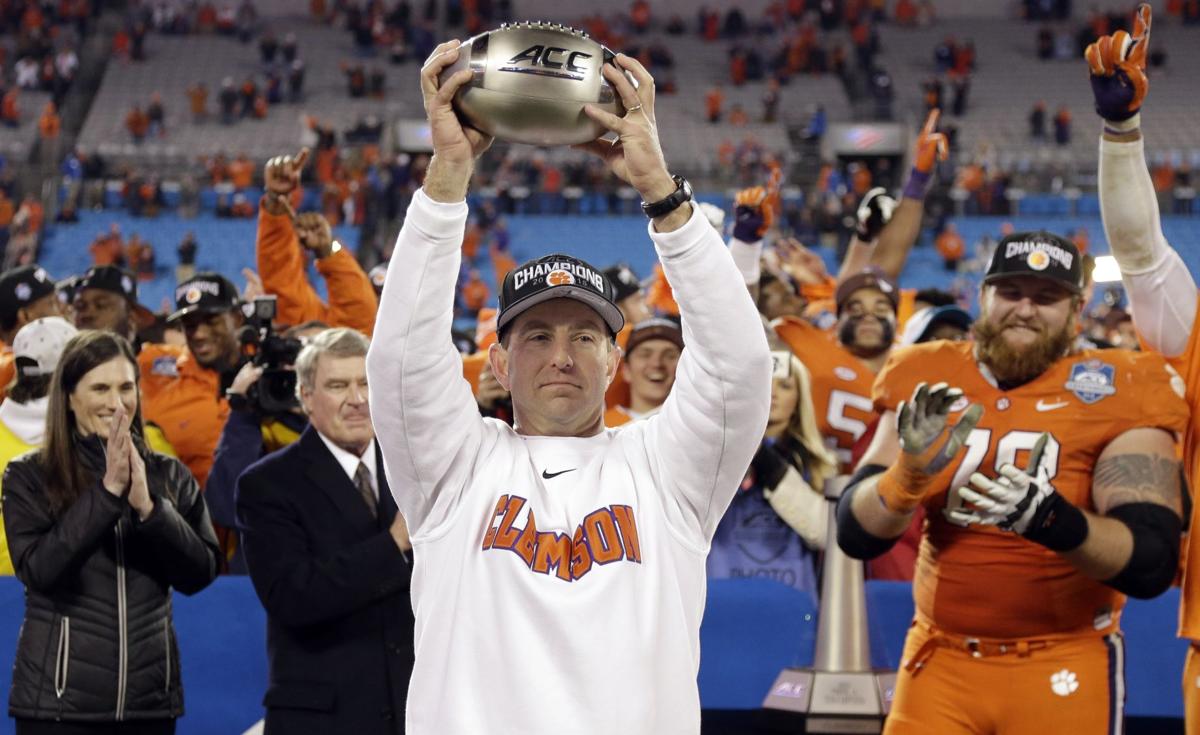 Though Dabo Swinney wants no part of this kind of talk, his Clemson team is good enough at football and blocking out pregame noise to survive speculation. The No. 1-ranked Tigers likely will take care of College Football Playoff business Saturday night in Charlotte and punch a ticket to the Sugar Bowl with an ACC Championship Game victory over Miami.
But if the Hurricanes' Turnover Chain triumphs …
And if TCU upsets Oklahoma in the Big 12 Championship Game on Saturday or if two-loss Ohio State beats undefeated Wisconsin in the Big Ten Championship Game on Saturday night …
Strong indications from the secretive CFP selection committee — fair, sensible and transparent or not — are that Clemson still makes the final top four.
The committee loves Clemson's win over No. 2 Auburn, the Tigers' strength of schedule and has said quarterback Kelly Bryant's injury was an excuse for an Oct. 13 loss to a 4-8 Syracuse team that didn't win another game.
Imagine that.
Extraordinary love for Clemson after decades of Clemson fans whining about various forms of bias by the ACC office, the NCAA, Jesse Palmer, etc.
Citing the Bryant injury and not other injuries around college football is a bit odd. For instance, Auburn star running back Kerryon Johnson didn't play at Clemson and Alabama expects some injured players back for a bowl game.
But, for the most part, you get what you earn.
This much is certain:
• The Clemson-Miami winner is in.
• The Auburn-Georgia winner is in and the loser is out.
• Oklahoma is in if it beats TCU.
• Wisconsin is in if it beats Ohio State.
Most likely final top four scenarios if Clemson loses and either Oklahoma or Wisconsin (or both) lose:
• TCU upsets Oklahoma and Wisconsin beats Ohio State: 1. Miami or Auburn, 2. Miami or Georgia, 3. Wisconsin, 4. Clemson
• Oklahoma and Ohio State win: 1. Miami or Auburn, 2. Miami or Georgia, 3. Oklahoma, 4. Clemson
• TCU and Ohio State win: 1. Miami or Auburn, 2. Miami or Georgia, 3. Clemson, 4. Alabama
Committee's Clemson love
Clemson is No. 1 this week because of its 11-1 record, three wins over CFP ranked teams and schedule strength (No. 11 per Sagarin rankings).
"The selection committee is really impressed with their resume," chairman Kirby Hocutt said this week, "and I would say the victory over Auburn is definitely a highlight there. Other quality wins against Louisville, Virginia Tech, North Carolina State, South Carolina. But that win over Auburn is significant. The selection committee believes that Clemson is one of the most balanced teams that we've seen this year. They've especially been impressive on the defensive side of the ball."
CFP Executive Director Bill Hancock is real good at talking a lot without revealing much. But this week he spent a lot of time essentially echoing Hocutt's assessment that there is much separation between the top four and the next four.
That is:
No. 1 Clemson
No. 2 Auburn
No. 3 Oklahoma
No. 4 Wisconsin
Pause.
No. 5 Alabama
No. 6 Georgia
No. 7 Miami
No. 8 Ohio State
Alabama and Ohio State
So if Ohio State has a long way to go to jump No. 1 Clemson, it seems like a real stretch for No. 11 TCU.
The Horned Frogs' toughest non-conference game?
Arkansas.
The committee advertises that it stresses three things — conference championships, strength of schedule and head-to-head matchups — though in no particular order.
Strength of schedule rankings among the top 8 this week: Clemson 11, Auburn 15, Oklahoma 36, Wisconsin 61, Alabama 54, Georgia 48, Miami 40, Ohio State 42, TCU 46.
If it comes down to Clemson vs. Ohio State for a top four spot, it's going to be hard for some committee members to stick to 2017 games and forget that 31-0 rout in the Fiesta Bowl last season.
If it comes down to Clemson vs. Alabama, there is a reason why the committee has Clemson No.1 this week and Alabama No. 5 with that "separation" between No. 4 Wisconsin and the Tide.
It gets tricky if Miami clobbers Clemson. But of all the crazy scenarios possible for Saturday, that one finishes way behind a TCU upset, an Ohio State win and the defending national champions celebrating another ACC Championship Game victory on their way to a third consecutive playoff appearance.
Follow Gene Sapakoff on Twitter @sapakoff