Sapakoff: Hey, Michael Jordan, the Charlotte Hornets should hire Dawn Staley as head coach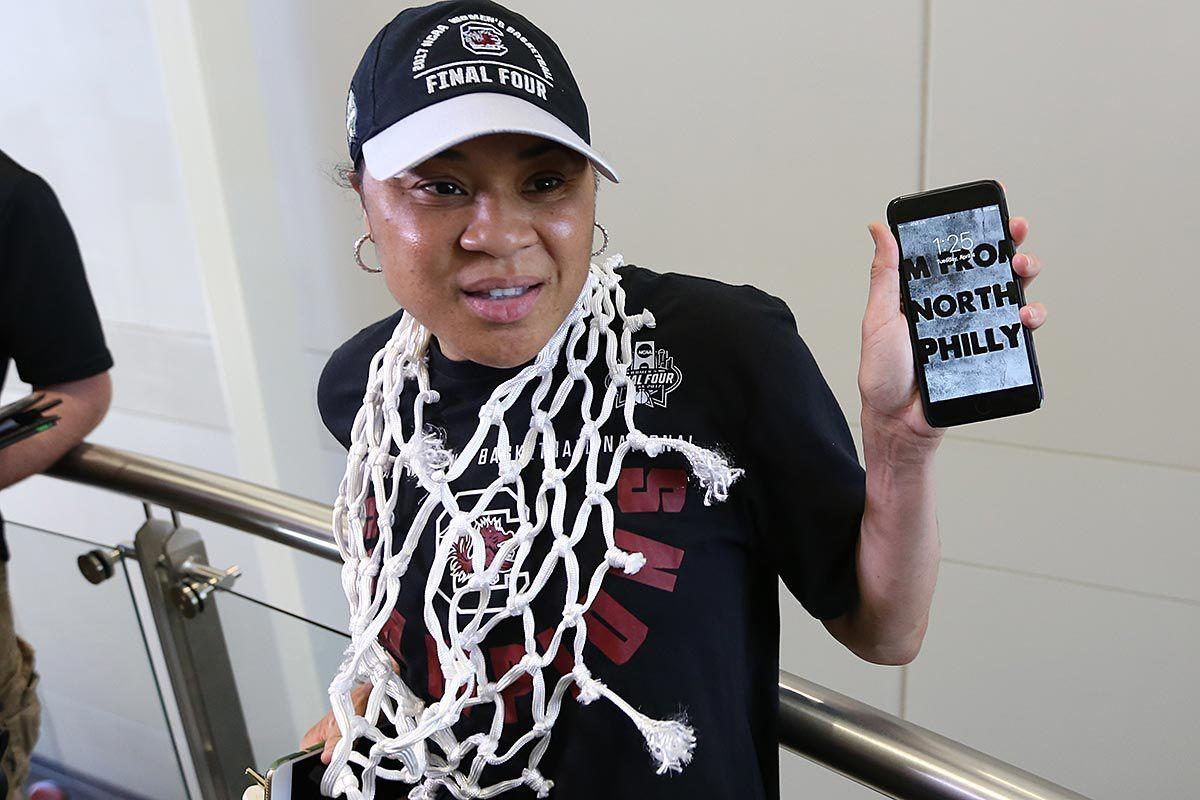 Phil Jackson is not walking through that teal and purple door.
Mike Krzyzewski knows better.
Gregg Popovich doesn't seem like he's up for a new fixer upper.
Steve Kerr has a good thing going for the NBA team that won't admit it plays in Oakland.
Which means South Carolina's Dawn Staley makes more sense than all but a few other options for the Charlotte Hornets' head coach vacancy.
So many reasons:
She is a good basketball coach, teacher, player developer, motivator.
She is one of the most respected leaders in the sport.
Staley wins.
The Hornets need the accompanying publicity.
Hornets majority owner Michael Jordan desperately needs a creative spark for his floundering franchise and his flat-lined front office reputation.
I'm not trying to hurry Staley, 47, away from South Carolina, where she has gone 250-87 in 10 years with six Sweet 16 appearances, two Final Fours and the 2017 national championship.
But she has expressed her "someday" interest in an NBA head coaching job and this shines like that day.
"Way down the line, maybe," Staley said 13 months ago when I asked if she would ever like to be a head coach in the NBA or in men's college basketball. "I want to be the best in my profession. If that's crossing gender lines and going to the NBA, why not? I'm here to grow. I want to grow. I want to continue to learn. In order for you to do that, you're going to have to cross over at some point."
A Hornets rebuild plan
What a sweet opportunity for Staley and Jordan.
They are already linked as former ACC stars and Olympic gold medalists.
Jordan, world mega-star and manliest basketball king, has the credibility to name Staley as the NBA's first female NBA head coach.
Staley, well known in global basketball circles for her Team USA exploits and as head coach of the 2020 U.S. Olympic team, would add a new word to Jordan's resume: pioneer.
"I think you can see that our (women's) game has incredible coaches in it," Staley said last year. "It's just the opportunity. If you're given the opportunity, you rise to the occasion. Just because there's a gender involved doesn't mean that it detracts from what you have cerebrally.
"We have some great coaching minds in our game. Given the opportunity, I think we'll excel."
Whether it ultimately works or not, Jordan with a bold stroke insures his place in history and, for a while at least, makes us forget his flaws as a basketball executive.
And it might work with the right "process."
That is, Jordan and Staley must oversee a thorough rebuild (let's not use the "tank" word) that involves swapping current players for draft picks and friendlier contracts. Over and over.
Queen City blues
The old Charlotte Hornets, circa. 1988-2002, were almost postseason regulars before sneaking off to New Orleans.
Ah, the Muggsy Bogues years …
But since this version of NBA basketball came to Charlotte as the Bobcats before the 2004-2005 season, the franchise has made the playoffs just three times. That's not fun for season ticket holders, casual fans and Queen City boosters.
Quick, name three Charlotte Hornets not named Kemba Walker.
Actually, this team isn't that bad.
Which, in the NBA, is really bad.
Worse to be stuck on the edge of playoff contention, not quite good enough to make playoff noise but not lousy enough to land one of the top draft picks.
Staley has built from scratch before, taking South Carolina from 10-18 her first season in 2008-2009 to the NCAA Tournament by 2012.
Of course, Staley would surround herself with top assistants, probably including an old-school NBA sage. That's a good idea for any rookie NBA head coach.
Otherwise, Staley is a great communicator (and not just because she has a degree in Rhetoric and Communication Studies from Virginia) and a longtime student of the NBA game. She knows the professional grind herself, having made a WNBA All-Decade Team after five All-Star Game appearances.
If all of that is not good enough, Staley can always bounce a few things off the majority owner.
And if Michael Jordan is having trouble selling a new brand of basketball excitement in Charlotte, he can simply ask Dawn Staley to step to the podium.
Follow Gene Sapakoff on Twitter @sapakoff