You wanted to be the guy replacing the guy replacing popular head coach Danny Ford, fired in January of 1990 after too many run-ins with NCAA investigators and clashes with the school.
Ken Hatfield never had a chance at Clemson.
Ford was a personable part-time farmer who popped into Mac's Drive-In for cheeseburgers, won Clemson's first football national championship and out-recruited almost everyone. But administrators were planning an athletic academic center. Ford wanted a new jock dorm instead, and campaigned. Ford's players marched on campus to protest after he was fired.
Hatfield was asked at a 1993 news conference called to announce a "mutual separation" from Clemson what he could have done differently. He paused to consider his 32-13-1 record.
"I could have won three national championships," Hatfield said, "and gone undefeated every year."
But College Football Playoff management appreciates Hatfield, 75. The man who won 168 games coaching at Air Force, Arkansas, Clemson and Rice was added to the 13-member CFP Selection Committee in January.
Hatfield, reached at his home in Springdale, Arkansas, said there is "no bitterness" toward Clemson.
He seemed insulted by any insinuation of bias — against Clemson fans or for his pal Dabo Swinney.
"My responsibility is to get the best teams in America to the playoffs," Hatfield said. "Everywhere I've been I've been fortunate; I've been places where we've won some and we've lost some. We're all tasked to get the best teams and I promise you I will consider every team. All the teams starting out, I will consider."
Hatfield also said he wasn't bitter at that crowded 1993 Clemson exit news conference.
But he took aim at fair-weather fans and fans who sought his ouster as home attendance plummeted from an average of 79,196 in 1990 to 76,789 in 1992 to 66,845 in 1993.
"But I'm disappointed as much as anything that for five weeks when we needed support, when the players needed it, there weren't a whole lot of folks out there to support the team," Hatfield said at the time. "That's what burned my butt and it still does.
"Everybody who is a so-called fan who stayed away, you ain't a fan. You can tell everybody you are but you are not. If you want to be a Clemson fan, you'd better come out, I don't care who the coach is, because the players deserve it. …
"Shame on you, wherever you are."
Therapy dogs, healing horses
These days, Hatfield is way too busy to be bitter about anything.
He lives not far from the Fayetteville campus where he was a star defensive back and punt returner who teamed with the likes of former coach Jimmy Johnson and Dallas Cowboys owner Jerry Jones to help Arkansas win the 1964 national championship.
Sandy Hatfield, married to Ken for almost 40 years, died of cancer soon after the couple moved back to Arkansas in 2006. Ken Hatfield later met a "big Razorback fan" whose husband died a few years before Sandy.
"We dated every night for three years," Hatfield said.
Ken and Cyndy Hatfield have been married for six years. Her three children and their kids live nearby, which means Hatfield is a regular at Little League baseball games and gymnastics meets.
The rest of his weekly routine:
Bible study.
Volunteer work at VA hospital with therapy dogs.
Church food pantry stocking and organizing.
Horses for Healing, a therapeutic riding program for special needs kids.
Golf.
Hanging out with his older brother Dick, a longtime attorney.
And attending Razorback sporting events.
Chad Morris, Dabo Swinney
Hatfield can't wait for football season, as he thinks new head coach Chad Morris eventually will get Arkansas back on track in the unforgiving SEC West. Hatfield is well aware of Morris' work as an offensive coordinator at Clemson under Swinney, who Hatfield came to know at coaches' conventions and Fellowship of Christian Athletes events.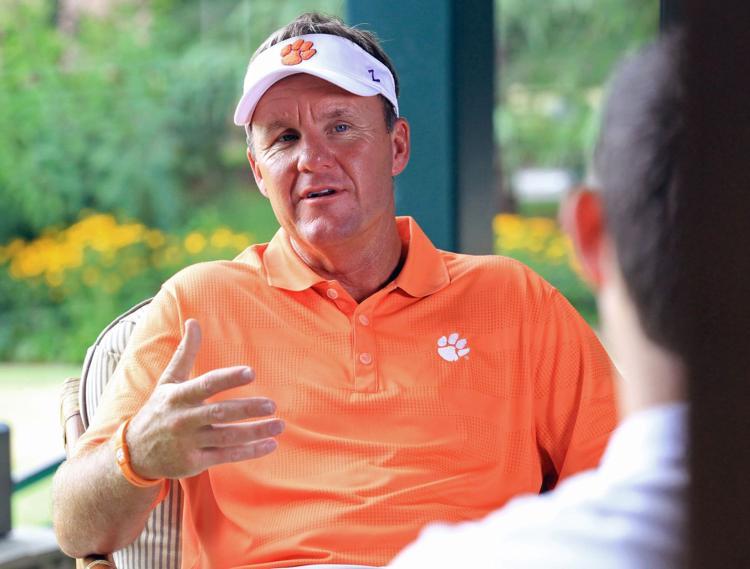 "I think the world of Dabo and his lovely wife (Kathleen)," Hatfield said. "He's just a tremendous leader and a tremendous coach. I think he coaches for the right reasons. I think he coaches so the young men will be better people than they were before they got in the program. I think he's a great example of coaching. Dabo does it as well as anyone I've ever seen."
Among the many Hatfield-Swinney connections: Swinney coaches Brian Dawkins Jr. Hatfield's staff led by Rick Stockstill recruited Brian Dawkins out of Jacksonville, Fla. The former NFL safety in February became the first former Clemson player elected to the Pro Football Hall of Fame.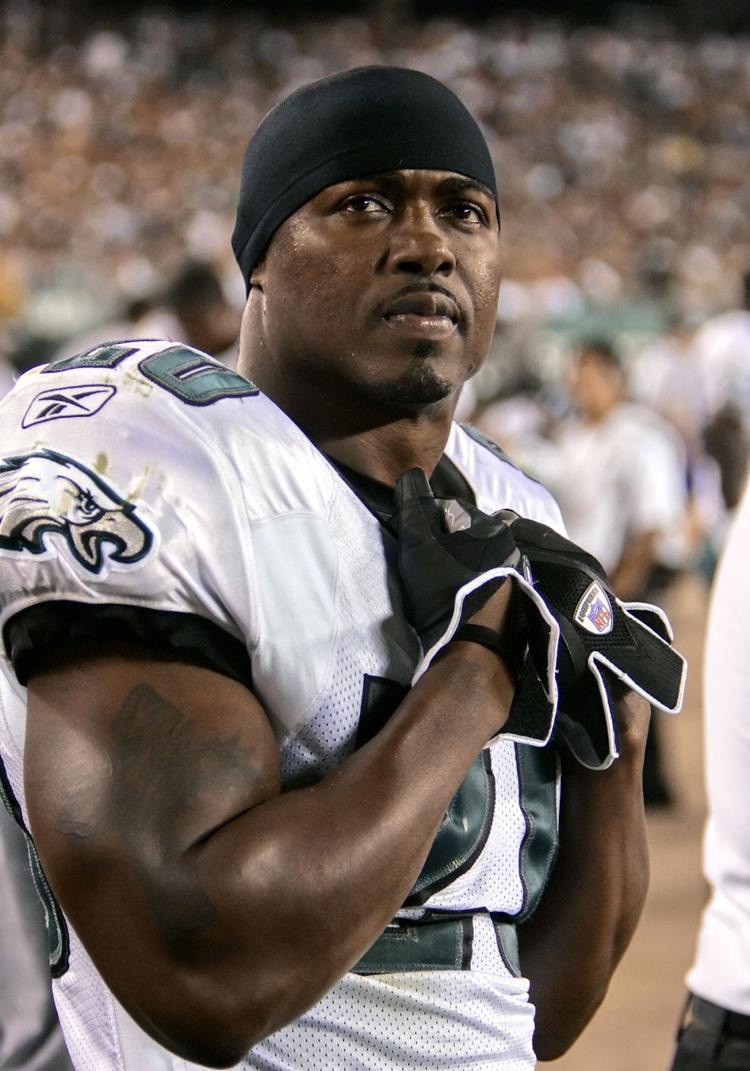 "That's as great as it gets," Hatfield said. "There's nobody that has earned it more. I remember his tenacity when I saw him playing high school basketball. Just his attacking spirit, aggressive all the time. He never wasted a day. He never cared about getting credit and now he gets the credit he so richly deserves."
Otherwise, Hatfield said Clemson memories that stand out include a 20-7 loss at Virginia in his second Clemson game and the greatest comeback in school history, a 29-28 win at Virginia in 1992, a game the Tigers trailed 28-0.
But bitterness?
What bitterness?
"Overall, Clemson was an excellent school," Hatfield said, "a great place to go to school, great support for all their teams, especially the football team. The greatest joy was working with the players. I learned so much from the players that were there when I got there and the players that came later on."
Now all that's missing is a short Ken Hatfield appreciation ceremony during a football game this season. For 32 wins, for a 3-1 record against South Carolina that stands as a rivalry game winning percentage topping Frank Howard, Danny Ford or Swinney, for closure.
A big applause from a packed house is long overdue.
Follow Gene Sapakoff on Twitter @sapakoff