Sapakoff: Gamecocks' schedule got tougher; USC and Jake Bentley must respond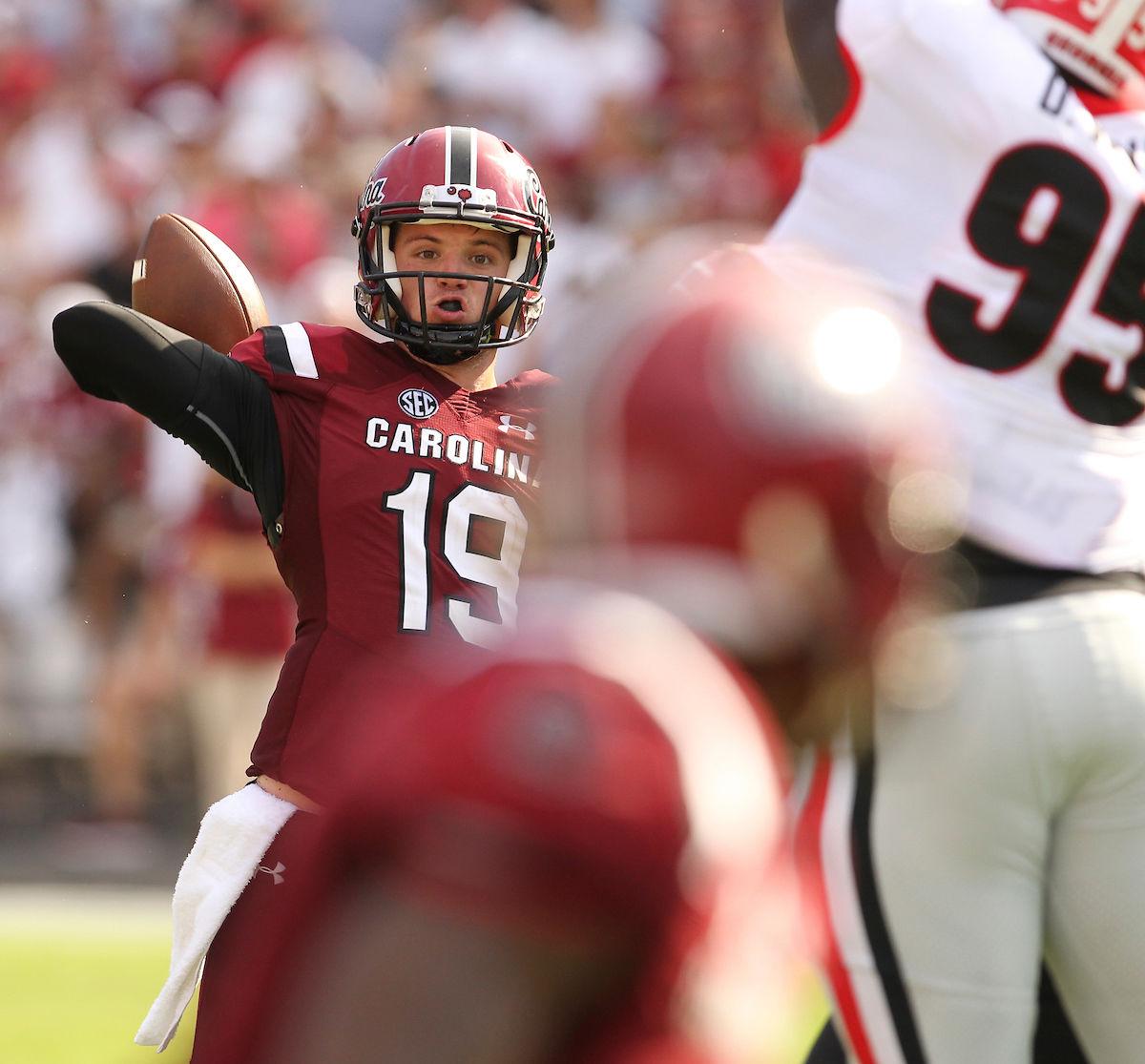 South Carolina's new-look offense looked promising for those initial seconds of a 41-17 loss to No. 3 Georgia on Saturday.
The Gamecocks got the ball first. They came out with an aggressive empty-backfield set.
Quarterback Jake Bentley, too excited for his own good at times during his first two college seasons, seemed calm enough.
And a few minutes later Georgia was up 14-0, Bentley was 1-for-5 passing for seven yards over two possessions, South Carolina receivers had already combined for three drops and the Bulldogs returned an interception for a touchdown after a pass bounced off running back Rico Dowdle.
A real good excuse: Georgia is real good.
Whether or not that holds up depends on how Bentley and Co. fare against the likes of Kentucky, Missouri, Texas A&M and Ole Miss — foes that two weeks into the season look more formidable than August advertisements.
At some point a franchise quarterback has to lift his team out of tough spots against quality opponents (as Connor Shaw did in rallying the Gamecocks to victory at Missouri).
Or come through against the odds (as Dylan Thompson did at Clemson).
Or have a spectacular day against an elite team (as Stephen Garcia did against Alabama).
All of the above is too much to ask. But Bentley against a schedule that appears tougher than those he faced during his first two college seasons has to respond with upgraded performances.
So far, Will Muschamp's Gamecocks are 1-6 against ranked teams with Bentley as the starter (14-8 overall) — with six straight losses since a 24-21 home victory over No. 18 Tennessee in his second college start on Oct. 29, 2016.
Again, the good excuse, multiplied by four: Along with losses at No. 22 Florida and to No. 25 South Florida in 2016, the skid includes losses at No. 4 Clemson (56-7 in 2016), at No. 2 Georgia (24-10 in 2017), No. 4 Clemson (34-10 in 2017) and No. 3 Georgia on Saturday.
Few quarterbacks find a ruby in that mountain of rocks.
'For your team, for the fans'
"Obviously, being an older guy, you want to win those big games for your team, and for your fans," Bentley said Tuesday during South Carolina's player availability. "But at the same time, too, I've been here my third season now, and you kind of know how to get over it, and in your mind, switch it to the next week."
But beating a few ranked teams will probably have to figure in a satisfying season formula for South Carolina.
Which, realistically, is something like the 9-4 of 2017.
Status quo, or bust.
It's not that easy. The Gamecocks have had seven nine-win seasons in program history, and four of those came under Steve Spurrier (10-2 under Joe Morrison in 1984, 9-3 under Lou Holtz in 2001 were the other two before last year).
Bentley's next chore within South Carolina's "So what? Now what?" theme is sustained self-improvement.
Of course, he needs help on offense.
Downfield shots
Quarterback care packages:
• More downfield shots. Bentley, a junior, wasn't as bad as his stats (30 of 47 for 269 yards with one touchdown pass and two interceptions) against Georgia; so many drops. But one completion of over 25 yards in two games this season (a 44-yard touchdown strike to Bryan Edwards in garbage time vs. Georgia)?
• Stay aggressive. South Carolina during its disastrous third quarter passed on a pair of fourth-and-2 situations, both from the Gamecocks' 33. That first one, OK. The second one, down 34-10 already, why not play to win?
A pressure approach was anticipated for Bentley and for Bryan McClendon's new offense, which includes play-makers such as Deebo Samuel, Edwards, OrTre Smith, Shi Smith and Dowdle.
Now the pressure is on the Gamecocks to play better, faster and smarter with no excuses left on the SEC schedule.
Follow Gene Sapakoff on Twitter @sapakoff