A great documentary wins over viewers not particularly interested in the subject matter, grabs them early and maintains a grip. That's what makes "Loopers: The Caddie's Long Walk" so pleasing. It's entertaining for all 18 holes, or a full 80 minutes.
Let's say all you know about caddies is that "Caddyshack" goofball/genius Carl Spackler once jumped ship in Hong Kong, made his way over to Tibet and got on at a course over there in the Himalayas.
You will still enjoy this film.
It's not just about golf.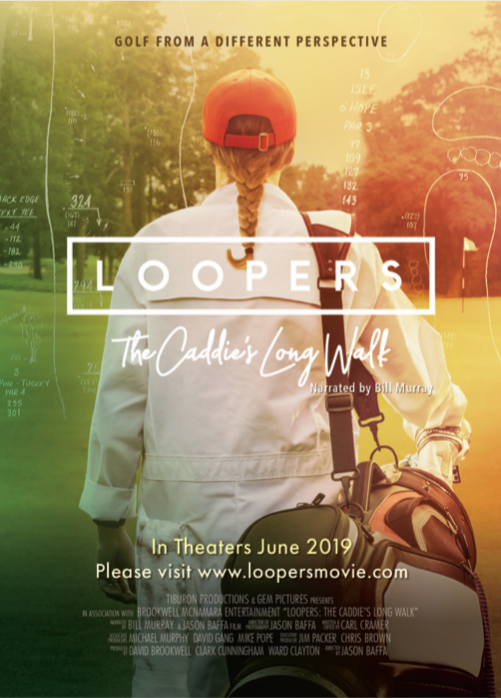 It's not even just about Carl Spackler — er, Bill Murray, who opens his sweet "Loopers" narration (recorded in Charleston) with, "It's finally time for the story of the golf caddie to be told."
It's about vintage sports archives, a breathtaking tour of Pacific and Atlantic seascapes, lots of laughs, clever Mary Queen of Scots animation, African-American triumph under duress and a grand tour of Ireland and Scotland.
It's a buddy film with plenty of pairings.
"Loopers" opens nationally on June 7 with showings in Charleston at the Regal Charles Towne Square and Terrace Theater (June 24) and in Myrtle Beach at the AMC Classic Myrtle Beach and AMC Classic Broadway.
"A looper?" the young caddie asks the Spackler character in "Caddyshack."
"A looper," Spackler explains. "You know, a caddy. A looper. A jock."
Not surprisingly, that scene finds its way into "Loopers" (during the closing credits). Jason Baffa does a fabulous job of directing a film produced by David Brookwell, Jim Packer, GEM Pictures, Clark Cunningham and Ward Clayton.
Packer is an avid golfer and president of Worldwide TV and Digital Distribution at Lionsgate. He was inspired by former Augusta Chronicle sports editor Clayton's book, "Men on The Bag: The Caddies of Augusta National."
Murray, of course, is the cherry Titleist on top. Getting hold of the mercurial Lowcountry resident for a film project is itself the subject of a Netflix documentary ("The Bill Murray Stories: Life Lessons Learned From a Mythical Man"). Baffa and his California crew got a 48-hour notice of Murray's availability last May.
After wrapping up the read, Murray gave them a two-hour tour of Charleston in his Mustang convertible.
"It was a dream," Baffa said. "I've grown up such a fan of his, was a huge 'Caddyshack' fan. Starting the project I said, 'The one voice that would be perfect is Bill Murray' and everyone said, 'Oh, you're crazy, we can't get him.' The great thing was that Bill brought a lot of opinion and feedback and ideas."
It helps that Murray got a "great education" caddying for $3 a bag with his brothers while growing up in Chicago.
"To acquire a local caddie at a foreign golf course is to have an ally in a battle against the elements, the golf course and life itself," Murray says as we tour some of the world's great courses.
But this is a cast of dozens, from Scottish golf historian David Hamilton to veteran writer Rick Reilly and ESPN analyst Michael Collins.
Between Carnoustie in Scotland and Pebble Beach, it's harder to pick the best parts of "Loopers" than it is to par Amen Corner. But the tales from former Augusta National caddies endure.
Those Augusta caddies
Willie "Pappy" Stokes was on the bag at 17 when Charleston's Henry Picard won the 1938 Masters. Ironman Avery was Arnold Palmer's beloved caddie. Willie Peterson caddied for four of Jack Nicklaus' Masters wins.
All had intimate knowledge of Augusta National secrets. They were experts at club pulls, yardage and putt reading.
With more money flowing into golf, PGA tour players led by Tom Watson began bringing their own caddies to Augusta in 1983. But note that Fuzzy Zoeller won a green jacket in 1979 with local caddie Jerry Beard.
"It was like a blind man with a seeing-eye dog," Zoeller says.
No first-year Masters participant has won since Zoeller.
"Because they don't use a local caddie," Reilly says.
A group of former Augusta caddies recently got a sneak preview of "Loopers."
"It came up in a discussion we had after we showed the film that it's a good talking point for how people can interact with each other more easily," Clayton said. "I hadn't thought about that but that's a pretty cool view."
Bones and Fanny
The Greg Puga story is beautiful. Born in East Los Angeles, Puga founded his high school golf team, caddied, played and eventually qualified for the 2001 Masters as a Mid-Amateur champion.
And then all the golfer/caddie relationships:
• Tiger Woods and Steve Williams
• Nick Faldo and Fanny Sunesson, who broke barriers as a Major-winning female caddie
• Phil Mickelson and Bones Mackay
• Jordan Spieth and former grade-school math teacher Michael Greller
"Loopers" already has won best documentary awards from the Cleveland International Film Festival and Newport Beach Film Festival. Golf clubs and other organizations can arrange for private screenings by going to loopersmovie.com/request-a-screening.
Only golf cart manufacturers will hate this film.
"The game of golf is meant to walk," says Mike Kiely, the caddie master for over 50 years at famed Canterbury Golf Club just outside Cleveland.
"Loopers: The Caddie's Long Walk" is meant to sit as a golf masterpiece.
Follow Gene Sapakoff on Twitter @sapakoff