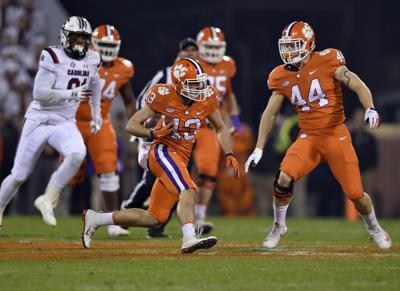 CLEMSON — The coach on the sour side of the five-game streak wore all black. He watched his team fight hard even as the final seconds ticked off a large scoreboard with a shiny metal tiger perched atop.
The starting quarterback, a good player, is now 0-3 in a rivalry that's been lopsided for a half-decade. He consoled teammates with positive spin.
Poor Will Muschamp and Jake Bentley. They were ferociously competitive on a chilly Saturday night at Death Valley but caught up again in an orange swirl, a 56-35 Clemson victory over South Carolina that extended the Tigers' rivalry series win streak to five.
The Gamecocks won five straight from 2009 to 2013, so Clemson head coach Dabo Swinney (now 6-5 against Gamecock Nation) and former Tigers quarterback Tajh Boyd know what it feels like to have to answer hard questions.
Over and over.
For years.
It's hard on fans, harder on players. It's worse for coaching staffs.
Five games in a row means mean fans slipping "five bombs" into photo requests. Children of coaches must deal with streak chatter at school.
And, oh, what extended delight on the other side. Throughout the predominantly happy crowd there were seniors and grad students celebrating the joy of never knowing what it's like to lose a football game to the arch-rival.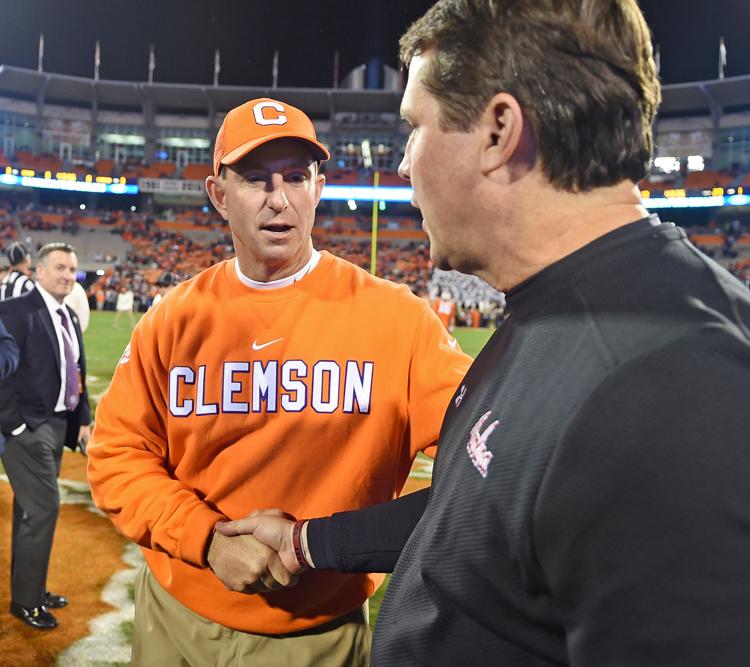 The charmed group of 2012 and 2013 South Carolina grads can relate to these overly blessed current Clemson upperclassmen.
The bundled up students on The Hill went nuts when Travis Etienne plowed into the end zone to start No. 2 Clemson's second-half dominance.
"Even if we win 65-64. Even if we win 2-0," Swinney said. "It's a win."
Though not all 5 game win streaks are alike.
Difficulty vs. more
Degree of difficulty?
No question, edge to South Carolina's streak.
It was the best stretch in Gamecock football history, starring Steve Spurrier and a rare cast of elite NFL prospects led by Jadeveon Clowney, Marcus Lattimore, Alshon Jeffery, Melvin Ingram and Stephon Gilmore. Quarterbacks Stephen Garcia, Connor Shaw and Dylan Thompson didn't blink.
And a big reason it was so glorious was because South Carolina beat four ranked Clemson teams, two ACC Atlantic Division champions and one ACC champ.
But sustainability?
Five doesn't look like a stopping point for Swinney and Co. So far, they have a ridiculous 62 wins from 2014-2018.
The Power Rangers starting defensive line, one of the best in the history of the sport, won't be around in 2019 but the Clemson skill-position talent returning is just silly: Trevor Lawrence, Travis Etienne, Tavien Feaster, Lyn-J Dixon, Tee Higgins, Justyn Ross, Amari Rodgers, Derion Kendrick …
Bentley and first-year offensive coordinator Bryan McClendon were effectively aggressive Saturday night, nothing like the South Carolina approach in 2016 (56-7 loss) and 2017 (34-10).
Hats off to Muschamp and McClendon for going for it early on fourth-and-goal from the 2. That's what 26-point underdogs should do.
But Clemson made the Gamecocks pay for a Bentley misfire with a 98-yard drive in which 315-pound defensive tackle Christian Wilkins soared over Sherrod Greene for a touchdown and celebrated with a Heisman Trophy pose.
Future streaks, Spurrier
South Carolina during its win streak beat two favored Clemson teams (2009 and 2012).
No such obstacles for the recent Tigers, favored each of the last five years and by 20 points or more three times. For the third time in his three years as South Carolina head coach, Muschamp was way undermanned Saturday night.
Clemson took advantage of an injury-riddled team without its two best players on defense, D.J. Wonnum and Bryson Allen-Williams.
The patchwork secondary was matched up against the deepest receiver talent in college football.
More Gamecocks fell as the night went on.
South Carolina, Gamecock Nation fondly recalls, won all five of its "streak" games by double-digits. Against Clemson teams that on offense alone boasted future NFL players DeAndre Hopkins, Sammy Watkins, Martavis Bryant, Andre Ellington, Adam Humphries and Dwayne Allen with play-calling guru Chad Morris running the show.
But Clemson projects as a favorite next year.
And the next.
At least the Gamecocks still have Spurrier on their side.
Sort of.
"Dabo does a super job, and he does it with class," the Head Ball Coach told Larry Williams of TigerIllustrated.com this week. "Yeah I pull for Dabo. Not in this one, of course. But other times — I'm not eaten up with the rivalry now because I don't live in South Carolina."
Both sides can agree on one thing: Nothing in this rivalry is more joyful or painful than a five-game win streak.
Except a six-game win streak.
Follow Gene Sapakoff on Twitter @sapakoff