A cold rain fell on Death Valley that afternoon, just one of the things that could have gone wrong for Clemson interim head coach Dabo Swinney on Nov. 29, 2008, against South Carolina.
It turned out as a sunny 31-14 victory for Clemson, a 1-point favorite going in, and one of the most important wins for either program in the rivalry series.
But what if Gamecocks head coach Steve Spurrier had started Stephen Garcia, or even played the young quarterback who would start the Outback Bowl a month later? Chris Smelley went all the way against Clemson, and threw four interceptions.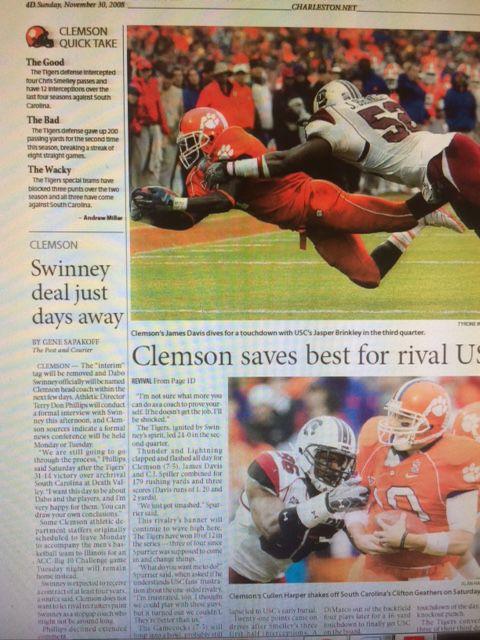 What if South Carolina, after cutting the Clemson lead to 24-14 in the third quarter and then forcing a punt, moved the ball instead of punting after three quick Smelley incompletions?
What if Spurrier hadn't benched tight end Jared Cook (still a productive NFL player) after Cook — in Spurrier's view — allowed an interception when he didn't go for a pass aggressively enough?
"Jared Cook didn't want to play today," the Head Ball Coach said after game.
Had one or two of those things gone garnet, things likely would be much different this week. Instead, it's powerhouse No. 2 Clemson (11-0) barreling toward a fourth straight College Football Playoff appearance as a 25-point favorite over South Carolina (6-4) going into Saturday night's game at Death Valley.
Swinney is a gaudy 112-30 at Clemson.
But a South Carolina win that day might have kept Clemson from hiring a guy who was a mere 3-2 as interim head coach (with three wins over unranked teams) coming into the regular-season finale.
The Gamecocks could have forced Swinney out of the state; maybe Spurrier would have hired him.
So did Swinney have to win that day to win the Clemson job full-time?
Probably.
"It certainly helped, there's no question about it," former Clemson athletic director Terry Don Phillips said while pondering some heavy leaf-raking at his Lake Hartwell home. "But from the get-go I had a lot of respect for Dabo and the way he handled his players and recruits. I think I was at the point of how I felt about him.
"But there would have been criticism (hiring Swinney after a South Carolina loss)."
No doubt.
Danny Ford, Brent Venables
Consider what Phillips would have had to defend against in picking a 3-3 Swinney coming off a rivalry game home loss.
• Swinney was obviously tied to Tommy Bowden, the head coach fired after a 12-7 debacle at Wake Forest. Rarely does a dismissed coach's staff member get promoted full-time.
• Swinney had never even been a coordinator.
• He was the receivers coach of an under-performing offense that couldn't score more than a touchdown in Winston-Salem? Wasn't that part of the problem?
• It was just an average South Carolina team (the Gamecocks ended up 7-6).
It would have been a brutal public relations offseason for Phillips. A South Carolina loss might have made him think about that.
But Clemson won with Cullen Harper at quarterback and James Davis rushing for three touchdowns. It immediately sealed a Swinney deal reported by The Post and Courier.
Phillips, of course, is a genius.
Early on he recognized, among other things, the "tremendous heart" and "impeccable character" in Swinney and pegged him for head coach stardom.
Phillips was good at things like that. As Oklahoma State athletic director, he hired a Dallas Cowboys tight ends coach named Les Miles as OSU head coach.
At Clemson, he brought in Oliver Purnell (three NCAA Tournament appearances) as basketball coach, led the healing process between Clemson and national title-winning football coach Danny Ford (they coached together at Virginia Tech) and helped facilitate the move that got defensive coordinator Brent Venables (an old Big 12 rival) from Oklahoma to Clemson.
'Excitement nationally'
Phillips knows the legacy starts with "the man who hired Dabo Swinney as Clemson head coach …"
"I just think it's fantastic what Dabo and Kathleen have done at Clemson and I'm extremely proud," Phillips said. "But I'd be less than honest if I said I knew what was going to happen. I was confident Dabo would be a good coach, sure. But to have the foresight to see the great program he has put together, not quite."
Phillips gets a kick out of fielding questions about Swinney all over the country when people hear of his ties to Clemson. On a recent visit to the grandkids in Arizona, for instance.
"It's not only the excitement at Clemson University," Phillips said. "Dabo has brought excitement nationally. He's not just a regional coach."
Phillips was done talking about Swinney, and about what might have been. He was still putting off raking those leaves.
"I don't really want to get started just yet," said Phillips, the man who had a big hand in starting the Clemson football program on its way to cleaning up all over the ACC.
Follow Gene Sapakoff on Twitter @sapakoff