Sapakoff: Dawn Staley would make a great South Carolina athletic director but says 'No, no, no'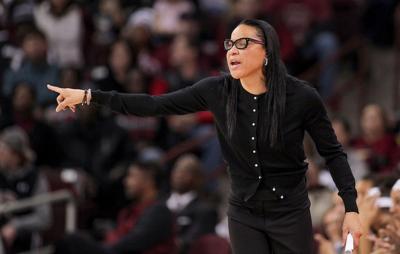 COLUMBIA — Ray Tanner was asked if he ever picks Dawn Staley's brain on administrative matters beyond women's basketball.
He smiled.
"Can we make some assumptions?" South Carolina's athletic director said.
Tanner loves Staley as the Gamecocks' head coach, and why not? She won a 2017 national championship, has two Final Four appearances, four SEC Tournament titles and will coach the 2020 U.S. Olympic Team.
Even a "rebuilding" season is fruitful. Between the end of 2018 WNBA Rookie of the Year A'ja Wilson's glorious South Carolina run and the arrival of an elite Class of 2019 recruits, the Gamecocks are 17-5 and ranked No. 12 going into Monday night's game at No. 5 Connecticut.
Tanner also thinks Staley, 48, would make a great administrator someday.
"Absolutely," Tanner said. "She has great insight. The fact that she is so versatile when it comes to intercollegiate athletics. She's been an assistant coach on the Olympic team, she's now the head coach on the Olympic team and she's been on NCAA committees. She's been a part of women's basketball when it wasn't supported very well and she's been able to enjoy the rise of it, not only from a coaching standpoint, but she's seen the evolution of the importance of the sport."
What a potential coup for South Carolina or any other university that would hire Staley to run an athletic department, raise funds, make hires, manage a staff, energize a fan base and negotiate deals.
Too bad she isn't the slightest bit interested.
Not in an AD job at South Carolina or anywhere else.
"Never," Staley said just after her Gamecocks blew past Mississippi 76-42 on Thursday night at Colonial Life Arena to improve to 9-1 in SEC play. "No. No, no, no. I'm not a suit. I would never be a suit."
Not now, post-2020 or post-2030.
NBA more likely?
Note that Ray Tanner, who won 2010 and 2011 national titles as South Carolina's baseball coach, once pledged allegiance to the dugout.
"Here come the suits," he would tell assistant coaches as an athletic director and associates were strolling into the baseball facility for a chat.
And Staley as a scrappy player — ACC star at Virginia, Team USA flag-bearer at the 2004 Olympics in Athens, WNBA standout — often said she would never go into coaching.
But this "never" feels more permanent.
"Being an administrator, you're around the game but you're not close enough," Staley went on. "I need to be close enough to impact it a little bit."
If there is a high-profile career change, it's more likely to be a move to the NBA. Staley in 2017 said "way down the line" she would embrace such a challenge.
For now, however, she is bent on reaching the NCAA Tournament for the eighth year in a row.
At UConn on Monday night
This South Carolina team has some good players, including Tennessee transfer Te'a Cooper, Final Four starter Tyasha Harris and Alexis Jennings. But there is no true star, barely anyone averaging double-figures in scoring (Cooper is the leader at 12.7 points per game).
Depth did the trick against Ole Miss.
"Most of the time, they're where we need to be but sometimes we take steps back," Staley said. "But for the most part, we are progressing. Even when you see us play a (first) half like we played, you see progression on our bench. Your see Nelly Perry come up and give us a lift, you see Destanni (Henderson) hit key shots, you see Victaria (Saxton) do what she needs to do."
On to UConn
Tanner, by the way, said Staley is such a "great asset administratively" that if she "quit coaching tomorrow I probably wouldn't allow her to leave."
A Staley athletic administration gig will have to wait until the world finds out about her leadership skills in 2020.
Then probably some more Final Four runs.
Maybe an NBA stint.
And then the realization that she doesn't actually have to wear a suit to run a department.
Follow Gene Sapakoff on Twitter @sapakoff.