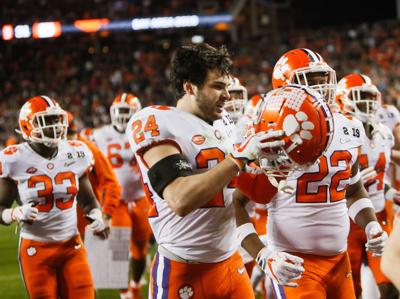 SAN JOSE, Calif. — There was more to the big smile on Nolan Turner's face Monday night as he exchanged hugs with fellow Clemson defensive backs in a Levi's Stadium locker room following an epic 44-16 College Football Playoff National Championship Game beatdown of No. 1 Alabama.
The glistening gash on his right arm and fresh grass stains all over his orange pants and white No. 24 jersey told some of the story.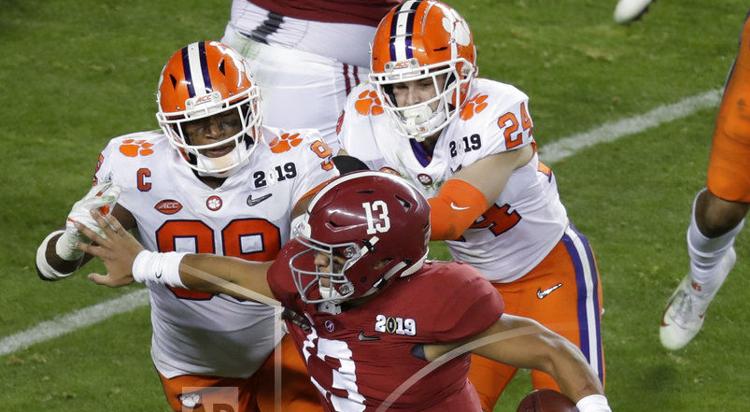 "That's what we prepared to do," Turner said of Clemson's 30 unanswered points, "we prepared to stop them. We had a good plan. That was the expectation. We wanted to make a statement."
The sweet and tragic Alabama background, though.
Turner's triumph — four tackles and many meaningful snaps early and throughout a national title game victory — wasn't supposed to happen.
This was a player people said Swinney signed merely as a favor to a dying man.
True, former NFL fullback Kevin Turner was Swinney's good buddy and former Alabama teammate. Nolan Turner's father was a trusted confidant when Swinney was struggling early in his Clemson head coaching career. Later, while stricken with Amyotrophic Lateral Sclerosis (ALS), he visited Clemson practices in a wheelchair.
Indeed, Swinney and his wife Kathleen drove 300 miles from Clemson to Prattville, Ala., so he could give a eulogy for Turner at Hunter Hills Church of Christ on a beautiful Easter Sunday.
But Swinney still bristles at the notion that Nolan Turner wasn't a deserving addition to the Clemson family.
Never mind that Alabama-Birmingham was Turner's only other major college scholarship offer as a senior at Vestavia Hills High School outside Birmingham.
Swinney said the hard-hitting, ball-hawking safety could play when he signed him while scrambling to fill holes in the Clemson secondary following the Tigers' first national championship victory over Alabama. And Turner proved Swinney right with stellar play in another upset of the Tide two years later.
"There's a lot of people that think we just do favors," Swinney said Tuesday at the San Jose Marriott during his morning-after news conference. "People create their own stories. That's why you can't pay attention to that stuff, man. That's another reason we've been successful is we do things that we believe in. We don't sign players that we don't feel like bring great value to our program."
Turner brought a great wallop to Alabama star quarterback Tua Tagovailoa late in Monday night's game as he teamed with Clelin Ferrell for a fourth-and-goal tackle.
What a thrill, not just winning the national title, but beating Alabama, dad's alma mater.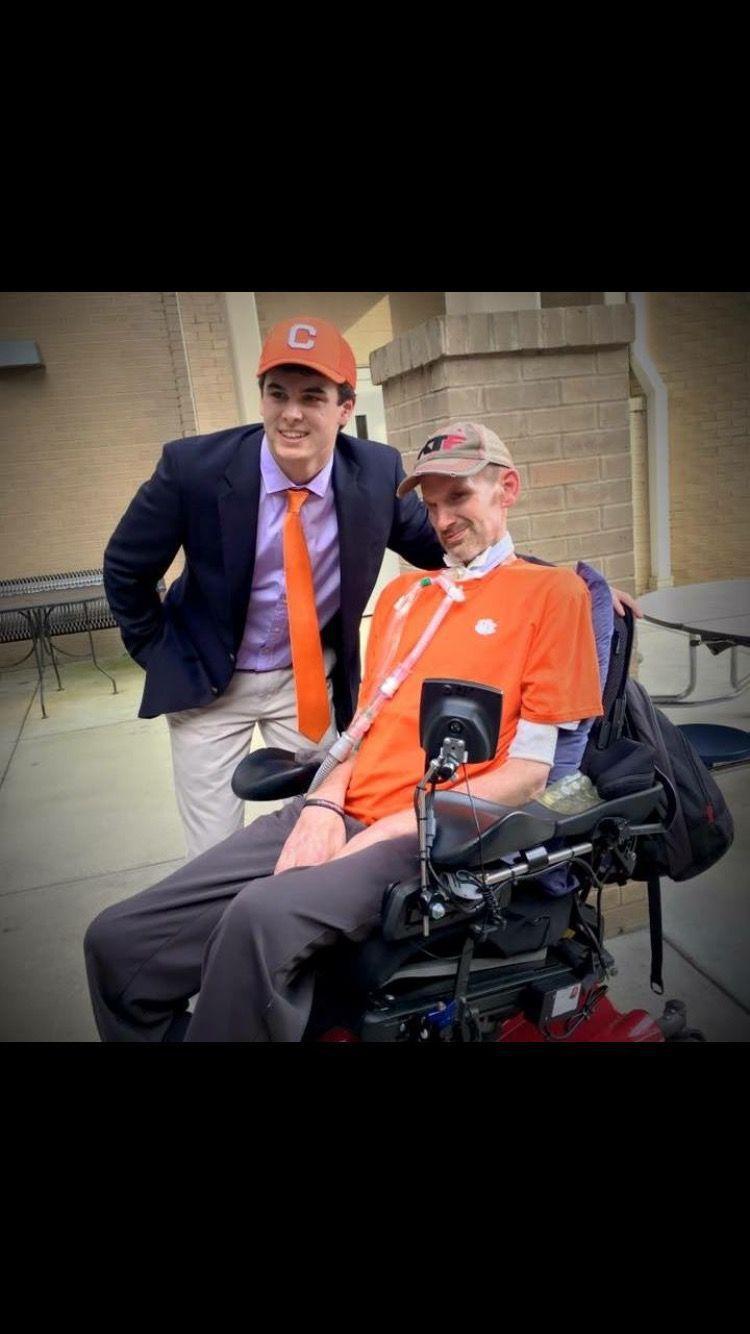 "It's been so special to play on a stage like this with a team like this," Turner said. "It's truly a blessing. I'm just so happy for these seniors. It's really a special team, and I'm just glad to be a part of it."
It was the culmination of a gradually increased role that also includes contributions on all of Clemson's special teams. Sometimes Turner replaced Tanner Muse in the secondary, other times Clemson defensive coordinator Brent Venables went with a three-safety look.
Turner's first college interception came in the Tigers' 30-3 Cotton Bowl victory over Notre Dame on Dec. 29.
"I got my time to play a little bit," the 6-1, 205-pound financial management major said. "I just wanted to take advantage of it."
Special moment for Dabo
Somewhere, Kevin Turner is beaming.
Just as he was during Nolan's senior season at Vestavia Hills after his son knocked down a "Hail Mary" pass to clinch a 20-13 home win over Alabama powerhouse Hoover High School. Kevin Turner rolled his wheelchair onto the field and popped wheelies to celebrate.
He died after a lengthy battle with Lou Gehrig's disease a few months later on March 24, leaving three children. But not before Swinney gave Nolan a full ride to Clemson, a late upgrade over a preferred walk-on offer. He called Kevin Turner with the news the night before.
"That's one of the most special moments ever for me," Swinney said Tuesday.
The offer came with a caveat.
"I told Nolan early on, 'I just want you to know, the rhetoric is going to be that we feel sorry for you and we're only offering you a scholarship because of my relationship with your dad, and that's going to be the storyline, and you need to get yourself ready for that,'" Swinney said. "And I said, 'But man, you can play. And what I want you to know is you've earned this.'"
Dad's alma mater
So there was Nolan Turner on Monday night, knocking helmets with Alabama's best and helping Clemson win by four touchdowns.
"I don't think they've ever been down like that before," Turner said. "It might have been a little culture shock for them."
Across the locker room, Brent Venables could not have been happier for a safety who is not really a second-teamer any more.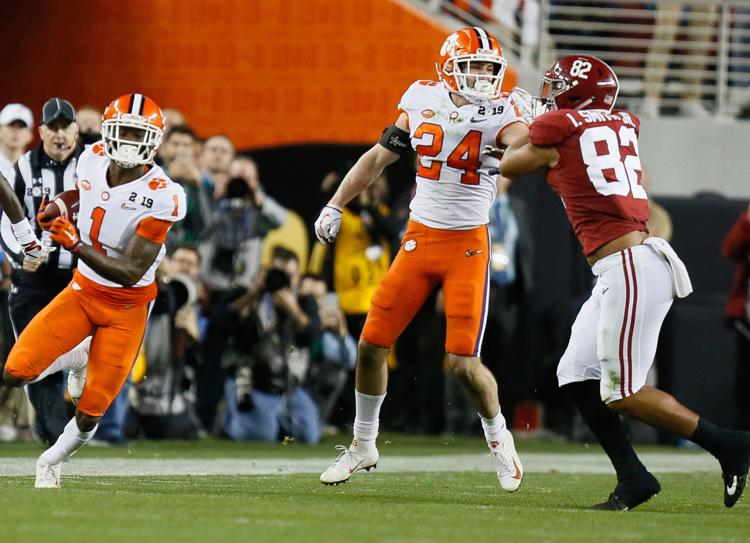 "This guy is a baller," Venables said. "He's done nothing but work to have the success that he's had. I'm so proud of him. He's been such a critical part of our success this year, and these last few games he's had some amazing plays."
There was a fundraising event for Kevin Turner's foundation in Nashville eight years ago, live auctions and silent auctions. Dabo and Kathleen Swinney spent almost $6,000 bidding. Attendees were asked to fill out pledge cards.
The Swinneys pledged $30,000 that night.
But, as clear as a national championship trophy shines under bright lights, Nolan Turner is no charity case.
Just a sophomore, he is a very good college football player and proved it Monday night. On the biggest stage against the No. 1 team. Dad's alma mater.
Follow Gene Sapakoff on Twitter @sapakoff.