Always Mother's Day
Sapakoff: College of Charleston pitcher gets 'laser-like' focus from tennis star mom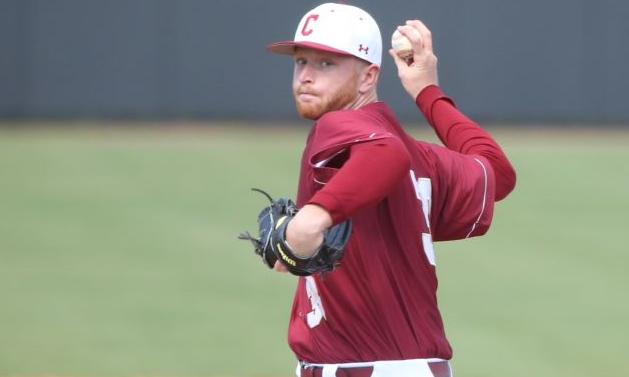 College of Charleston pitcher Carter Love was there every step of the way, part of a championship-winning team — before he was born.
That's right, his mother, Susan Love won one of her North Carolina state tennis titles while pregnant with Carter.
So when Cougars head coach Chad Holbrook says Love's All-American-caliber senior year is "as good a season as I've been around for a pitcher in my 24 years of coaching" …
And when Holbrook mentions that he was around big-leaguers Andrew Miller and Matt Harvey at North Carolina and legendary College World Series ace Michael Roth at South Carolina …
Well, add an asterisk.
Those guys didn't have Love's head start.
Competitive lessons from mom clearly paid off.
Susan Love: four U.S. Tennis Association national championships, North Carolina Tennis Hall of Fame, over 50 state titles, member of the Southern Conference 25th anniversary team for her shiny stint at Appalachian State.
Carter Love: 7-0 after winning in relief Tuesday night against The Citadel, four saves, .196 opponent batting average, 53 strikeouts and only seven walks in 53 innings pitched this season.
The Cougars' ultimate ironman has been the best player for a College of Charleston team that is 33-16 going into a Wednesday night game against South Carolina at the minor league Columbia Fireflies' Spirit Communications Park (7 p.m.).
"Carter has been incredible," Holbrook said. "His numbers stack up against anybody's. It's very difficult to have a perfect season when it comes to pitching, especially with all the situations I put him in. But, boy, he's been as close to perfect as he could be."
That's only part of it.
Holbrook says Love's work ethic is unmatched. The dugout enthusiasm is infectious. Coaches love that team-first attitude.
"A coach's dream," Holbrook said.
Thanks, mom.
As a kid, Carter and his older brother Chris watched Susan Love play a lot of tennis. They also watched her train and marveled at her "laser-like focus." After a while, there were so many titles the family rarely discussed tennis prowess.
"Like my mom would come home from Houston or some place and say 'Oh, I just won the indoor national championship.'" said Carter, 22. "Me and my brother would just look at each other and think, 'not a big deal; she does that all the time.' But it obviously is a huge deal."
NCAA Regional statement
Monte Lee, the former College of Charleston head coach now at Clemson, recruited Love out of Charlotte's Ardrey Kell High School. The 6-6, 225-pound right-hander quickly pitched his way into the mix on a good team. He went 10 straight appearances without allowing an earned run.
And what a way to end a freshman year: Love earned a win and a save two days apart in wins over Auburn at the NCAA Tournament's Tallahassee Regional.
Susan Love wasn't surprised.
Any similarities to her approach on the court and Carter's approach on the mound was purely obvious.
"Carter is so focused and has been from an early age," Susan Love said. "It's kind of like we both know when it's game-time, we get out there and compete. People say how different I am off the court but when it's 'game on' you better come at me with your best stuff because we're here to play."
The Cougars appreciate Love's durability: 23 appearances, five more than anyone else on the team, with stints ranging from one inning to six Tuesday night. Love wants the ball almost every game and credits College of Charleston's sports medicine folks. Zach Adams, an associate athletic trainer, and Sara Steckman, an athletic training student, work with him a lot. Dr. John Graham, the team physician, did arthroscopic surgery on Love's labrum after the fall of his junior year.
Career plans
Despite the stats and 6-6 frame, major league scouts aren't exactly buzzing. Love's fastball rarely tops 92 mph as he relies on a deft change of speeds. He will throw a breaking ball or change-up in any count.
The MLB Draft is coming up (June 4-6) but only one team has asked Love to fill out a pre-draft questionnaire.
"A lot of times professional baseball gets caught up in radar guns and forgets about pitchability," Holbrook said. "His pitchability is off the charts. I don't know where he'll go in the draft; I don't know if he'll go. But he'll make a scout look awfully smart if someone has the courage to draft him."
If not, Love is a Finance major interning at a Lowcountry real estate investment firm that has already offered him a job.
The Loves — Carter's dad Mike, a salesman with a division of International Paper who is an excellent golfer, his brother Chris, in the medical field in Charlotte, and his mom, still playing and teaching tennis — are taking in as many of Carter's games as possible.
Senior years don't get much more fun.
"I have seen him throw with confidence and I don't get nervous as much as I did when he first started pitching," Susan Love said. "But he loves to come in during pressure situations so it gets pretty intense."
Then again, Carter Love was born with sports pressure experience.
Follow Gene Sapakoff on Twitter @sapakoff