SAN JOSE, Calif. — Clemson's 44-16 destruction of an Alabama myth and Las Vegas math was just several hours old but representatives from New Orleans were in a San Jose Marriott hallway to promote the 2020 College Football Playoff National Championship Game booked for the Superdome.
They came bearing pralines and Mardi Gras beads.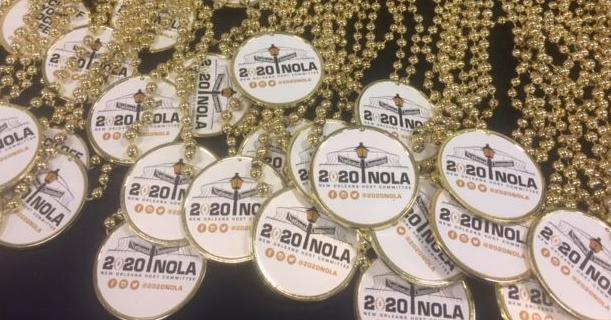 They offered boxes of Zatarain's jambalaya rice dinner mix.
More sweet and spicy stuff from the Hotel California, where Clemson lore can check out anytime but can never leave: The Tigers on Monday night at Levi's Stadium won their second national title in three years and it's not too early to ponder a fifth straight playoff run.
Steps along Clemson's road to New Orleans:
2019 playoff foursome
Clemson
Alabama
Georgia
Texas
Why: The Longhorns and quarterback Sam Elhinger look ready to take over the Big 12. No doubt about the potential of the other three.
Next four out
Notre Dame
Ohio State
Oregon
Oklahoma
Why: Notre Dame can lose at Georgia on Sept. 21 and still make it; quarterback Justin Herbert's return to Oregon is huge.
Clemson's toughest games
1. Texas A&M. ESPN GameDay on Sept. 7, for sure. Jimbo Fisher's Aggies are trending up, maybe into the preseason top 10.
2. ACC Championship Game. The Coastal Division will get better. Maybe.
3. At South Carolina. Just because.
4. Florida State. Talent, still.
5. At Syracuse. So, yeah, it might be an easier schedule than in 2018.
'Dabo, The Movie'
The winning coach at the morning-after news conference in California was asked who should play him if Hollywood gets involved.
"Well, I mean, Matthew McConaughey, of course," Swinney said. "Have you seen my abs?"
At which point Trevor Lawrence just shook his head.
By the way, McConaughey? Big Longhorns fan.
Modus operandi
Lawrence is coming off a national championship game MVP performance and a freshman season in which he threw 30 touchdown passes with just four interceptions.
Travis Etienne scored 25 touchdowns as a sophomore.
Justyn Ross, Tee Higgins and Amari Rogers are the best trio of receivers in college football and it's not close.
Clemson will score gobs of points in 2019, but probably allow more than the 13.1 points per game given up this season.
Strengths
• Skill-position firepower. Some NFL scouts might just move to Clemson.
• Coaching. What a coordinator group, Tony Elliott and Jeff Scott on offense, Brent Venables on defense. Ask Nick Saban.
• Offensive line. John Simpson, Gage Cervenka, Sean Pollard and Tremayne Anchrum will be seniors next year. They helped hold Alabama to zero sacks. Jackson Carman, Matt Bockhorst and Cade Stewart have star potential.
• Secondary depth, particularly if Travon Mullen returns for a senior year.
Weaknesses
• Punting wasn't very good and kicking was a little shaky, too.
• Not a weakness yet but new leaders must emerge on defense.
Three key questions
• Smooth left tackle transition? Four-year starter Mitch Hyatt is gone, likely to be replaced by Carman, a 6-5, 345-pound, highly-regarded freshman who played over 200 snaps. But protecting Lawrence's blindside requires excellence.
• How good is the next defensive line? Clelin Ferrell, Christian Wilkins, Austin Bryant, Albert Huggins and  Dexter Lawrence are gone. Freshman Xavier Thomas leads a hungry, talented group but the mesh is almost as important as the skill.
• D.J. Uiagalelei's decision? The Class of 2020 target from Bellflower, Calif., is one of the elite quarterbacks in the next signing class, potentially the guy who takes over post-Lawrence.
Credibility earned
The playoff committee will give Clemson the benefit of any doubt. That will come in handy in strength-of-schedule debates or if the Tigers lose to a vastly inferior foe.
Complacency
A pair of famously rugged Clemson leaders was addressing the issue before they left the Levi's Stadium locker room.
"Ah, I don't know," Venables said. "We lose a lot of guys. People probably won't expect us to be very good next year."
More like preseason No. 1.
But departing wide receiver Hunter Renfrow made a good point.
"I wouldn't be surprised if next year's team plays Alabama again," he said, "and Alabama is going to be mad again."
Follow Gene Sapakoff on Twitter @sapakoff