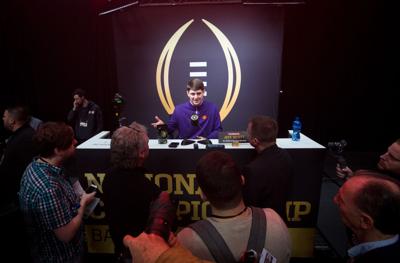 SAN JOSE, Calif. — A framed photo of all the Clemson football coaches, their wives and children is on the wall just outside Dabo Swinney's office. It's the first thing the Tigers' head coach sees before buckling down each day.
"It's just a reminder that it's not about me," Swinney said, "and that there are a lot of people depending on me."
Nick Saban knows the names of his assistant coach's family members, too. He just has to learn a lot of new ones every spring.
A stew of fascinating contrasts going into Monday night's College Football Playoff national championship game at Levi's Stadium in Santa Clara includes this one: Clemson staff stability vs. Alabama's revolving door.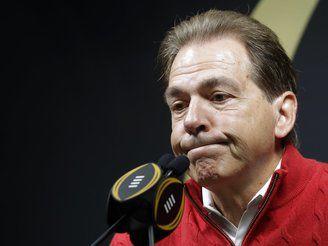 Swinney during the Tigers' four-year playoff run has had the same coordinators. Brent Venables on defense. Tony Elliott and Jeff Scott on offense.
Saban, looking for his sixth national title at Alabama since 2009, has had seven offensive coordinators. Clemson will face its fourth different play-caller in four playoff games against the Crimson Tide.
The beat goes on - Mike Locksley leaves Tuesday to become head coach at Maryland.
Alabama has six new assistant coaches this season. Offensive line coach Brent Key is the only Tide assistant in the same job as in 2017.
Clemson made one hire since last season, adding Lemanski Hall as defensive ends coach, and he was a staff analyst from 2015-2017.
It works both ways.
"I love continuity, but I also embrace change," Swinney said. "Continuity is easier, but whenever you have change, I think it's an opportunity. I don't look at it as a negative either way. If it's change, you have an opportunity to learn something new and bring in a different energy."
A stellar talent base, of course, covers up for a multitude of necessary adjustments.
That has been the critical constant for Saban, Inc.
The Saban shuffle
Quick adaptation is also easier at Alabama because of Saban's CEO management style and two clearly defined priorities.
"Accountability and preparation," first-year defensive coordinator Tosh Lupoi said Saturday at national championship game media day at the SAP Center in downtown San Jose.
Saban carefully scouts recruiting and player development skills before making a hire. Once in Tuscaloosa, there is no confusion about messaging; it is funneled from the top down with no dilution.
Coordinators and other assistant coaches are not available to the media during the regular season, a speak-with-one-voice policy former Saban staffers such as South Carolina's Will Muschamp have copied as head coaches.
College Football Playoff regulations make all coaches available on media day, and that included a very grateful Locksley on Saturday.
"Being at Alabama has helped me have an opportunity to become a head coach again," the 49-year-old former New Mexico head coach said.
'Culture' and 'vision'
The Alabama staff meets most mornings at 7:30 during the season, and coaches don't go home until around 10:30 p.m.
"It's an extremely compacted day," Key said. "There is no waste of time."
The Clemson coaches don't spend days throwing paper airplanes at each other, either. You can't get to four straight playoffs without hard work.
When Key talks about "a culture that starts at the top" and a "clearly defined vision" he could be talking about the program that has become Alabama's annual playoff rival.
Swinney, too, is fully in charge. Venables found that out when he was at Oklahoma and interviewing over the phone for the Clemson job after the 2011 season.
Venables suggested a few defensive assistants he might like to bring in.
"Brent," Swinney said, "I hire the coaches. Trust me, you'll like that."
There are "several" Clemson assistants, Swinney thinks, that will wind up as head coaches.
"But if they go, they want to have an opportunity to be at a special place," Swinney said, "because they're at one now."
One of these seasons, Clemson might have the kind of wholesale staff changes Saban dealt with this year.
But Swinney this time around is more than happy to embrace continuity in a classic contrast with Alabama transition.
Follow Gene Sapakoff on Twitter @sapakoff.