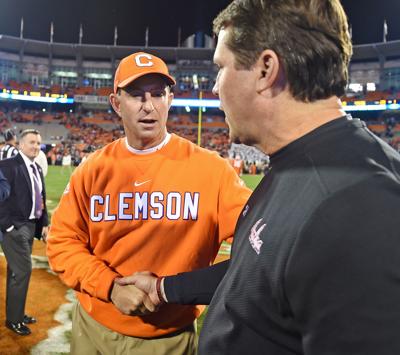 Dabo Swinney late in Clemson's famous/infamous five-game losing streak to South Carolina looked upward in search of an explanation.
"For whatever reason," he said, "God chose me to be the head coach at Clemson during the greatest era in the history of South Carolina football."
Swinney ultimately survived Steve Spurrier, and after a signature 44-16 drubbing of Alabama last Monday night in Santa Clara, Calif., is 2-1 in national championship games against Nick Saban, the greatest coach in the history of college football.
Yes, the same Nicholas Lou Saban Jr. whose dominance in the mighty SEC is such that his shadow rattles job security at other schools.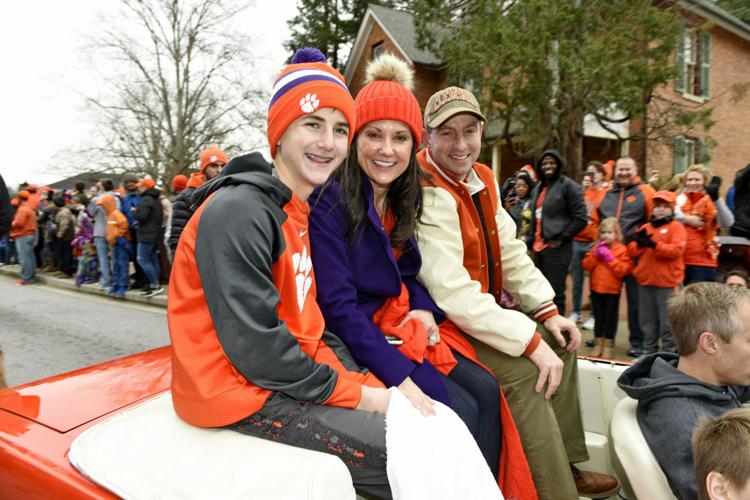 Saban forces firing and hiring decisions.
Gene Chizik won a national title at Auburn but was canned two years later.
Les Miles went 114-34 with a national title at LSU but went 3-7 against Saban while Alabama evolved on offense and LSU did not.
Saban forced Texas A&M to go out and get Jimbo Fisher, the best national championship winner on the market.
Yes, that Nick Saban.
Which means that Swinney's Clemson success probably will have a similar impact at South Carolina and among ACC rivals.
Fallout from Santa Clara includes extra pressure on the likes of South Carolina head coach Will Muschamp, athletic director Ray Tanner and Florida State head coach Willie Taggart.
Virginia Tech head coach Justin Fuente better get it going.
New head coach Scott Satterfield's leash just got shorter at Louisville, home of the ACC's most ambitious athletic department budget. 
Thin fan patience
"Sweet Emotion" you can rock to.
Bitter emotion erodes job security.
Big donors and other fans of a given school typically don't like it when Arch Rival U. enjoys unprecedented success.
A four-touchdown win over Alabama is sea salt in the wound of, say, a four-touchdown loss to Virginia.
Thin patience increases scrutiny, in dating or in college athletics.
If that "Why not us?" chorus becomes contagious enough, someone pulls a quick buyout trigger.
Of course, you hope cooler minds prevail, that program leaders are evaluated on relative progress within realistic expectations. Rash decisions tend to inspire more rash decisions.
Muschamp, despite the drop to 7-6 in his third season at South Carolina after a surprisingly good 9-3, is the only man to take the Gamecocks to three bowl games in his first three years as head coach. Not bad after inheriting a 3-9 mess.
But Muschamp's South Carolina program is still looking for that big win over an authentically good team, one that finishes in the top 25.
And it figures to get tougher next year with Alabama replacing Ole Miss on the SEC portion of the schedule.
The timing of the Clemson juggernaut and school president Harris Pastides' retirement isn't good for Tanner.
Pastides, fawning in Tanner praise, came to know the AD as a two-time national championship winning baseball coach with a trophy touch.
Tanner will be introduced to the new president as The Guy That Hired Will Muschamp. Oh, and, yeah, he was a really good baseball coach back in the day.
Meanwhile, back at the rivalry …
The new president will get plenty of Clemson questions from alums and attempt to find answers from Tanner.
What are they doing that we aren't?
He will learn that it mostly comes down to Swinney.
The Dabo Effect
The Dabo Effect apparently has already impacted life in the ACC.
Fisher got a huge raise to leave Florida State for Texas A&M, but such a move would have been unlikely when the Seminoles were ruling the ACC.
Maybe just-departed Miami head coach Mark Richt saw that the light at the end of the ACC's Coastal Division tunnel was always darkened by the kind of ACC Championship Game pummeling that infuriates Miami alums, including loud former players.
Of course, comparisons to successful business models are not such a bad thing.
Competition is uplifting.
Saban has made the SEC West stronger.
Swinney a few years ago seized on a great example within his Clemson community.
"When that new Chick-fil-A opened in Clemson," he said, "you could just see service at the other fast food places improve."
A five-game losing streak to South Carolina made Clemson better.
A lot has changed with Swinney, 49, over the last half-decade. But he's still associated with a streak.
Or several.
Four straight College Football Playoff appearances.
Four straight ACC championships.
Five straight wins over South Carolina.
Five straight ESPN top-10 recruiting classes.
All of which has to make a lot of people say, "For whatever reasons, God chose me to be the head coach (or athletic director) at (name the Clemson in-state or ACC rival school) during the greatest era in the history of Clemson football."
Follow Gene Sapakoff on Twitter @sapakoff.