Such fascinating baseball matters as exit velocity, 100-mph pitch tracking and live ball debates weren't any more trendy than Netflix when Ryan Thompson of the New York Yankees smashed a line drive off Boston Red Sox pitcher Bryce Florie's face at Fenway Park on Sept. 8, 2000.
Now they're bigger than four seasons worth of cooking shows and an Adam Sandler/Jennifer Aniston project combined.
Pitchers at all levels are throwing harder: There were fewer than 200 fastballs clocked at 100 mph in Major League Baseball in 2008, and over 1,000 per season each of the last four.
Batters are swinging harder with an emphasis on "launch angle" and homers. Fly balls with an exit velocity over 103 mph jumped in the majors from 486 in 2015 to 811 in 2018. Another record pace is on display this season.
The new MLB baseball is livelier, clearly. Home run records are being broken almost every day. Soon, we can expect to hear about a new record for records broken.
You don't have to pass Physics 101 to make sense of this formula:
SSxRAP+JB=DAC (Skilled Slugger, Rocket-Arm Pitcher, Juiced Ball, Duck and Cover)
It's getting dangerous out there, folks.
For fans too busy texting to avoid screaming line drives.
For pitchers only 60 feet, six inches away from the purest example of negative feedback in sports.
But don't take my word for it. Listen to a 49-year-old man who pitched in 261 big league games between 1994 and 2001.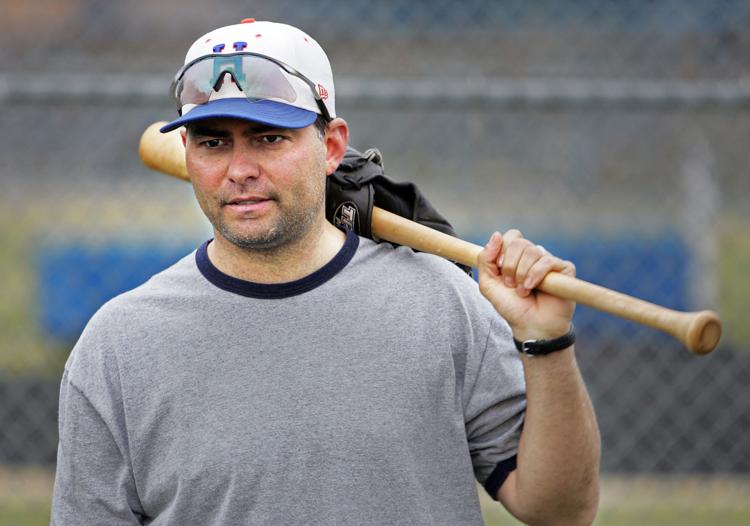 "I've said for years that there is no reason not to have as much netting as possible at ballparks," said Florie, who lives in his native Hanahan while coaching baseball and helping his wife raise a family. "Go to a game and pay attention to who isn't paying attention. You'll see."
This has nothing to do with the fact Florie's flourishing career was derailed by broken facial bones and eye damage that night in Boston. It's about common sense.
"Having been hit, I know what it feels like," Florie said. "But a 30-year-old guy can recover and maybe a 2-year-old cannot."
Almora, Bellinger and The Joe
Chicago Cubs outfielder Albert Almora was overcome with emotion on May 29 when his foul liner struck a 2-year-old girl in the stands at Houston's Minute Maid Park. The girl's family reported this week that she suffered a skull fracture and seizure, among other things.
Dodgers slugger Cody Bellinger cringed last week and had to be comforted by teammates after smoking a foul ball off a young fan at Dodger Stadium.
Responding to the rash of high-profile Major League incidents in which fans were struck by foul balls, some teams have extended netting. The Washington Nationals will extend it all the way to the foul poles.
Unlike so much of what comes from both parties in Washington these days, that's sensible legislation.
Other teams – MLB, minor league and college – are likely to follow.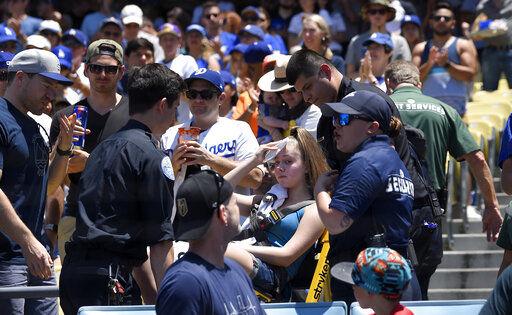 "Fan safety is always a concern," said Charleston RiverDogs President/General Manager Dave Echols.
Netting at Joseph P. Riley Jr. Park covered only the home plate area until 2017, before the city of Charleston extended an angled version to the far end of the dugouts.
More is necessary.
Pitchers need better protection, too.
Pitchers, starting with kids
Sean Newcomb of the Atlanta Braves avoided serious injury but landed on the Injured List for a week after taking a 102-mile line drive off the back of his head while pitching to Philadelphia's J.T. Realmuto on June 15.
Reaction time is dwindling by the season.
Manufacturers have taken stabs at ballcap protective inserts for pitchers and some people have suggested safety goggles or facemasks. But nothing has caught on. All but the few pitchers who have experimented complain about a lack of comfort.
No doubt, they want to look good, too.
Florie has a great idea: make youth-league pitchers wear the protective cap inserts.
"Once a kid starts doing it and it becomes part of mainstream equipment – like an elbow guard – it will make it easier to wear at higher levels," said Florie, who pitched for the Padres, Brewers, Tigers and Red Sox. "And getting hit in the head is a lot worse than getting hit in the elbow."
Batting helmets were not a mandatory thing in the majors until 1971.
Earflaps weren't legislated in until 1983.
In both cases, there were protests. There were grandfather clauses.
In 2019, no one thinks a batting helmet with an earflap looks silly.
"Everybody puts their seat belt on when they get in a car. Times change," Dodgers pitcher Rich Hill told the Los Angeles Times. "A lot of things have changed to indicate in these circumstances that we're in a different time. That's it. Period."
Hill was talking about the need for more netting to protect fans from ferocious foul balls. The same urgent approach applies to pitchers.
Follow Gene Sapakoff on Twitter @sapakoff