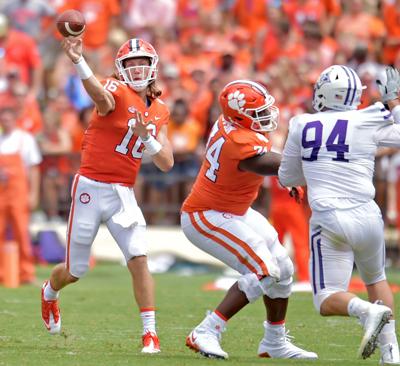 CLEMSON — Texas A&M's Yell Practice is famous, as are its dreaded Yell Leaders. The 12th Man tradition is as good as it gets in college football.
How about that Aggie War Hymn? One of the great fight songs in college athletics, just for the way it ridicules the University of Texas.
Kyle Field, if the prairie wind is right, gets loud enough to hear clear to Amarillo.
Yeah, sure.
"Fans don't play," Clemson head coach Dabo Swinney said Tuesday while explaining his strategy for player success on the road. "They yell and they're loud and that's great. But what has that got to do with you doing your job?"
The Clemson traveling party due in College Station for a Saturday night game doesn't seem much concerned about a mostly hostile crowd of 102,733 screaming Aggies. Three straight College Football Playoff appearances lend to a certain confidence.
"We've been through the ringer with loud teams, with big crowds, giant atmospheres," junior right tackle Tremayne Anchrum said. "I think all we need to do this week is be who we are."
But those Texas A&M players, that's a different story. The No. 2-ranked Tigers, particularly the offensive line, are in for a brawl against an Aggie front seven that might be the best Clemson faces this regular season.
At least until Oct. 27 at Florida State but probably not until Nov. 24 against South Carolina.
This is where Clemson's "other" line can start to earn a name of its own — even if a nickname is as unlikely as cartoon uniforms.
You have likely met the Clemson defensive line, four projected NFL 2019 first-round draft picks. Also known as the "Power Rangers" for defensive tackle Christian Wilkins' love of colorful live-action heroes, complete with costumes big enough to fit Wilkins, Dexter Lawrence, Clelin Ferrell and Austin Bryant.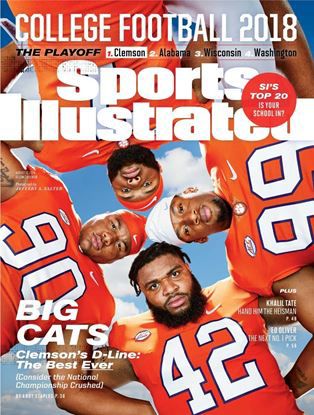 But Clemson offensive linemen are good, too. Senior left tackle Mitch Hyatt is an All-American candidate. Anchrum, center Justin Falcinelli and right guard Sean Pollard have played a lot.
Junior left guard John Simpson (Fort Dorchester High School) is a rising star.
It's just that shadow cast by Clemson's best-ever defensive line, and those ho-hum preseason accolades (fourth-best line in the ACC per Phil Steele's preseason rankings).
They're probably better than that.
'A strength of this team'
"We've got a talented group," Swinney said, "a really talented group that as the season goes will prove to be a strength of this team."
The Texas A&M front seven exam includes junior outside linebacker Tyrel Dodson and senior defensive end Landis Durham. It's a senior-laden group better than last year's 7-6 record indicates.
It was only Northwestern State on Saturday night but Texas A&M rushed for 503 yards on the way to a 59-7 victory (758 total yards).
"They're a bunch of tried and true guys," Anchrum said. "They're definitely veterans in all sense of the word."
Clemson's edge, on a humid Saturday night and all season, might include depth.
Depth up front
Contributions in Saturday's 48-7 win over Furman:
Sophomore right guard Cade Stewart (6-2, 300), 23 snaps, led the team in knockdown blocks.
Redshirt freshman left guard Matt Bockhorst (6-3, 305), 18 snaps.
Freshman left tackle Jackson Carman (6-6, 350), 18 snaps.
Junior center Gage Cervenka (6-3, 320), 22 snaps.
Anchrum thought the younger blockers fared pretty well after a few early hiccups, even playing better than the starters after a while.
"Seeing that was rewarding and refreshing," Anchrum said.
Just don't expect too much fanfare from this line.
"They need a name, don't they," Swinney said. "Maybe we'll take a poll for them. … Nah, I think that's just the way they are. It comes with the territory of being an offensive lineman. And that kind of fits (offensive line coach) Robbie's (Caldwell) personality."
But if Clemson's offensive line can quietly go about its business in one of college football's most hostile scenes, the praise will get louder.
Follow Gene Sapakoff on Twitter @sapakoff